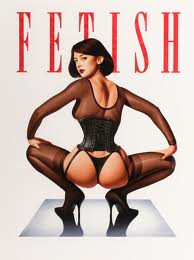 When you search the internet for kink or BDSM, what you get are stories, video clips, and photos that scream sex, sex, sex! Those who are looking to read about kink by finding a good BDSM novel are looking for hot scenes of spanking, submission, female domination, a slave girl serving her master, or some other form of D/s or M/s relationship where the story has romance, BDSM encounters, and sex. I will admit that my own books, whether they are the historical romances or the collections of short BDSM stories include spanking, kinky play and, you guessed it. Sex! Sex sells, sex is stimulating to our base primal nature, sex arouses us and makes us feel alive, but despite all the in your face sex that comes with most anything commercial in the media that isn't non-fiction, is all BDSM really sexual?
When I first discovered kink I was young, maybe thirteen, and it came via a couple of books which happened to land in my hot little hands. One was Candy's Summer of Pain, the other The Devil in Miss Jones. Both are or were to my young mind, incredibly arousing and full of kinky scenes and highly descriptive BDSM that included sexual submission. That was all it took for the switch inside me to be flipped to "Oh hell yes this is exciting and makes me ever so wet.", and to equate BDSM and kink with some type of sex.
I spent a good while trying to get my boyfriends to spank me through my late teens to when I got married. I liked sex to be rough, I wanted to be held down, I want sex to be primal and exciting. While some of boyfriends delivered on the rough, none delivered on the spanking. Fast forward through my vanilla marriage where I began to read and write BDSM erotica to squash my kink needs, still relating everything to sex, to my first relationship with a female submissive. (The story of how I evolved into a lesbian dominant is in the BDSM archive as is the description and whys of a sadomasochist.)
I began my kink lifestyle in private. I did not go to munches or kink events. I had long term relationships with submissive women, and all of my ideas of kink were related to sex. I had a strong and unyielding belief that kinky play should only be done in a loving BDSM relationship. This was because the any spanking or sadistic play other than for discipline, ended with sex. Yes I was served by my submissives in non-sexual ways, but the play was super arousing and highly sexual. It took a hard break up and my journey into the kink community for any of my ideals to change.
So here I was, reaching out, wanting to be with people who thought like me and understood how hard a split in a D/s relationship was, and it was both eye opening and wonderful. It felt like coming home. I told people I only played with girlfriend/submissives. I did not play with men, I did not believe in casual play. That was because in my mind, all play involved sex. Wrong, wrong, wrong.
As I made friends and discovered the actualities of casual play, I began to understand that just because there is spanking, flogging, bondage, you name it going on, the scenes didn't always end with orgasms. I have to say going to Kinky Kollege in Chicago and to the MAsT meetings where I live really helped pull me to the other side of the fence with my ideas on casual play. I discovered that as long as there is good communication, and people are being safe, sane, and consensual, it's all good. Not all scenes include aspects of explicit sex ie: vaginal penetration/ clitoral stimulation or a sex act that gives a man an orgasm. Suddenly the box of goodies was opened up, and my old beliefs that limited the feeding of my inner sadist were sent packing.
One of my very first friends in the kink community actually introduced me to my wife, and is now my favorite play partner. When I met him I was quick to tell him I was a lesbian and didn't play with men, to which he replied "I can be a lesbian." He now is my official loyal lesbian, and continues to make my inner sadist ecstatic with zero sexual aspects in our play. The change in my ideals took a bit, and I didn't just jump into playing casually, but I came to realize that it didn't matter what my play partners did when they got home to release any sexual stimulation they received from our play. I didn't know, and I didn't ask, and BDSM play went from something wildly sexual to something fun and recreational, except for when I play with my wife.
Now I have my main play partner, who is the official lesbian mentioned above, and I have people who I play with so they can learn or experience something that I am skilled in. I also will on occasion give one of my service submissive guys a paddling as a treat. Their service is not tied to any play though, and they are not in a power exchange relationship with me for the purpose of kinky play. I also will on occasion play with a woman and end the session with an orgasm for her via the Hitachi. The sexual finish is not however, the focus of the play. The focus is my power and my sadist giving the masochist or sensual player what they crave.
So all this blah de da that I always do comes down to this. Is all BDSM sexual? Yes and no. Mostly no. I had a very stimulating (my mind, not my body) conversation with a group of friends on this topic. Merriam-Webster has no definition for BDSM, and defines kinky as: involving or liking unusual sexual behavior. If we go along with Webster, which I am almost certain is composed by vanilla people, then all kink is sexual. That goes against what I know and believe. When I play with my partner who is a heavy masochist it isn't sexual in the least. I do not get aroused, but my sadist is well fed. He is usually nude aside from a pouch for his manly bits to keep them out of my way. There is no cbt, it is almost strictly impact. Does he get a sexual charge out of it? We haven't really discussed it. I don't know nor care what his masturbation habits are. What I care about is that we both have fun and I see to his aftercare needs. Therefore Webster has it wrong, at least on my side of the play.
What about my service submissives? Webster defines a fetish as: a strong and unusual need or desire for something: a need or desire for an object, body part, or activity for sexual excitement. There is that sex again, but if there is only a pure desire to serve and that is dick's (my regular service sub), driving force to be in a power exchange relationship, then that relationship isn't sexual at all. Right? He really doesn't need or want kinky play. He is very happy when he can come over and do his man chores, visit a bit, and know he has done whatever it is that we needed doing, well. He even does things for my 87 year old mom.
There is no sex involved in anything dick does. He does not do it because sometime down the road if he does well he will get sex or kinky play. To me that means Webster's is wrong about fetishes as a whole. Dick's fetish may be to serve a dominant woman, but he isn't cleaning or touching our kink clothing, going about in a French maid's costume, or has me following him with a crop in my hand. So service is his fetish. I asked him if it was sexually stimulating and he said no, it's emotionally stimulating and makes him feel very good, wanted, and useful.
So BDSM can be and often is sexual. It can be foreplay in the bedroom, sexual release for each partner in private when they are home, or sex with a life partner whom they don't play with. The images of kink and BDSM spark arousal for many. They are meant to. My books do that. They need to, or people wouldn't want to buy them. I'm told on occasion that people have to run off and masturbate or jump their partner after reading my stuff. Sex is good, sex sell, but BDSM does not have to equal sex. One can have several play partners like me and be monogamous, because the only person I have sex with is my wife. Even if my play with a woman who isn't my wife ends with the big bang, to me it isn't sex. It's sexual on some levels, but it is recreation that stimulates. I guess I see it as being on more of a primal level. It feeds base needs. There is caring, but the level of intimacy I have with my wife is absent.
People who engage in extreme sports get the adrenaline rush we who engage in BDSM play get, and it can be non-sexual on the outside but inwardly stimulating for each partner, but I am now firmly set in the belief that all BDSM isn't sexual despite what the dictionary's meaning of fetish, kinky, and BDSM say. My play with my wife wouldn't seem right at all if there wasn't intimacy, arousal, and sexual release; my other play with various partners, both casual and close friends, is absolutely not.
I welcome comments. What are your thoughts on BDSM being sexual?