Today we welcome A.D. Ellis. She has just released her very first New Adult book For Nicky.

Author Bio:
A.D Ellis was born and raised in a small farming town in southern Indiana. An avid reader from the time she learned to read, A.D. could often be found curled up somewhere with her nose in a book. Most of her friends were not such book enthusiasts which earned her a few snickers when she was constantly reading.
A.D. had always dreamed of being a teacher. She earned her degree in Elementary Education from Indiana State University in 1999 and her Master's Degree from Indiana Wesleyan in 2003. A.D. has been teaching in the inner city of Indianapolis for 15 years. While she's taught several different grades, fourth grade is her favorite. They are learning independence by 4th grade, but most haven't learned the attitude yet. A.D. loves teaching fractions, variables, probability, and graphing in Math. She loves almost all aspects of English Language Arts. Figurative language, theme, making predictions, drawing conclusions, inference, context clues, making writing come to life, A.D. loves it all! Her students may not be in agreement with that excitement.
A.D. met her husband in college in 1996 and they married in June of 2000. A.D. lives in a south side suburb of Indianapolis, Indiana with her husband and two school-aged children. When she's not reading or writing with music blaring, she can be found shopping at thrift stores, reading to her children, and running.
A.D. had always pondered the idea of writing a book, but until recently it was a far off dream. In today's age of independently published authors, A.D. decided to take a chance and try her hand at writing. She has learned so much during this journey and is having a world of fun with it.
Please connect with A.D. Ellis on Facebook. https://facebook.com/adellisauthor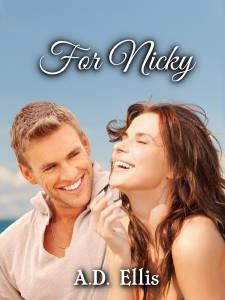 Book Blurb:
For Nicky by A.D. Ellis
Elizabeth Decker views herself as shy, totally average, and pretty much insignificant. She's nothing special, at least not compared to her little sister, Audrey. Elizabeth is content with her plain and lonely future; she's too insecure to contemplate a relationship thanks to her sister. Audrey is a bombshell and uses this to get what she wants. She's a girl who will stop at nothing to control anyone and everything around her. She craves power and doesn't care if she has to hurt Elizabeth to get it.
Nathaniel Morgan has spent his whole life fighting for his twin brother, Nicholas. Somewhere along the way, he lost himself. Now he's just getting by. He's devoted to his family, but emotionally detached from the women he burns through like wildfire. He has no plans of getting into something as complicated and committed as a "relationship".
Nicholas Morgan has placed the new librarian, Miss Elizabeth, on a pedestal and is begging her to meet his twin brother, Nathaniel. Elizabeth and Nathaniel agree to meet, for Nicky. Both are caught off-guard when unexpected sparks fly between them. This was not in their plans. Will Nathaniel and Elizabeth be able to escape a past that still plagues them? Or, will the past, suspicions, and insecurities come between them one too many times?
**This is a contemporary new adult romance. It should only be read by 18+ due to language, sexual situations, date rape, and drugs. This book is a stand-alone.
What I'm Working On:
I am currently working on a second book. It's about Audrey, Libby's sister in FOR NICKY. The title of the book is Because of Beckett and it will hopefully give some insight to Audrey and maybe help her not be so hated.
I have a couple other stories bubbling in my head and some notes written. I'm excited to get to summer vacation so that I have more time for writing!
**For a really in depth interview of A.D. Ellis, you can pop over to Authors Interviews. I know I did.
SOCIAL MEDIA LINKS
www.facebook.com/adellisauthor
www.goodreads.com/adellisauthor
Twitter @ADEllisAuthor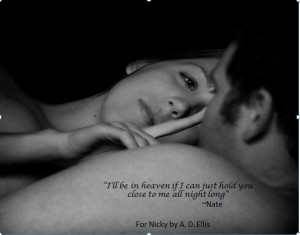 Book Buy Links: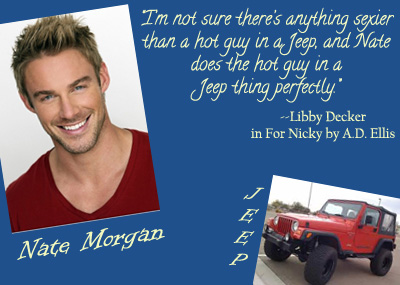 WHY I STARTED WRITING:
I've always loved teaching writing to my students. I love helping them learn to stretch their words, give more details, and use better vocabulary. After getting my Kindle a couple years ago, I was voraciously reading everything I could get my hands on. I found some absolutely fabulous books, but I also read some terrible stories. I finished one book and thought "I could do better than that". However, I didn't really act on it right then. My hair stylist and I share a love for reading and she was constantly telling me I should write a book. I finally took an idea that had been floating around in my head and started writing. When I got to the "The End" it was a measly 20,000 words. Not bad for my 4th graders, but fairly lacking to be called a novel! So, I started revising and stretching and adding details like I teach my students. In the end, I had approximately 72,000 words and an actual story full of emotions and romance and hurt and healing. I'm thrilled with what I wrote as my debut novel, but I'm excited to see my writing mature and expand as I write more.