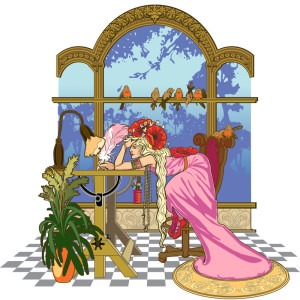 About Jolynn ~ The Author/ Sex Blogger
I'm a strong, bold, and passionate woman who does her best to live out her dreams. I'm having the best years of my life right now, and have discovered my true self in my kinky lifestyle. I'm a wife, Mistress, writer, lesbian, and grandma with a devious imagination and a taste for darkness.
My love of writing began in my early 30s and has been a passion ever since. I love to read, write, travel the world, and am a history buff. My genre's cover historical romance, often with a spicy kinky twist to suspenseful paranormal thrillers. My love of history makes its presence in the books I write. They are often set in centuries past. I am a lover of art, architecture, and the study of diverse world cultures and have traveled to many places.
I still reside in the city I grew up and live near my childhood home with the love of my life, my two spoiled cats and our gnome, Gerome. I have been involved in the BDSM lifestyle for over ten years, and am active in the kink community. My BDSM and power exchange relationships have always been loving and committed. I am married and we practice kink and BDSM within our marriage. What we do involves a deep level of trust. Below you will find more direct comments and a disclaimer about my kink activities and some cautionary advice.
As a person who has been in the BDSM lifestyle for over ten years, I wish to give a word of caution to those who may be new. I spent a long time learning from books, the internet (not porn sites!), and educational classes at kink events, kink get togethers, and talking to others in the lifestyle. I am still learning. I advise those who are reading about some the play and activities we engage in for the first time, to take the time to learn about the things you are interested in rather than jumping in feet first. If something sparks your interest, great, learn about how to do it safely.There are numerous resources on the internet that give factual, safe guidelines for bondage, impact play, or other things you might wish to experience. Fetlife.com is in my opinion the best resource, and has factual information on all things kink as well as experienced people who can advise you on safe play and kinky or power exchange relationships. There is more to spanking and flogging than simply hitting someone, and more to being dominant or submissive than ordering someone about or doing everything you're told.
I have the honor of being in the top 50 of the sex bloggers on Kinkly's Sex Blogger Directory.  There is so much good information out there to find on any of the sex blogger sites; it just depends on what you're looking for since some of the folks specialize in different things.
Author Disclaimer
Please do not try any new sexual practices, especially those that are found in my books of erotic BDSM stories, without the guidance of an individual experienced in BDSM. I will not be held responsible for any loss, harm, injury or death resulting from the use of information contained in my books. All BDSM activities should be carried out by two consenting adults in a safe, sane, consensual manner.