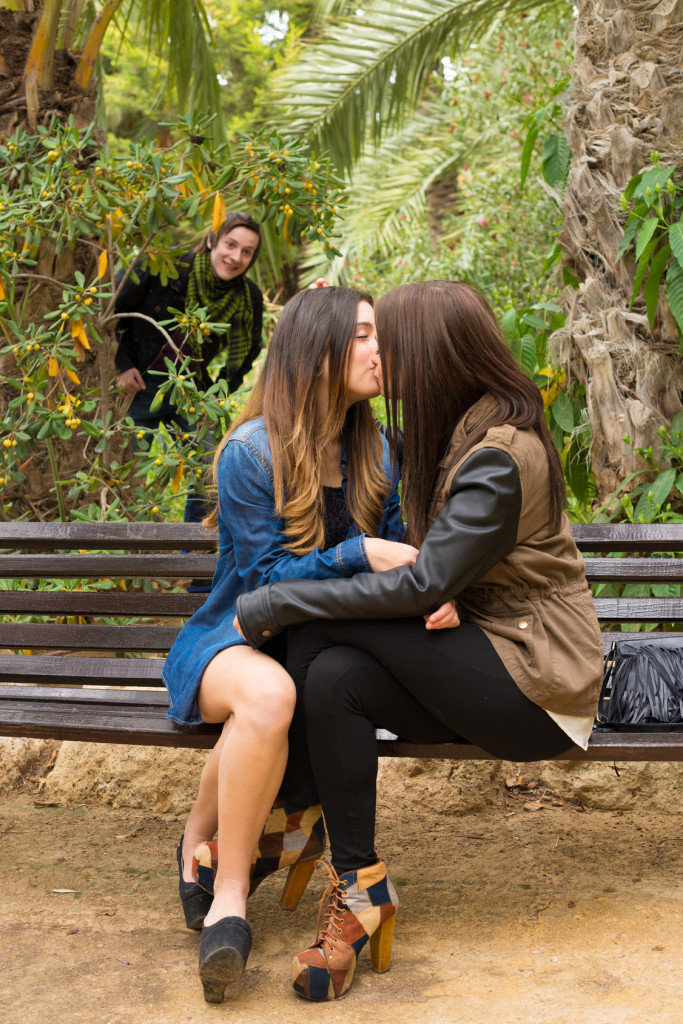 Joelle Casteel wrote a really good post yesterday on her blog. It's titled Who is to judge if I'm non-consensually forcing my kink on others? She makes a lot of good points on multiple subjects in one post. In my post, I am mostly focusing on my ability to show affection to the person that I love in public, without people frowning at me or flipping their shit. We've had guys ogle us like the dude in the picture, which is their deal I guess. They're not going to luck out and get to be in the middle, and go home with us to live out their fantasy in the bed though.  
Here is my comment on Joelle's post on her blog:
With Jolynn and I, we don't even hold hands or kiss when we are out with the general public. I've seen people, some being guys, frown at us. Or you get the other reaction, where the guy walking towards us, is blushing, and his face and neck is all red. I've had that reaction with it just being me, and my wearing my collar when I am shopping or doing wherever. We are both short, curvy, and busty with long hair besides being feminine so it's not like someone will have to bleach their eyeballs after they see us kiss or hold hands. Would I like people to get over themselves and just let us enjoy our time out trotting around? That would be fantastic. The only times we can really be ourselves is at the house or out at a kink event with other kinksters. 
Here are some other posts by Jolynn and myself on being a same sex couple, along with the joys and troubles of being one.
{If I find more posts I will add them at another time to the links below.}
The Ignorance of Gender Intolerance
Let Freedom Ring – Same Sex Marriage in Wisconsin
Joelle Casteel – Author of BDSM Erotica: Who is to judge if I'm non-consensually forcing my kink on others? – http://t.co/0NQaPMEQWl

— Beautys Punishment (@YourPunishments) August 8, 2014