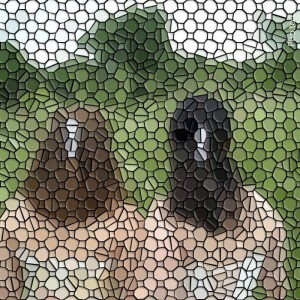 Hidden In Plain Sight #WickedWednesday
This is a picture of Jolynn and I from our wedding day. I would like to put up the real version someday, but that someday is not here yet. The prompt from Wicked Wednesday is hidden. We are hidden in plain sight as far as our relationship goes to some people. When I go to help Jolynn at work, I don't wear my wedding ring as it matches hers. The people that she works with and works for might not all understand, and it also might put her job in jeopardy. You would think that people would be ok with same sex couples, especially F/f, since according to some friends, we are cute as kittens when we are together. I'm not going to go into why people should be accepting, since Jolynn has been doing that with her posts and the guest posts. So she is just biding her time until she can retire early and run free.
When we go trotting around together to do errands, we don't normally hold hands or kiss. Once in a while we do though. When we go to the hardware store down the way, it is obvious that we are a couple and who is the boss. I think they are used to us over there though. The people in our neighborhood get a little weirded out by it, but I think they are more accepting as we have lived in our house for two years now this April, and nothing out of the ordinary has happened, so everyone goes on with their lives. Once a month on a weekend, we do have dungeon/ house parties, but I don't think the neighbors have any idea about that. I think that would probably flip people's shit more than us being a couple of married people that live down the street from them. They just know we have grand kids and a crazy dog.
So trot on over and visit the rest of the folks for Wicked Wednesday. Click on the button and it will take you there.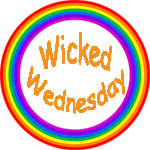 P.S. ~ I do like to fuck with some of the random people that knock on the door that are trying to 'save' me, or sell me something. I'll tell you those stories a different day.