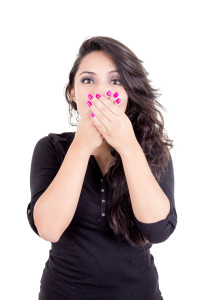 Ass to Mouth? Just Say No!
Normally I am one who will say that even if something isn't my kink, you have every right to indulge in it as long as it doesn't hurt me and mine, and it's safe, sane and consensual. Today I have to speak up, because the activity lacks the safe component.
What am I talking about? What could make me say oh hell no don't do that? Is it knives? Is it fire? Is it fisting /footing with Big Foot? Nope, it's ass to mouth play. The act of taking one's cock out of someone's ass and then putting it in their mouth or another orifice before washing.
I am certain there are those who will argue that the rectum has good bacteria in it. The rectum is really quite clean, especially after an enema. The rectum can be made clean enough so there is no danger to the recipient of a cock that travels from their bottom to their mouth or vagina. I've heard it all, I've read a lot, I've also had severe gastrointestinal issues for nearly a year after having a cock leave my ass and be put in both my mouth and my lady bits. Now some will say that my experience is isolated and that I simply must have had bad bacteria or the anal sex left traces of poo on the cock, but I don't care if it was isolated. A pile of doctor bills, sharp stomach pains, nausea and vomiting, and horrid cramping say different, at least in my book. If it can happen on occasion, it can happen. Period.
I get that having your submissive accept anal sex is an act that is primitive and makes one feel all dommly. I enjoy giving anal. It brings out something more primal and dark in me, but when I engage in anal sex, I am always careful to keep hands that are inserted in the bottom are kept away from the vagina as are dildos. If I have a desire to have my partner suck the dildo I used for anal play, it gets cleaned, even though I always use a condom on anal dildos. I also always clean my hands very thoroughly.
So Jolynn, what about rimming? Is it safe to lick someone's bottom hole? I will say yes, it is safer. You definitely want to start with a very clean bottom inside and out, and I personally don't want someone putting their tongue deep into my bottom, so rimming should be just that, tickling and licking the rim of the anus.
People can argue, I am not saying I know it all, I am just speaking from experience. I got sick from ass to mouth. Really sick. Hospital sick. In my book you dommly types need to find something else for your submissive or slave to do if you want them to 'prove' they will do anything you ask. The function of the rectum is to dispose of solid waste. We've all seen the public health announcements telling us the importance of washing our hands to stop germs and bacteria each time we use the bathroom, and that outbreaks of cryptosporidium, infections from giardia, gastroenteritis and E. coli. If you can accidentally transmit bacteria and illness by poor handwashing, think about sucking a person's hands after they use the bathroom. Does that sound yummy? What about having a nice long kissing session complete with tongue after you're done having your submissive accept ass to mouth. Does that make you want to grab the Listerine?
I think what is boils down to is that yes, it can be done without serious complications BUT serious complications can arise. That's your submissive /wife /partner /lover there before you. You've just had anal sex and are ready to stick that unwashed penis into their mouth. Do you want to risk making them very ill? Do you want to trade wet sloppy kisses after they have sucked and licked you clean? Do you want to suck a cock that has recently vacated an asshole? If you answer no to any of these suggestions then just don't do it.