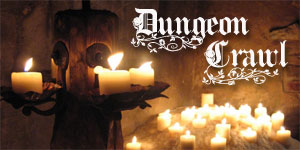 It's that time again for the Dungeon Crawl. Let's get crawling!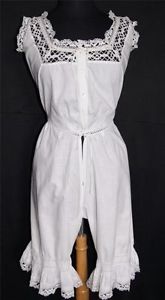 What do you get when you take one set of cotton split bloomers, a camisole, a sturdy rattan cane or birch bundle, and a freshly peeled knob of ginger for figging?
Why Victorian role play of course.
Role playing Victorian can be a delightfully kinky scene that involves funishment of a few different kinds. I always use my canes, have my submissive wear the pretty frilly set of split bloomers and camisole, and use figging as part of the 'punishment'. The bloomers can be bought on Ebay. They are slit from front to back and are essentially two piece that are held together by a ribbon. They can be spread wide for a number of different fun and games. I like to use anal sex as part of the funishment. In the scene I like the Victorian young lady has been caught touching herself by her governess who takes her job of keeping her charge pure very seriously. There is figging to start, followed by a good caning while the ginger root is still in, and then an anal punishment to show the young lady how men wish to take her. Of course she must remain a virgin in that time and era so anal sex works very well. All very yummy!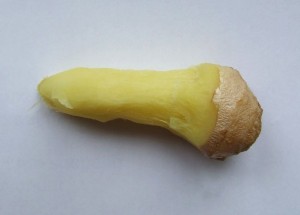 For figging:
You need to peel a root of fresh ginger and leave it at room temperature. Do not peel it the day before, don't freeze it either. Leave a good sized knob on one end. You don't want it to disappear into the bottom.
Do not use lube. The lube will eliminate the sensation of the ginger. I personally use vaginal juices that I coat my fingers with and then coat the ginger plug.
I do not think ginger in the vagina is a good idea. I only inset it anally. That doesn't mean I don't ever rub the clit with the peeled ginger before putting it in.
You must wash your hands very well after touching the pealed ginger. It burns like hell in the eyes, nose, any mucous membrane including vaginal, and will be unpleasant if you touch any place internal with ginger on your hands.
Some people can only take about 10 minutes of having the pealed root in. There is a small lag of time before insertion and the full on sensation of burning.
It is said that the ginger can make some people very sensitive to any touch be it spanking or caning, rubbing and touching, kissing, also making the clit very sensitive. I have only come across one woman who has this reaction.
The excerpt is from my collection of BDSM F/f short erotic stories. This one is called Victorian Lessons. I love playing Victorian.
I move to the small table where my things are laid out, my own long skirt rustling. It will go soon, when it is time for you to pleasure me, but for now, I like the effect. It sets the mood I am seeking. Today is a time for pretend to add a bit of spice to our play.
I pick up the carved piece of ginger root and smile. Oh how this affects you. They call it figging and it has been used for years to discipline wayward girls. My girl has been wayward indeed, and so to aid in your punishment, your bottom will be filled with fire. The slow burn will help remind you of how proper girls should behave, and will make every inch of your skin more sensitive as well. The spice used in this manner has that strange effect on some people, and lucky for us both, you are one of them. It increases all the pain and pleasure I choose to give.
I return to stand behind you, and delve quickly into your quim, then pull the liquid up and spread it over your bottom hole, then repeat the process. I delve into your cunny once more, gathering your juices so I can spread them over your little hole, wetting you, slicking you up, then probing, sliding a finger deep inside you.
Not much prep is need for the size of the ginger root. Size is not what matters with figging. All I need is to make certain you are slippery, and now you are, but you're also moaning like a whore from my attentions, so I give you a sharp slap on your cunny.
"Be still. You were not told to move."
"Yes, Ma'am. I'm sorry Ma'am.
"Not yet you aren't."
You feel the knob of peeled ginger rubbing your clit and let out a cry, you had not bargained for that. The burn starts slowly but intensifies quickly once you feel it, making your need to squirm incredible.
"Just a little something to get that pussy primed."
"Yes, Ma'am."
The words are said between clenched teeth, your clit is throbbing, so needy, so huge, but it's also burning. Before you can spend too much time thinking of the fire on your clit, I begin to push the carved ginger plug into your bottom. It slides in easy in no time at all, and once seated, I give it a nice hard pat, and then wiggle and twist it to rub the root around to get more of the juices from the spice to be released into the sensitive skin inside your bottom.
At first, just like with your clit, there isn't much of an effect, but within two minutes you are tossing your head, trying desperately to cope with the inner burning.
"Ma'am… oh Ma'am… Oh"
"Something to say, Carissa?" You remain mute and shake your head no. "Bad girls must be punished inside and out, and now that the inside of your bottom is taken care of, it's time to go to work on the outside."
"Oh… Yes Ma'am."
You shimmy about as much as you can, not able to help it. Yours eyes are watering as the ginger takes effect deep in your ass, but your nipples tighten as well. The starched cotton of the camisole now seems harsh against them. The skin of your bottom feels so very vulnerable. The skin is stretched taut, and ready to receive my wrath, and your quim, oh how is aches and burns, even as it needs.
I slap your bottom again and this time the effect is different. The ginger is making your skin hypersensitive. "I said be still. You are not to move a muscle."
The words are hissed and I take you by the hair, yanking back hard, holding you, forcing your head up, making you whimper.
"You will take this like a good girl. You will not move or speak, and you will do everything I tell you. Young ladies who touch themselves must be punished for their evil deeds. I am the only one who pleasures that cunt of yours. The only time you are allowed to be a whore is when I desire it, but you forgot that fact, Carissa. You forgot, and now you must pay for your filthy display of self-pleasure. "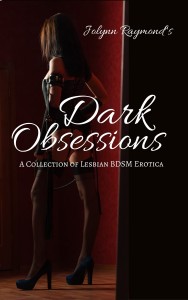 Crawl on over to the rest of the Dungeon's to see what they've got on their racks. Click the frog to Enter!