So You Think You Might Be Kinky? Now What?
Think all this BDSM stuff looks wild, wicked, kind of scary, really sexy, and really interesting?
Maybe you read that Shades book and it not only opened your eyes, but made you want to learn oh so much more about kinky relationships.
Perhaps now you're wondering just how to find factual information on kink, dominant and submissive relationships, fetishes, and how to turn curiosities into real life exploration.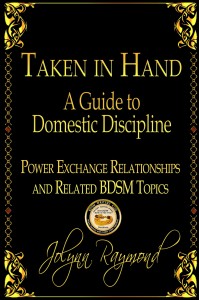 Taken in Hand could be the guide you are looking for.
Want to learn about power exchange?
Want to learn about domestic discipline?
What to learn how to approach a Mistress?
Want to learn how to be a dominant?
Want to learn about munches and kink events?
Want to learn about the interviews and checklists I give my new male submissives?
What to learn about punishments and spankings?
Want to get advice from someone who actually lives and practices BDSM 24/7?
Want to learn about do's and don't when seeking a female submissive?
Want to read my Anal Sex Tutorial?
Want to explore kink but do it safely and sanely?