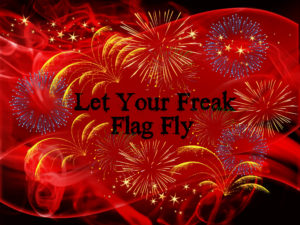 Let My Kinky Freedom Ring
Today is the day we celebrate the birth of freedom in our country, and it's finally time for me to celebrate new freedoms too. I have gained the liberty to express my sexuality as well as the freedom to be kinky, and boy does it feel good. I have retired, and we are moving to Florida, where the fetish clubs are licensed, and the views are more liberal.
Self-censorship was hard. I smothered myself and my wife because I needed to toe the line and present myself as an upstanding vanilla do-gooder, to conform to the morality clause in the contract that governed me for 31 years. Now there is no need to hide the fact that I am a lesbian who is extremely kinky and writes books that contain kinky smut, BDSM, and how to domesticate and discipline your wife. I can openly be proud of my blog full of articles that deal with BDSM know how, and open up the world that resides in my sometimes twisted and kinky brain.
I spent the first half of my kinky years in private, just me and my submissive doing fetish play on our own. I had the notion that what we were doing was legal, if not exactly moral, in the vanilla world's eyes. When I joined the kink community, I found out that what we do is illegal, at least here in Wisconsin. You cannot consent to battery. Period. Not even if she wants a flogging, my wife cannot consent. That would absolutely give the job I had just cause to fire me no matter how many years I had been with them. Let me tell you, that censored the me who interacted in the vanilla world, and sent my kinky self into hiding. I adopted a pen name, I adopted a scene name and put a lid of silence on my activities, but no more.
BONG, BONG, BONG! Can you hear it? That bell is so loud I can feel it down to my toes, and it makes my ears ring, but it also makes me do one hell of a jig of joy. I am a slap happy dancer, whirling and spinning because the shackles and the blanket of secrecy have fallen away. I am free to be me. Me who is a sadist, Me who writes down and dirty books. Me who is a dominant woman in a DD relationship. Me who spanks my wife. Me who is an advocate for submissives. Me who is opinionated as hell when it comes to safe, sane, and consensual. Me who is wicked, evil, and creative as hell. Me who loves dirty games. All of the Me's are bursting out of the closet like crazed minions and screaming "Game on". Ding dong the wicked witch of the morality clause is dead, and she is taking Wisconsin's uptight conservative politicians with her.
I am not fool enough to think I can run around and do exactly what I want when we move to Florida, and the part of me that is kinky AND moral wouldn't force my kink on the vanilla world anyway. They haven't given consent. I can, however, play in a club that is known about and licensed, allow Head Mistress Payne the strict educator, to find space to teach her classes about high protocol and formal service. I can allow Jolynn Raymond the author to have a face without fear of facial recognition software. I can go to book conventions, openly promote my teaching at large kink events, work on Niteflirt because frankly, I make good money to support my family there, and gasp… put my face on Fetlife. The veil of secrecy and invisibility the real me has worn is being put in the closet. There is plenty of room there since the kinky lesbian has vacated its confines.
My family knows the real me. The kink community knows the real me. Now the vanillas who come across my pictures may stumble over their open mouths, but they can't use the information to bind me and ruin my life. Retirement has come, and once all the paperwork is finished, I will proudly present the me who is moral, intelligent, ethical, educated, safe, sane, twisted, evil, and sadistic. The twisted me only gleefully rubs her hands in anticipation of a delightful play when her play partner consents, so I have no qualms about who I am and what I do. The closet is empty except for that sad little cape, and my feet are boogying to the rhythm of that bell. It's time to say thank you to those who kept my secret all these years and yell Whoo Hoo!! at the top of my lungs. The time of freedom has come.
Happy Fourth of July everyone.