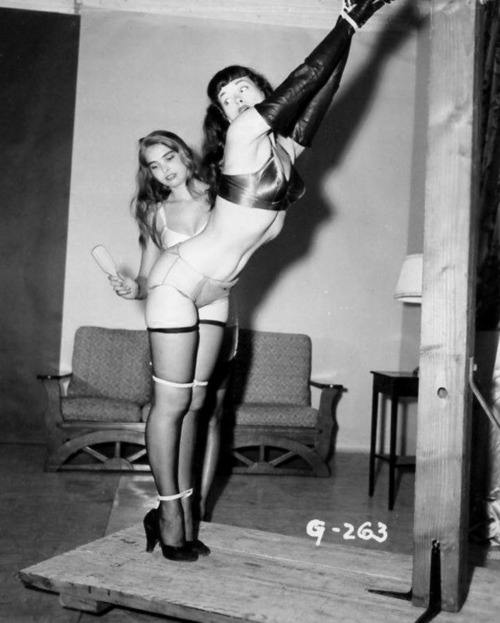 Creating a BDSM Scene
The author of the post cannot be held liable for the actions of any readers. BDSM play can be dangerous if safety precautions are not adhered to and those participating have not learned how to use the items listed, or how to do the actions discussed before trying them. Proceed at your own risk. ALL PARTICIPANTS MUST GIVE FULL CONSENT WITHOUT COERCION!
Both those who are new to kink and those who have been playing for some time may struggle with creativity at times. When you are a top or dominant in a BDSM play scene, you want what you do to run smoothly and to guide your bottom/submissive to that all wonderful and exalted place called subspace. No matter what you do, that might not happen, but if you orchestrate things in your mind first, and prepare things properly, there is a better chance of all involved having fun and getting that power surge/rush for the top and that endorphin high for the bottom.
The first thing you need to do is negotiate with your play partner. Ask the bottom/submissive where you CANNOT touch them. Talk about limits. Talk about what each of you wish to get from the scene. Talk about safety code words. You can read more about how to negotiate a scene in my BDSM and Domestic Discipline Archive here.
Think about what implement you want to focus on and let that help you decide where or on what furniture the scene will take place. I prefer to flog when my partner is on the cross. There are over the door restrains available at different toy vendor sites if you do not have access to a St. Andrews Cross.    
Over the door restraints at Extreme Restraints
Spanking can be done in many different places and the position or place you choose can change the intimacy level. If I want to give Beauty a sensuous spanking and we aren't in the dungeon on the spanking bench, I have her over my lap on the bed as I lean against the headboard. You can spank over your lap with support being somewhat absent so the bottom feels helpless. Over a chair back, on all fours on the bed or coffee table. In a barn over a hay bale. Over the arm of a sofa. The places are endless. Scope out your house or apartment and you will discover great places for spanking with your hand, a paddle, a belt, a wooden spoon, etc.
Decide what you want to wear and what you want your bottom to wear. This can change the mood. All in black complete with a mask. Spike heeled boots, jeans and panties for you to pull down. Victorian chemise and split bloomers (check Ebay), the naughty nurse or scrubs for medical play. The fair maiden in a renaissance fair costume, school teacher, naughty school girl, strict headmistress, etc., or just plain naked. I usually start dressed but my top comes off as I play and get hot. Sometimes I have on sexy kink clothes, sometimes more intimate wear if alone at home with Beauty, and sometimes I'm in my jammies. It depends on the mood I want to set.
Back to implements. These vary depending on what my goal is and who I am playing with. Keep in mind that almost anything can be kinkified, but you also need to know what varying degrees of force when using it feels like.
Possible impact implements can be:
Paddles of wood, leather, Corian, Lucite

Your hand – Never forget the power and versatile impact of your hand. It can be soft, hard, tickling, stroking, rapid, slow, tender, and harsh.

Wooden spoon

Hairbrush

Leather straps/belts/tawse

Canes – There are so many varieties, LEARN about them.

Floggers – Again so many types, LEARN about them.

Use your imagination. Looking around my living room, I spot at least three.
Non-impact implements can be:
Violet or neon Wand for electric play

Hitachi/vibrators/bullets for orgasm build up, denial, play.

Wax – Don't just grab a candle. Read about the proper kinds of candles and wax.

Food – Don't put sugary things in the vagina.

Penetration toys – Again, huge variety. Read my anal sex tutorial for anal play. Don't put anything in the butt that doesn't have a base unless you want to chance a trip to the emergency room to have something removed. Use condoms on toys for cleanliness both for the person receiving the penetration, and to keep toys very clean.

Blindfolds

Gags

Rope of leather restraints

Massage oils

Things that tickle

Things that stroke softly

Things that are cold or wet – Putting spoons in ice water and the using on the skin.

Hands, hands, hands
If you want to play with it, read about it.
ALWAYS have a first aid kit and at least one emergency scissors. We happen to have three. At the rope suspension class we went to at MTKF recently, the rigger said to have more than one scizzors since things can break and you will want a spare just in case. They are sold on different websites like Amazon or Ebay, or at events for $5 and up. The scissors might even be sold at an Army surplus store. The cheapest I found is $3.00 and the most with a carrying case was $40. If you want to get fancy, Leatherman makes the Raptor. Look for EMT/ military scissors or shears, or Ripshears. The piece that attaches to the shears can glow in the dark, which is really helpful for finding it in low lighting or inside your toy bag. I found that piece sold separately for $15. 
A Few Play Ideas
Game Show Theme
Let's Make a Deal:
The old show had people winning things by the choices they made and then having to make new choices to decide whether to keep what they had won or trade it in for something that might be better, or could be worse than what they already had. I don't know many submissives who enjoy making decisions, so this adds to the fun of the top/dominant.
Send your partner off on a task and then gather items from the toy box that are hated, loved, and everything in between. Hide pairs of things (One thing they love like a favorite dildo, Hitachi, vibrator and one thing they hate – hard paddle, nipple clamps, gag etc.) under couch pillows, in the entertainment center, under the bed, in the pantry, in the tub, under the covers, etc. Each pair should have one thing they would want, and one thing that they do not want in them.
When your partner comes home, tell them you have a fabulous game to play. To begin tell them you have hidden all the toys around the house and they now get to make choices as to how the day's play will go. Ask them if they would like what is hidden behind the couch pillow or what is behind the chair. When they make a choice, show them the items, remember, one is liked and the other one not so much. Then ask if they want to settle for those two to play with for 15 minutes or if they want to trade for what is behind the curtain. Keep this up as long as you have energy and things hidden. Always start with two places to choose after the 15 min. of play using the toys chosen to begin the game again. The bottom/submissive may NOT change their mind after they have made a choice. If you want to be really evil, put two bad things in one place and two good things in others.
Wheel of Fortune:
Buy a circular belt or tie hanger that spins. Hang it in the play space or on the shower curtain rod and hang various implements on it. You can mark the front by using a piece of tape or nail polish to mark the center position.
Use a dry erase board to write out the lines of a words such as  __ __ __ __ __ __ __  for the word flogger and use it for playing hangman. Draw just the lines of the scaffold, and then have your partner guess letters. When they miss, they must spin the wheel and you get to use the implement that spins into the front position on them. Make a part of the hangman (head, arms, body, even eyes and ears to prolong the game as well, and write the letter at the bottom of the board so they can keep track of their guesses. If they guess a correct letter, they skip the spinning of the implement wheel. You can hang tags that say Hitachi, cane, etc. if you want to use things that won't hang.
Sensuous play:
The idea here is soft, soothing, stimulating touches. There can be an ouch factor but this is more about sensation. Have your partner lay nude on a massage table or bed. It's easiest if you can move all around them and reach them. Beforehand think of all the things you can use to create sensations in the body. Also pay attention to sound, sight, and smell.
Build slowly, touch softly, and mix in things that might hurt a little but go for stimulating the senses. When using canes I tap and drum with only a few sharper strikes. Use rabbit or imitation fur mitts, vampire gloves, Wattenberg wheel, or use the Neon wand and body pad so your fingers are electric and touch them everywhere as your hands buzz. Use feathers, scrubbies, paint rollers that are fluffy. Change it up and have a roller that has been dipped in water and then frozen on hand to roll over their body. Food is sensual, light flogging, light slapping with the leather slapper, ice water can chill so many things and warm water changes the feel too. I have a large drapery tassel that is fringed. Hands in leather gloves feel different, vibrators all over provide sensation. I usually build slowly with occasional things that make Beauty yip, and finish with the grand finale, which is sensation that gives orgasm. Feel free to use insertable or remote control eggs or bullets to stimulate the inner part of your partner.
There are so many role play scenarios:
Victorian – Have your partner wear the split bloomers mentioned above. They can be a young lady in need of punishment but one who must remain chaste and therefore can only have anal penetration. Figging (using ginger in the butt – look it up) and Victorian play go hand in hand. Rough (but always make the body ready!) anal sex in funishment. Of course, you can feel gently in the vagina to check for virginity and go with that however you want. Canes are very Victorian. A birch bundle works. You can be young lady and governess, young lady and father, maid and employer. Be creative.
Naughty School Girl/Boy – Be the strict headmistress, headmaster, or teacher. School girl outfits are easy to find. Go to second hand stores or look in any costume catalog. A proper English tawse is great for this, or a cane. Bend her/him over that desk, lower those panties and spank them for some misdeed. Are you are truly evil teacher? Fuck them over that desk or even on it. Corner time fits well in this, as does a dunce cap for consented humiliation play.
Doctor/Nurse – Enjoy medical play or is it a much-loved form of humiliation? Buy a box of rubber gloves. You can buy a speculum on Ebay. Any table that is waist high works even without the pelvic exam stirrups. You can jig under the bed restraints for use on a table or put eyebolts in the ceiling so you can play on the massage table with your partners bottom near the end edge and their legs fastened to the bolts, and therefore held wide apart for whatever your pleasure is. Enemas fit well in medical play as do urethral sounds and other more invasive things that you must have knowledge of. Do not use it is you don't know how and make sure everything is sterile/clean.
Warrior/Invader/Wicked Knight and the Maiden in Peril/ or Captured Slave – Kidnap her and bind her to the bed or table, gag her and or blindfold her and have rough sex. CONSENSUAL PEOPLE! All of it, right from the start. I love dressing up in Renfaire outfits. The captured person can be your sex slave or just regular slave. They can bathe your feet or your whole body. Be treated like Cleopatra by your new slave. Get a massage, get your hair brushed, and get a long sex session where you do nothing.
Your mind is a wonderful things and kinky play doesn't have to be expensive or even use toys. There is religious play (tapered candles anyone?), puppy/pony play, daddy/Mommy and babygirl or boy play. Sell your slave at the auction as you poke and prod him or her, and look at their teeth and response to pain and arousal. Be a virgin on your wedding night. Outdoor play is fun as long as you are not imposing your kink on people who may be about. Take your naughty sub into the woods and make them strip and fashion their own switch from a tree. Be evil, be brilliant, be safe and consensual.
Have fun people but always negotiate, always decide on safe words. I like green, yellow, red especially for new partners, and always respect RED.
Talk about prior injuries that may be sensitive areas like the back or knees. Talk about health and allergies. Talk about what both of you want to get out of the scene, talk about aftercare, talk about triggers and mental health issues, talk about sexual health and have safe sex.
You are only limited by your imagination.