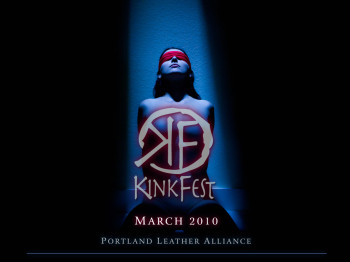 It's Kink Convention Time!
It's kink convention time!!! And no, we aren't going to Portland. I chose their brochure because it embodies the focus on kink that we will share next week.
Beginning next Thursday you will be taken on a journey into the world of a large kink convention. These conventions take place quietly in cities all around the country, and attract large crowds of wonderful kinky, but really, oh so normal people to a convention center and hotel near you.  Some are held in a hotel where it is called a hotel take over, which means only the kinky convention people are in the hotel which is hosting the event, and others have all of the meeting and ballroom space the hotel has to offer but we are not the only guests at the hotel. Either way we strive to behave in a manner that does not subject anyone, be it the maids, front desk staff, or other vanilla guests to our chosen form of recreation. But when you go through security and pass into the event space, you enter a whole other world.
The first things you will notice is how folks on the fun side of the curtain dress or are undressed. There is a lot of black leather and corsets. There is a long table that hold kink toys and kink related items that are donated by those who make toys, jewelry, or in my case, write books that are up for silent auction. The proceeds of the auction go to causes and organizations in the kinky community such as the Leather Heart Foundation. The foundation helps those in the kink community who need help with bills, provides safe places for those who are homeless, or helps with doctor bills. There are other organizations as well. We are a very giving community.
There will be much more on what goes on and the things Beauty and I do while attending the convention. I have chosen a schedule of classes designed for both my personal learning as well as ones to gain information which will help me in my quest to educate others through my blog. I also have a series of interviews lined up.
It is my intention to do a sort of you are there series of posts so my readers can experience the convention with me. On that note, I will say that the schedule is a crazy whirlwind of things to do, see, buy, and of course play in the dungeon from 9:00 to 2:00 am Friday and Saturday nights. I will do as my energy level allows. There will be no photography or audio recordings. We value, and in many cases need our privacy. Cell ph0nes are not allowed in the event space to protect attendees.
Steps one and two to prepare – Beauty and I began to get set for the kinkfest way back in February when tickets went on sale. We bought them and reserved a room, and in our case for an extra day, so we are well rested and there for all the classes. Now we are already beginning the packing phase for this wonderful kink event.
We need:
Mostly regular, but often just a bit kinky or sexy clothing for the daytime classes.
Outfits for the dungeon each night. We will provide photos taken in our hotel room before we go downstairs. Oh, and we must be covered up for the trip through the hotel. Beauty's outfits must be semi easy to remove and put back on because when we play she is most often nude. This is the time when I actually do wear my stereotypical dominatrix outfits.
Shoes – This used to be a big item with multiple pairs, but we both leave the come fuck me shoes at home now days. Too hard to walk in. I do have my black leather boots though.
Any items for planned classes. If we are doing a rope class then having rope with you so you can actively participate is helpful. The presenters always have things if people do not.
Toys, toys, toys! My play partner, Jud is not going to be attending so I can leave the heavy artillery at home. Beauty and I plan to play only one night of the two. We will visit with friends we haven't seen in a long time, and I also plan to observe a friend who is doing CBT (cock and ball torture) I know, you are saying yikes! I do not plan on doing much of this, but wish to be skilled none the less.
For Beauty I will bring the more sensual toys along with a blindfold. She is hard to keep focused because of the activities going on around us as well as the high energy of the room. Aftercare items of a blanket, slippers, chocolate, water, and cuddles are a must so I have to pack accordingly.
I have special totes for my toys. A roll up bag for canes and floggers, a rolling case for all the other stuff. I will show you what I am taking. The neon wand is going to stay home. Right now all the toys I want to bring are on the massage table down in the dungeon.
Snacks – this is the same no matter where we travel to. Beauty is a midnight snacker.
Money, photo ID, lanyard – You absolutely must have a photo ID to get you event badge. No one, no matter how well you are known, gets past security without their badge. As for money, I am determined to leave all the vendors toys where they are on the tables. I spent way too much money last year at the kink event in Colorado. I will be restrained this year because really, I have enough toys.
That's all for now. We are counting down the days and leave on Thursday 17th, a day early so we can attend all the Friday classes. There is much packing and trying on of corsets, skirts, stockings, and sexy outfits to be done.