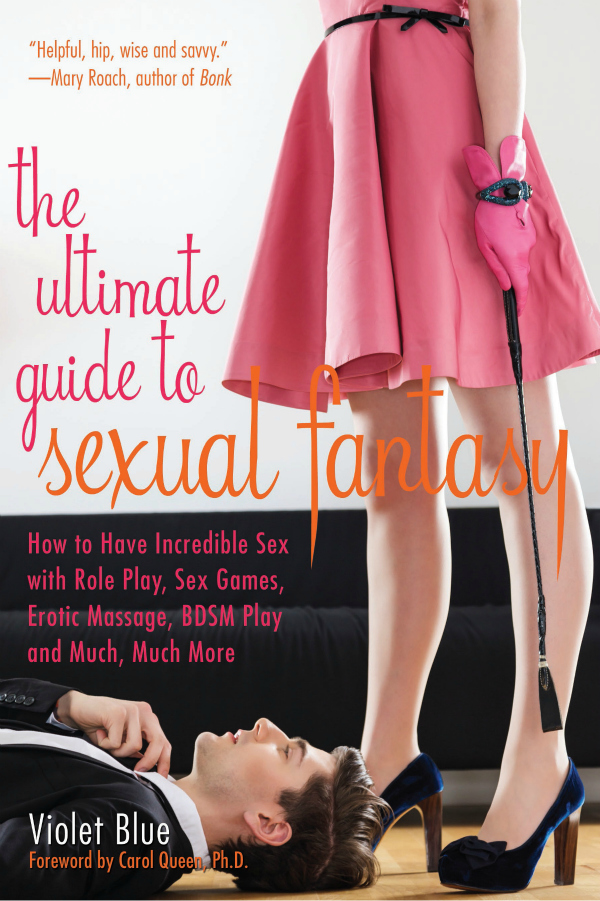 The Ultimate Guide To Sexual Fantasy
Book Blurb:
Join the legions of couples and singles who are making their hottest sexual fantasies come true. Whether you're looking for an endless supply of fantasy ideas or expert advice for a playful, imaginative sex life, this information-packed book will tell you exactly what you need to know. Forbes web-celeb Violet Blue has compiled comprehensive lists of the most popular fantasies and fetishes, complete with suggestions for props, toys, and costumes (and where to buy them). Blue takes a nuanced approach to helping you decide just how far to take your fantasies. Whatever your desires, The Ultimate Guide to Sexual Fantasy: How to Have Incredible Sex with Role Play, Sex Games, Erotic Massage, BDSM Play and Much, Much More will help you create the scenarios of your wildest dreams.
*********************************
Beauty's Book Report:
Disclaimer: I received Violet's book from the publisher and author for an honest review. 
First off, I have to say, wow! For the record, I am not easily wowed by a whole lot of things, so it has to be really good. I have never read one of Violet's books before this one so I didn't know what to expect. Violet's book is jam packed with information with how to ask for what you want, what things you need to go shopping for, and how to carry out your scenarios. Plus there are loads of handy websites and books she suggests you read for further information of topics that interest you. She really gets in depth in the 255 pages of her book. I chose the paperback version since I love the feel of a book, and I could have a handy reference on my bookshelf all the time. Even if you are a seasoned Kinkster, there is still information there for you to learn about, and fun things to do. If you are a Newbie, then you've hit the jackpot. 
Violet Blue teaches us to learn how to make fetish and sex work together. Role play is discussed in the first chapter, and that fantasy can make masturbation intense and focused where you can have a starring role. You can role play your fantasies without the risk to your real life relationship and try out new things that might be taboo. You can also find out what works best for you. Violet explains and defines popular fantasy themes. She explains the health benefits of masturbation, and refutes the harmful myths that have kept people from engaging in it. Violet also explains what to not put in your butt, and The Golden Rules of anal masturbation. 
Violet talks about fantasies vs reality and how far to take it, and when the timing for fantasies would be inappropriate. How to ask for a spanking, and some real life results. Surprise your partner with their sexy fantasy, and what to do when your partner is reluctant.
In the chapter Striptease, Hot talk, and Massage – she give you good ideas to plan, setup, and sexy moves to do. What the atmosphere and locations should be, outfits to wear, props to buy, music to play, and how to bump and grind. Then she gets into Lap Dancing; how to do it, and how to undress your lover.  Violet teaches you how to dirty talk, and make your voice the sexiest it's been. After that, it's how to give an erotic massage, and what you need besides oils, different sensation toys to orgasm and aftercare.
In the chapter Strip clubs, Phone Sex, and Call girls for Two – she talks about your expectations with your partner before going, what you want, and bringing cash. Etiquette for going to a Peepshow, strip club, and how to behave with sex workers. She explains how to set up a date, and what to do afterwards. 
The chapters afterward Violet discusses:
Public sex – what to wear, what to bring, what times of day are best, and where to go to have it.

Swinging – What it is, what to do, and swinger etiquette.

Fetishes – What it is and what it's not. Guidelines on how to have sex with a fetishist. Classic fetishes, and networking with other folks.

Erotic D/s and s/m fantasies – Roles, fantasies, what to do, safe words, and going out to play in public or with a Dominatrix. 

Erotic sex games and photo shoots, and how to make your own porn

Safe Sex
Interspersed throughout the book are sexy stories by Alison Tyler. I really enjoyed her first story called The Perfect Match since it involves spanking. By the time I finished reading it I was smiling. Alison's next story is called Three In One, which leaves you guessing until the end. California Dreaming is pretty hot, and also the story about Paris. You can see for yourself and read all of her sexy stories. You won't be disappointed. 
To see for yourself, you can pre-order a copy on Amazon and get it delivered to your Kindle on July 21st. 
Buy The Ultimate Guide to Sexual Fantasy on Cleis Press
Violet Blue is the best-selling author of numerous sex-instruction books, including The Ultimate Guide to Cunnilingus and The Ultimate Guide to Fellatio. She also writes about erotica, pornography, and sexual pleasure and health for magazines such as O: The Oprah Magazine, Newsweek, Cosmopolitan, Esquire, Glamour, Maxim, Marie Claire, Men's Health, Penthouse, Redbook, and more. She lives in San Francisco. Find her online at tinynibbles.com and on Twitter @VioletBlue.