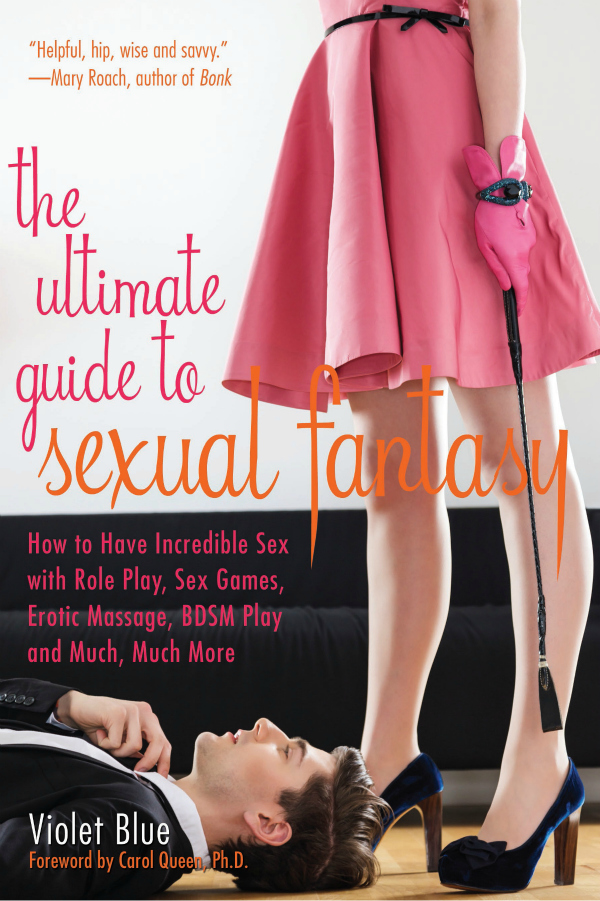 Turn Your Fantasy into Reality
Join the legions of couples and singles who are making their hottest sexual fantasies come true. Whether you're looking for an endless supply of fantasy ideas or expert advice for a playful, imaginative sex life, this information-packed book will tell you exactly what you need to know. Forbes web-celeb Violet Blue has compiled comprehensive lists of the most popular fantasies and fetishes, complete with suggestions for props, toys, and costumes (and where to buy them). Blue takes a nuanced approach to helping you decide just how far to take your fantasies. Whatever your desires, The Ultimate Guide to Sexual Fantasy: How to Have Incredible Sex with Role Play, Sex Games, Erotic Massage, BDSM Play and Much, Much More will help you create the scenarios of your wildest dreams.
Discover how to:
Uncover your lover's secret fantasies

Role-play without feeling silly

Navigate your first threesome—where DOES that sixth arm go?

Have sex in public

Create thrilling S/M scenarios

Strip, lap dance, and talk dirty
Violet Blue is the best-selling author of numerous sex-instruction books, including The Ultimate Guide to Cunnilingus and The Ultimate Guide to Fellatio. She also writes about erotica, pornography, and sexual pleasure and health for magazines such as O: The Oprah Magazine, Newsweek, Cosmopolitan, Esquire, Glamour, Maxim, Marie Claire, Men's Health, Penthouse, Redbook, and more. She lives in San Francisco. Find her online at tinynibbles.com, on Twitter @VioletBlue, and also on Facebook. 
Carol Queen is a writer, speaker, educator and activist with a doctorate in sexology. Her books include Pomosexuals, Real Live Nude Girl, and Switch Hitters. She lives in San Francisco, where she is the Good Vibrations Staff Sexologist. Find her online at carolqueen.com
Excerpt:
What happens to submissives? All manner of delicious predicaments. You may be required to serve your dominant—or a dominant couple—in a variety of ways. Read Chapter 6 to learn how to give an erotic striptease, lap dance, and erotic massage—which may come in handy if you are to give your dominant body service. Body services might include foot massages, grooming such as manicure and pedicure, facials, hair washing, drawing a bath and sensuously bathing your dominant, foot washing, towel-drying, full-body massage, erotic massage, sexual receptiveness, and oral sex. You might also be told to worship body parts or items that are important to your dominant—often features or objects that excite you, if your dominant is rewarding you. Follow your lover's instructions, which usually means kissing and nuzzling (or licking and fellating) feet, shoes, hands, whips, dildos, breasts, butts, genitals, panties, or other fetish items.
Domestic service might be for you. Submissive domestic service usually requires a costume or significant item of dress that says you're a servant. Maid or butler outfits can be practical, traditional, formal, or ridiculously sexy. Or you may have to scrub floors totally nude, or wearing only high heels and lipstick, knee pads and an apron, or in bondage. When you are a domestic, you might be expected to clean house, prepare meals, do laundry, and any other household chores that make you look sexy and vulnerable—and you will be expected to actually do the chores. If you are told to clean and condition the whips, you'd better do it! Don't perform a chore improperly in hopes of punishment. Also, expect to be interrupted during your chores (this is the fun part) for possible punishment and sexual services.
From the Ultimate Guide to Sexual Fantasy 2nd Ed., by Violet Blue.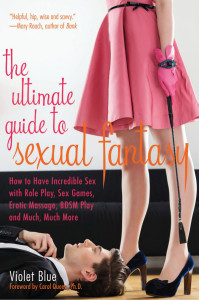 Buy Link To The Ultimate Guide to Sexual Fantasy on Cleis Press
Amazon Pre-Order for Kindle and paperback
The Ultimate Guide to Sexual Fantasy, 2nd Edition
How to Have Incredible Sex with Role Play, Sex Games,
Erotic Massage, BDSM Play and Much, Much More
By Violet Blue
Foreword by Dr. Carol Queen, Ph. D.
$16.95, Trade Paper
288 pages, 6" x 9"
ISBN: 978-1-62778-041-4
Publishing July 3, 2014, in celebration of Disobedience Day
Contact: Eva Gantz, [email protected] and 510/845-8000