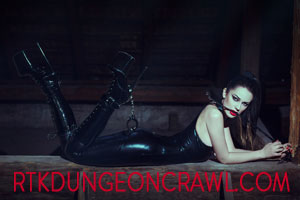 Welcome to this weeks Dungeon Crawl brought to you by Romancing The Kink.
We rejoin Cassie and Gabriel as Cassie is desperately trying to do as Gabriel asks to atone for the little show she put on earlier at the club in an attempt to make him jealous. I recapped one paragraph and do realize this part isn't very long. I hadn't realized we were so close to the end. It is what it is and I hope you have enjoyed it enough to be happy to know how this part of their story ends.
Cassie was wailing and bucking her hips as she fucked herself silly. Tears streamed down her face as she dragged the vibrator over her clit and clenched her pussy muscles around the dildo, her ass burned with unbelievable fire but Gabriel's words and her wild actions had her tumbling over the edge as he commanded.Cassie collapsed, in a quivering heap, crying, reaching back, desperate to pull out the plug, her safe word rising to her lips, only to feel Gabriel's hands lifting her hips and gently pulling the ginger root from her.
"I'm sorry, I'm so sorry. Oh God Gabriel I'm sorry. Please. It hurts."
"Hush baby, I'll help, it's okay. Stay right like this." Gabriel went to the freezer and took out an ice cube. He squeezed it in his hand to break it in half then popped the two pieces into his mouth. Returning to Cassie, Gabriel moved the ice over his tongue then into his cheeks. He spread her bottom wide and began to lick the red and inflamed skin as he slowly slid the dildo from her pussy. Gabriel lapped her from clit to puckered hole and back again, spreading the cooling sensation of the ice. He worked his way back to her crimson rosebud and slowly circled it, licking gently, teasing it open. Cassie hissed and whimpered but Gabriel held her still. When he thought she was ready, Gabriel pushed one then the other slightly melted ice cube halves into Cassie bottom.Cassie hissed but then sighed at the blessed feeling. The burning was finally fading.
Gabriel rubbed her back and stroked her bum as the ice melted inside her, he reached under her and removed the nipple clamps, preferring to play with her delectable breasts au natural. "I really am sorry Gabriel. I swear I didn't mean any of it. I just… I wanted to make you as mad as I felt. I was so pissed off at you. I never even think of other guys. Ever."
Gabriel hand came down sharply on her ass cheek and he pulled her into his lap, pulling her head to the side and biting deeply over his mark of claim. His growl as he shook his head summed up everything he was feeling. She was his. No other man would ever lay a hand on her. To have seen her dancing with some stranger, touching him, inviting him to take what was already spoken for… Gabriel growled again then withdrew his fangs as Cassie went limp in his arms, his dominant male having made its point.
"MINE! You're mine Cassie. For eternity. Never forget that."
"Yours. Always."
Gabriel allowed them both a moment of tenderness, stroking back Cassie's hair and kissing her gently as she lay in his arms, relishing the feel of her body molded to his.
"Love you Gabriel. Yours, always. Never do that again, never."
"Glad that's clear. Now get up and bend over the sarcophagus. Legs spread wide, hands flat upon the top. I'm not through extracting my pound of flesh. I believe we've covered most of the agony but that bum of your's isn't nearly the color it should be. I've also got a hard on that needs tendin' Cassie. Gonna fuck you baby until the only thing you can do is babble my name."
"Oh yes Sir!" Cassie jumped up and grinned at Gabriel as he began to unfasten his belt…
Crawl on over to the rest of the Dungeons to see what's on their racks.
[inlinkz_linkup id=405522 mode=1]