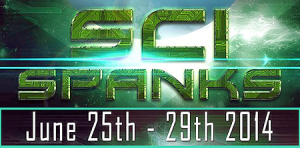 Would you like free stories, fun, and a chance at over $1,000 in prizes? This summer, you can participate in a short story extravaganza! Award-winning authors of dystopian, paranormal, urban fantasy, speculative, and science fiction will showcase stories for your enjoyment. Chat with your favorite authors, meet new-to-you authors, find great new books, and meet new friends!
Sci Spanks Featured Authors
Introducing guest blogger Ami Starsong!
Want to become a Sci Spanks ambassador and earn an extra prize entry? See below!
Even better, participation could earn you a GRAND PRIZE!
READER PRIZES!
Kindle Fire or Nook HD (winner's choice)
(donated by Blushing Books)
AUTHOR PRIZES!
SPANKING PRIZES!
MORE READER PRIZES!
Book Bundles from:
Many authors also will offer a contest on their individual blogs.  Your comment on their blogs automatically enters you in both the main contest and the individual contests!
What's the catch?  Absolutely nothing!  We love writing for you and want to thank you for your readership.  Perhaps someone might get a spanking or two, but that's a reward rather than a catch, right?  😉
Here are the rules:
Visit each blog between Wednesday, June 25 and Sunday, June 29 to read the posted stories and excerpts.

Leave a comment answering the story question on each blog.  You will receive one entry per blog for the grand prize drawing.  You will also be automatically entered in that author's individual contest, if she has one.

If you have visited all of the blogs, visit Ana's blog to sign up for FIVE bonus entries to the grand prize.

Deadline is midnight EDT (UTC -4) on June 29!!

If you successfully completed a previous challenge (Love Spanks 2014, Spank or Treat 2013, Spankee Doodle 2013, Love Spanks 2013, or Spank or Treat 2012), you may add "VIP" to your comments.  You will earn THREE bonus entries toward the grand prize.  (Yes, we will be doing this again.  Yes, if you successfully complete the Love Spanks 2014 challenge you can become a VIP for our next activity!)

If you are an published writer/author, please add "W" to your comments. That way, your name will be entered in the special author prize drawings.

Visit any of the participating blogs on Wednesday, July 2nd to find out the lucky winners.  Will it be you?
NEW THIS YEAR! Visit us on Facebook (www.facebook.com/scispanks) between June 25th and 29th to receive an invitation to an exclusive Sci Spanks party! Chat with your favorite authors, earn extra prize entries, and give feedback about the stories!

Like these events? Want to support your friendly sci-fi authors? Become a Sci Spanks 2014 Ambassador! In exchange for promoting this event, you will receive one extra prize entry, AND you are still eligible to participate and win prizes!
To sign up, contact Ambassador Liaison Kathryn Blake at krb_spanks@kathrynrblake.com, with the subject line "Sci Spanks Ambassador."
For more information, updates, and a list of participating authors, please visit:
http://governingana.wordpress.com
Twitter hashtag: #SciSpanks