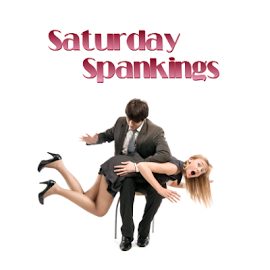 USA Memorial Day is on May 26 this year.  Here's wishing you a safe and happy weekend! Welcome to the Saturday Spankings Blog hop!  If you're a reader who likes stories with with a touch of corporal punishment, this is the hop for you.  We welcome readers comments, in fact we hunger for them, so don't be stingy when you're visiting.  Authors thrive on encouragement.
This week's snippet comes from my non-fiction book, Taken in Hand. It is a guide to creating and maintaining domestic discipline and power exchange relationships. The excerpt below is from the chapter on the inevitable first punishment which is something that can seem daunting to those who don't practice BDSM as well as an element of discipline. There are 10 sentences, not eight. I apologize. I tried my best to whittle it down and was only semi successful. When speaking on a subject that can have so many things go wrong, I decided it was best to leave it at 10 so as not to leave out any important information. We all love spanking, but fiction and real life can be two different things.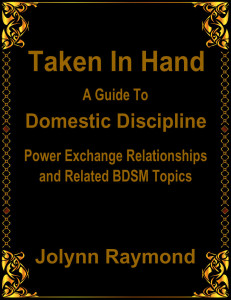 Excerpt:
Everything must be discussed prior to instituting a domestic discipline or power exchange relationship. You must define what each partner needs and wants, and find a common ground. Clear guidelines have to be established, but even so, with all these things in place, it still won't prepare you for that moment when you realize you must stand by your rules and expectations, and actually punish your partner.
Those who have never struck the person they love may very well be hit with a feeling of sick dread or a moment of panic, but this is when you must remind yourself that both you and your TiH have discussed everything prior to this moment. You have agreed that discipline needs to be a positive factor in your relationship, and therefore it is the HoH's job to carry out the promised consequence.
The HoH may be tempted to discuss the infraction instead of punishing their TiH, but that is the wrong approach to take.  A discussion must take place, but it is not a sufficient substitute for disciplinary action, especially if it's the first time a spanking is needed in your new DD relationship. Relax, take time to steady yourself, get a clear picture in your mind about why the spanking is justified, you need to be settled and confident. Send your TiH to the corner so both of you can reflect on the wrongdoing, always remembering that both of you created and agreed upon the code of behavior and chores. Your TiH should know without you having to say a word what she or he has done. If the punishment isn't because of failure to do something on the list of chores or the breaking of a set rule, then you better have a good reason for the spanking, because you should never punish on a whim.
Book Description and Blurb:
Jolynn Raymond has written a book that shares the details of her own long lasting domestic discipline marriage and her experience surrounding power exchange relationships. It explains why these unconventional relationships work so well for so many couples. The book is an in-depth tutorial that takes the relationship past the simple act of discipline, to building a rock solid foundation that will ultimately create a deep bond of trust and love between those involved. 

Taken In Hand will guide those interested in adding consensual domestic discipline, dominance and submission, and structure to their own relationship through the initial steps of communication, understanding and discovering both partner's needs, creating mutual and realistic expectations, rules, and consequences, to the inevitable first spanking. 

Taken In Hand will prove useful to those just starting out, as well as to those with some experience, as Ms. Raymond outlines the pitfalls, difficulties, and successes she has encountered in her own marriage. She also emphasizes the importance of consent, and pays special attention to the fine line between discipline and abuse. 

The last part of the book examines the styles and types of spanking, gives an anal sex tutorial, talks about the responsibilities or being a dominant and gives tips for the submissive partner. Whether you need insight into BDSM as it relates to relationships or are trying to build a domestic discipline marriage from scratch, Taken In Hand will prove to be a comprehensive and practical guide.
So pop on over to the rest of the spankers to see what they are up to.