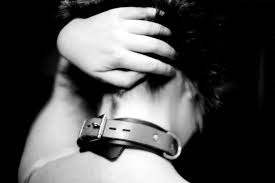 If you've been here before or read any of my posts in the BDSM archive, then you know I'm big on writing about the responsibility of the dominant's role in any BDSM relationship be it domestic discipline, Master and slave, babygirl/Daddy, or whatever your dynamic. Dominant doesn't mean you sit back and your slave or submissive does everything and you do nothing. It means you are taking on the responsibility for the life of another human being so you'd better be ready to work hard. If they are yours, you must care for them as they serve you.
I'm also one who tells people if things aren't going well, if your submissive is not obeying you, if your slave is acting out or your babygirl is having tantrums, then take a long look at yourself and the world or relationship you have established for the both of you. One of the things that must be examined and carefully tended in order for any power exchange relationship to run smoothly is rituals and routines. You can have all the rules in the world, you can punish your s types every day (not recommended), you can tell them they are not doing as the both of you agreed upon all you want, but before you give up, explode, or decide the relationship just isn't working or that they are a bad slave, go back to the beginning and look at your rituals and routines. If they have slipped, there is a good chance your relationship is going to have problems.
I am not perfect. I have a medical condition and a job which make me highly stressed and leave me exhausted. I'll point the finger at myself and say that sometimes I fuss, get angry, or feel that my D/s relationship with Beauty is out of whack and that she isn't doing what she is supposed to as far as household chores. This is really our biggest bone of contention. She procrastinates and I have tried every damn homemaker's helper guide and website that makes schedules and written out chores, put up hour by hour details all to no avail, she simply has time management issues. The thing is, it doesn't matter what schedule I have her trying to keep, she doesn't succeed when the other aspects of our relationship, the rituals and routines aren't being done.
She will be the first one to come to my defense and tell me its okay because I'm tired. My tired is really tired, exhausted. I have seizures if I push myself too hard and as the wonderful caretaker she is, she knows my physical limitations and when I need to rest. That's all good, and I love her for knowing me so well and wanting to take care of me so I don't implode, but our relationship suffers when the rituals and routines we established are absent too long regardless of the reason. It took me a long time to accept being cared for like a child when I can't do anything for myself. The dominant is supposed to care for the submissive, not the other way around, but even when Beauty is doing so much because I can't do it for myself, I have to remember the structure needs to stay in place. Of course it can be absent for a few days or even a week if I can't walk, speak, and am confused and can't problem solve, but if they are absent for too long, the structure of our relationship and its dynamic will suffer, even though neither of us want it to.
So now after that long babble I will get to the point of rituals and routines. Rituals are the special things you do in your relationship that makes it unique or makes it special for the both of you, and routines are how you live your day to day lives. These can be BDSM and vanilla based. Every relationship has its routines, but BDSM relationships are much more likely to have rituals. You might think that the specific BDSM rituals are more important because they are specific to the power exchange relationship, but I believe both have equal importance.
Some of our routines can be pretty mundane but that doesn't make them unimportant. Dinner on the table around 5:30, turn on the heater in the downstairs bathroom 10 minutes before I'm going down for my long soak in the tub. Have a mug of hot tea ready to be microwaved so it can be brought to me as soon as I'm ready to sit down after work, send a text to show me you are up by the time expected. Do x, y, z chores on whatever given day. Make sure I always have something to drink, I could go on. If you look at these you will notice that they are pretty much made up of things Beauty does to tend to me, our home, and our pets. If these things don't get done, there are issues because Beauty is expected to carry out her routines which make our lives run smoothly, and which help me come home to a tranquil place after my crazy day.
Now let's look at our rituals. Saturday evenings we have an hour set aside for open communication. I'm not saying we don't communicate every day, but this hour is when we, or especially Beauty can talk frankly about anything that isn't feeling right for her. Sometimes getting her to do this is like pulling teeth. She never wants to say something hasn't felt right, or that I missed doing this or that for her that's important. I really want her to tell me because her feelings and needs are just as important as mine, and the things I don't do because I'm stressed or tired and forget or just don't do because I don't have the energy are important. They make her feel loved, wanted, needed, secure, and provide the structure and discipline she needs.
Good girl spankings or as they are called in DD, maintenance spankings, are very important. These aren't super painful and aren't meant to be. They aren't for punishment, they are to bring us closer and keep the balance. The implement used is my hand or the leather slapper she loves. They are done over my lap in our bed. There is no corner time attached to them, no lecturing as they are being done. There is usually an orgasm for her built in and cuddling after with her curled up in my arms and on my lap. I absolutely cannot do these daily but I should. They are good stress relievers for both of us. They involve intimacy which is so important. They let her know that I care about and love her. Our relationship suffers when I let these slide, and they do take a good deal of energy so I am guilty of doing just that.
The wearing of her collar every day is both a ritual and a routine. Beauty's collar isn't one that is a simple ring of steel that locks. Hers is a very intricate and beautiful necklace that cannot be worn in bed or in the shower. There was a time when she would 'forget' to put it on and it drove me nuts. I felt as if she wasn't wearing her wedding ring. She received her collar when she received her ring in the same ceremony. It made me feel awful when she wasn't putting it on. Guess what? That was on me. When other things slide, she feels less valued and less mine. The collar indicates her ownership status and her submission to me. When she was feeling too blah and dirty (need to shower, not dressed for going out of the house, sloppy) to put it on, it was because I wasn't doing what I'd promised. I wasn't giving her my part of our D/s relationship but expecting her to carry out all those routines that keep our lives running smooth and make my world comfortable, and she wasn't feeling good about herself which is my part as her dominant to make sure of. Why do you want to be owned if the one who owns you isn't meeting your needs?
The collar lost some of its meaning. This was a huge issue. I was shocked, hurt, you name it. I was stunned and I shouldn't have looked at it as her doing something negative, I needed to look at what was missing and what the collar meant to her. We needed to work the kinks out of our kink relationship and that didn't mean punishing her more for not doing her chores, it meant getting back to the time for talking, the good girl spankings, the support for her issue with procrastination and time management, not fussing at her or spanking her with the hairbrush. You can't just do one, the bad ie: spanking and punishing, without doing the good ie: loving spankings, good communication, support that helps the routine hold up.
When I was fussing at her instead of supporting her, when I was expecting her to do all her stuff and not being a good dominant by doing my part that included intimacy of BDSM play and being the one in control and doing it the right way with taking care of my responsibilities, she didn't feel like she was good enough and therefore wasn't remembering her collar or deliberately leaving it on my dresser. This is kind of painful to write and it's hard because our friends think we have this wonderful marriage and great D/s relationship that so many people long for, but our D/s side was going way south and that in turn was hurting our marriage because the foundation it was built upon, the rituals and routines were a mess. I can blame it on my state of mind and Beauty will be the first one to defend me because really, my work is hell, but even when every day is hell, I have to be the wife and dominant I signed on to be. I can't expect her to do all the s in the D/s if I'm not doing the D part.
So we tweaked things. Some of it helps me to relax so I don't let the stress of work slide over into home. I'm taking steps so I don't become as depressed. Part of this has to do with menopause too but even with that and my health issues, I have to do my part. It's hard, but when I see her starting to slip, I have to turn right around and look at myself. So what are some of our routines or rituals I know others do?
Make the collar as important as it is and value all it stands for. We have friends who have a wonderful routine that takes place every morning and each night. When Debbie's collar comes off at night it is placed in a special bowl that remains by the bed. When they wake up, she gives Steve the bowl and he places her collar on his bare chest as they lie in bed because it warms the collar for her. It's nice and warm from his body heat so when he puts it on her a little while later it isn't cold impersonal metal.
When I go to bed before Beauty which is all the time during the work week, she tucks me in and we do a little cuddle. Before it's time for bed she turns on the heated mattress pad to warm the bed, fixes the covers and such like I like them, makes sure I have fresh water in my water bottle so all is right and she can just cuddle and say goodnight. On the nights we go to bed at the same time, we cuddle and hold hands while we fall asleep.
Good girl spankings are a must. Don't give punishment spankings if you aren't also giving good girl or nice loving spankings for pleasure. It isn't right and it causes an imbalance. If BDSM play is a part of your power exchange then it needs to happen. It's our recreation, it makes good feelings in us both, it releases stress, and it brings us together through intimacy. If I am too tired I need to remember that BDSM play releases a lot of stress and less stressed means less tired.
When I come home from work, whether Beauty picks me up because it's an I can't drive day or if I drive, the routine/ritual is I come in, wash up, get in my comfy clothes, and then we sit on the couch and Beauty rubs my feet as I have my mug of tea. My massage therapist said I had lots of 'crunchies' in my feet and carry my stress there. Some days I hobble once my work day is done and I have the chance to distress. Beauty rubbing my feet helps them not hurt, gives us time to talk about my day and her day, includes touch so it's bonding, and help me let go of all the crap that happened or all the due dates of stuff that is spinning in my head. It may appear like a ritual that is really just for me, but it helps me let go and be in less pain, so trust me, it's good for us.
Rituals can be a high protocol position of greeting when the dominant arrives, or a position that you begin any play session with. We have a ritual where Beauty takes up a position and asks me to do with her as I will. That means game is on. Whatever we are doing to play, we have begun it whether it's role play funishment, or a caning massage. The words mean we have begun play, I am orchestrating what I have planned, and she can relax and go to her head space.
The difference between routines and rituals is that one is more of a day to day thing without intimacy or bonding attached though eliminating routines WILL screw up your intimacy and your bonding. The routine is dinner served by 5:30. The ritual is my plate served first, three squares of Dove dark chocolate with a glass of milk are served right after dinner and before she is doing kitchen clean up. The routine is make sure the bedroom is ready at least ½ hour before bedtime, the ritual is cuddle, tucking in, nose rubs and I love yous.
The routines is hot tea ready in a serene household when I get home from work or a mug of hot tea in the car when she picks me up. The ritual is a foot rub while I drink my soothing tea (not in the car of course!) but when we get home. The soothing touch relaxes me and is intimate. The routine is do as I have asked you and have chores done. The ritual is I always say thank you, recognize the good things she has done through praise and good girl spankings and cuddling. The routine is wear your collar every day, the ritual is I put it on even if she takes it off when she gets home from driving me to work at 6:00 a.m. and goes back to bed for a bit.
The routines are how the relationship runs, what it looks like, what it includes that meets both the dominant and submissive's needs. The rituals are the oil that makes it run smoothly and the gas that makes it run at all. How do you show praise and respect? How do you make each other feel loved and wanted? How do you make that symbol of your D/s relationship have special importance? How to do add touches be they positions, words, or deeds that make you D/s relationship more than the cookie cutter I read how to do this in a book kind of relationship?
If you are dominant, make sure routines are clearly set and understood and make sure you don't forsake those rituals that make your relationship uniquely yours. If you are submissive, communicate. It's okay to say something isn't realistic because of x, y, or z. It's okay to ask for things and I'm not talking about material things but yes those matter too. It's okay to make mistakes too, but it's also okay to say sorry.
Rules, routines, rituals, ways of service, ways of communicating, ways of play, way of punishment are all part of a good working healthy relationship. To achieve this both partners must believe what is set out is important. It's the dominants job to create loving, secure structure. Don't always look to what the s type is doing wrong and just punish. Look to the why are they misbehaving or failing to do as required. Is it special enough? Does it need a ritual attached to make it more meaningful? Yes they are supposed to have an innate and sincere desire to serve only you, but if they are not getting their emotional and physical needs met things will start to drop away. Routines are important, but rituals are vital. They don't have to be Old Guard, they don't have to be typical BDSM, but they do have to be something that both of you feel binds you in a very special way.