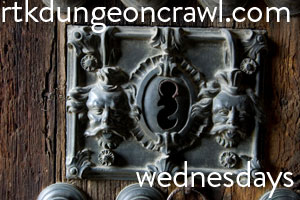 This weeks Dungeon Crawl is brought to you by Romancing The Kink, which is Sheri Savill and Trent Evans. A Dungeon Crawl is like a hop, but only we crawl since it's BDSM.

Today our dungeon is tasty, so good you'll lick your lips.
This is an excerpt from Dark Obsessions, my collection of F/f BDSM erotic short stories. This comes from the story Erotic Sensations, featuring my own lovely Beauty. The excerpt begin about two thirds into a sensual play session. I've finished drumming with my canes and now am moving on to the delicious part of the scene, drizzling hot fudge all over my wife. The fudge when warmed in a crock pot on low heats it to a hot but not burning temperature and creates the same type of feeling wax play does with the added bonus of being able to lick Beauty clean.
I stir the chocolate with a spoon and then lift it up to drip it on my upturned wrist once again to test the heat. It's hot, but not hot enough to burn or scald you, the perfect temperature to drizzle on your body. I stick my finger in the pot and then pull it out and rub the tip over your lips. You open like a baby bird at my touch, the heat and the slippery fudge making you open your mouth as well. I paint your lips then touch you on the tip of your nose, laughing as your eyes widen in surprise. You lick and smack your lips as I draw a wavy line of fudge down each cheek before bending and slowly licking you clean, cheeks, nose, and then your sweet lips.
After making certain your hair is out of the way, I take the small gravy ladle and dip it in the crock pot, filling it with hot fudge that I then drizzle and drip over your chest and breasts, making you gasp at the heat and the pure messiness of it all. You squeak at me as I dip the ladle again, and drip even more fudge on your body before leaning in and once more lapping it up. My tongue moves slowly over your skin, following the road map of chocolate rivulets. Sometimes I lick rapidly, sometimes maddeningly slow as I clean your skin of every drop.
My tongue bathes your stomach, your navel, then round and round each breast. I lick my lips and look up at you, my mouth smeared with chocolate. You reach up to tuck a stray lock of hair behind my ear and shake your head, and then close your eyes. Sometimes it's better to simply feel. The music still plays and the candles flicker and fill the air with the spice of cinnamon, and now you lie still and wait for more of the hot droplets and my eager tongue.
I am not one to disappoint. I use the spoon this time and carefully make droplets around each nipple. Little drips that are hot upon contact, but quickly cool. Then more, these directly on your nipples, making you gasp as the fudge hits them right in the middle before running down your breasts.
Again I clean you with my tongue and lips, licking and then suckling each luscious nipple, my tongue swirling round and round then sucking again, making you moan, your legs parting wider.
"Patience, sweetheart." Again you pout, so I nip your bottom lip before giving you a messy kiss. "Only bad girls pout, Beauty. Are you a bad girl?"
"Uh huh."
Your reply makes me laugh. There is my brazen wife, back once more. I still wonder where she runs off to whenever I insist she talks dirty.
"You're not bad baby, you just like wicked things. Hush now. I'm not done eating." My reply makes you moan, knowing I have saved the best for last. You now know why I insisted that you shave bare for me today. Normally you leave a small patch of hair right above your cunny, but this morning I told you it had to go. Now the place between your legs is smooth and pink, a perfect place for more hot fudge.
Once more I test the heat of the chocolate warming in the crock pot. I plan on drizzling it over your pussy lips so I must be sure it won't burn you. The temperature is still perfect, so I dip the ladle in and then start a slow trail of chocolate drips that begin between your breasts and move downward towards your cunny. When I have arrived at my most favorite place, and dribble the rest of the ladle full on your pussy lips, making you let out the all too familiar 'eep'.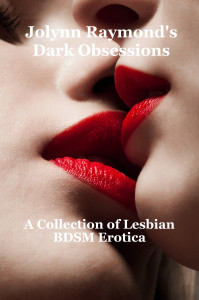 Dark Obsessions
It's time to get crawling to the rest of the dungeons to see what they have in store for you.
[inlinkz_linkup id=392742 mode=1]