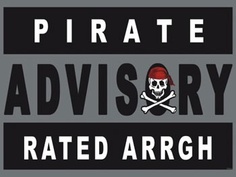 Erotic Romance with Normandie Alleman – Rated Arrrggh!
If you had told Normandie Alleman five years ago she would one day be an author of erotic BDSM romance she would never have believed you. A former psychologist, Normandie spent several years running her own business and blogging professionally, but it had never occurred to her to write fiction until she heard Stephanie Meyer disclose that the idea for Twilight came to her in a dream. Impressed, Normandie vowed to write down her next dream, and let's just say it happened to be a sexy one. At the time she had recently fallen in love with a long-time friend who had been deployed overseas. Their long-distance romance served as an endless source of inspiration for her, and she began to write flash fiction and short stories. In 2013 her first novel, Daddy Morebucks, was published. Daddy Morebucks is the first book in the Daddy's Girl series which follows a group of girlfriends, each with a penchant for Daddy Doms.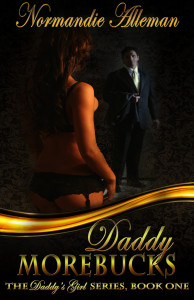 Blurb for Daddy Morebucks
From the moment she laid eyes upon him, Marley knew in her heart that James was not just another client, and the difference wasn't even the large sum of money he offered in return for a single night of submission. No, what set him apart was the fact that when she called James "daddy", it was her own heart which beat faster and her own body which ached with need. After that night, Marley does her best to put all thought of him behind her, using the huge payday he provided to get on her feet again and start over… until James knocks on her door and walks right back into her life. He makes her a simple offer: if she will live with him and submit to him whenever he wishes, he will provide for her every desire. Even before she accepts his offer, though, Marley knows what she truly wants is not money or clothing or even a fancy new car. What she longs for is a daddy who will give his little girl what she really needs… a daddy who will spank her bare bottom when she is naughty, tie her up and take her any way he pleases, and then cuddle her until she falls asleep in his arms. Can she dare to hope that James will be that daddy?
You can pick up a copy of Daddy Morebucks here:
Amazon: http://amzn.to/18AdrsI
Audiobook on Audible: http://bit.ly/1coFE6s
This year Normandie delved into the world of historical erotic romance with a pirate trilogy that began with Rescued by the Buccaneer. While researching the trilogy, she was disappointed to realize they didn't have nipple clamps back in the 1600's, but consoled herself with the fact that rope was plentiful on pirate ships.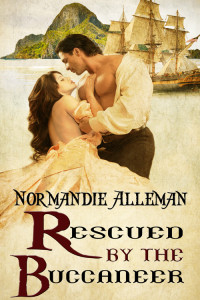 Blurb for Rescued by the Buccaneer
When Frederica Beauchamp boards a ship for the Americas, she dreams of a life filled with adventure, but she gets more than she bargained for when her passenger ship is attacked by pirates.  The heartless men kidnap her and force her to serve their captain—a fate that might be worse than death, since though he does not have his way with her, the captain delights in baring her, shaming her, and thrashing her bare bottom as punishment for every imagined disobedience.
After the pirates bring aboard an injured man found floating in the sea, Frederica tends to his wounds and learns that he is Gaston Galette, a survivor of a shipwrecked vessel. Gaston seeks her help to overthrow the vile captain, but when their plan goes awry he is forced to use all of his wiles to save them. As the naïve girl and the seasoned sailor navigate one perilous situation after another, he informs Frederica that the only way they can survive is if he is in command, and that if she thinks things can be otherwise, she will be taken over his knee for a bare bottom spanking.
As he watches the proud, willful Frederica bow to his authority, however, Gaston worries that her growing hold on his heart will be his downfall. He knows he cannot take a woman with him when he returns to his ship and crew, but when Frederica accepts his lustful dominance completely, submitting to him with grace and beauty no other woman could match, Gaston realizes that he may never be able to let her go.
You can pick up a copy of Rescued by the Buccaneer here:
Amazon: http://amzn.to/MIQL4h
The second book in the Daddy's Girl series, Daddy's Game, will be released this May, and the second book in the Pirates of the Jolie Rouge Trilogy will be available this summer. To learn more follow Normandie here:
Twitter at  https://twitter.com/NormandieA
Pinterest at http://pinterest.com/NormandieA
Facebook: http://www.facebook.com/pages/NormandieAlleman
Amazon Author Page: http://www.amazon.com/Normandie-Alleman/e/B00BNUDVFW
Goodreads: https://www.goodreads.com/author/show/6893037.Normandie_Alleman
Her website: http://normandiealleman.com