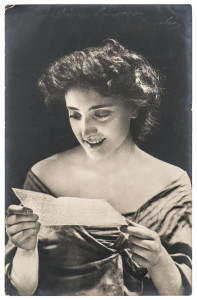 Saturday's post from the Mailbag – I want my boyfriend to be dominant.
Today's post comes from my 'Ask Jolynn' page.
My boyfriend is a dominant but he has not discovered himself yet, I can feel his energy when he looks at me and even when we are in bed. I want to help him discover his dominant side but rather than talking about it (which he may not believe) I want him to realize himself… what should i do?


As some of you know, my first answer to most of the questions that come my way it to communicate. I realize the poster does not wish to talk to her boyfriend about what she wants, but I still say communication is vital. There are many people with a type A personality who aren't dominant. One can be a take charge kind of person. The one who leads, the one who makes decisions and is adamant about how things are done, without enjoying being dominant in a kinky way.
I am all those things above AND I enjoy the role of Mistress. I am take charge and very specific. Love to create order from disorder though can't stand disorder, and generally feel quite content to be giving orders. The difference between me and a regular vanilla type A person is that I also find great pleasure in caring for and controlling my submissives. They are in my life to d o things for me, but I in turn care for them. Not everyone wants that so I don't know if it's a correct assumption to be sure he is a dominant but just hasn't discovered himself yet.
Some people would view dominance as we see it in BDSM to be abusive and wouldn't be comfortable in the role of controlling someone else. I  get exasperated at times and feel like my subs are just like kids in the way in which I sometimes have to tell them EVERYTHING as far as what to do and when, but that is a relationship I chose to create so that is of my own doing. I give these examples because I want you to understand why I think you and he need to talk. You could be seeing what you want to see in a naturally take charge man. OR you could be right. Perhaps he has even had D/s relationships in the past that you are unaware of and he is just biding his time as he sees if you are receptive to the dominant actions he does take.
Either way, while it may seem romantic and all to have him discover his dominance because of you, the best way to start a D/s relationship is with good communication and honesty. If you don't speak up instead of giving him hints and trying to guide him towards being a dominant, you may end up quite frustrated. You say he may not believe it and think he isn't a natural dominant, but it's his choice to make. The two of you should learn and grow together. Trying to steer him into situations where he must take control of you or what you do is almost like having him involved in your kink without consent.
Read up on things to find out exactly what it is you think you'd like to experience remembering that real life and fantasy are seldom the same. Become well educated in the things you want and then sit him down and tell him what you have discovered about yourself rather than telling him what you want him to be. Tell him what you wish to do for him and how you would like to serve him in the relationship. Be upfront, don't just hint at it and don't put expectations on him. This is your deal. Ask him if it would be okay for you to pamper him by cooking dinner, getting him things he needs, doing this chore or that. Ask permission to serve him, don't ask him to control you, don't ask him to be dominant, don't ask him to be aggressive in the bedroom if that is what you are referring to about the even in bed comment. Show him the submissive you and always make certain to let him know you are enjoying being submissive. Ask him to make decisions on where the two of you go, what the two of you do, etc and thank him when he does. If he id dominant in a D/s way he will see he enjoys the submissive side of you and will want to know more and do more, but talk to him. Please talk to him about your desires and what you want to do for him, NOT WHAT YOU WANT HIM TO BE.
At this point this is your desire, don't force it on him and don't try to make him be part of you kink. Show him how you wish to act without making any demands on him. Don't push, talk and listen.