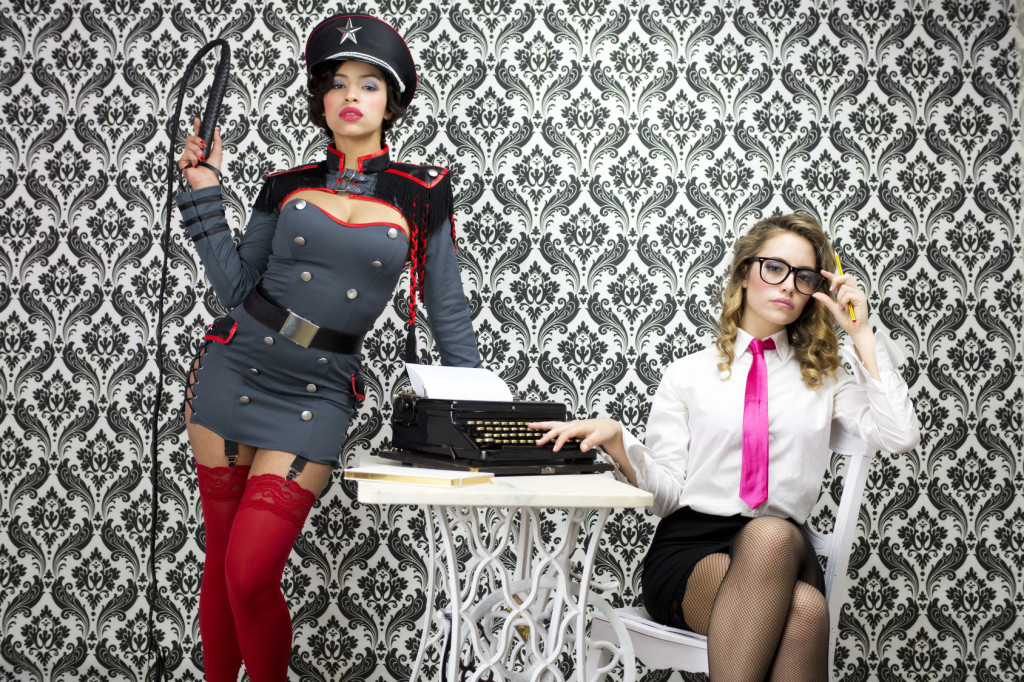 What Do You Do When Your Partner Doesn't Share Your Kink?
The big question that people with kinky desires often have is how to tell their partner that they want to try something out of the norm. What the hell do you do when you have all these fantasies that are considered kinky? Often when people finally embrace their kinky selves, it occupies their minds night and day to the point of distraction, and you find yourself obsessed with something that you want so badly but don't know what your partner would think if they knew. Do you bring up the subject hoping your partner will respond in a positive way or keep things to yourself because you are afraid your partner will be freaked out by your desires? There are no easy answers to these questions, and for most of us who are older and actively kinky, have had to go through this ordeal. Some find that their partners are open, and some find their partners are not interested or worse, think kink is disgusting and freaky. You may think you know how your partner will feel, but you could be wrong.
The fact is, if you love someone but also can't suppress your kinky side anymore because you feel smothered; you need to find out if the one you love will be open to what you crave. As always, communication is the key. Having an open, honest conversation in which you tell your vanilla partner who you are or what you are feeling instead of telling him or her what you want them to do. A guy who has never laid a hand on a woman in any way to hurt her may very well be freaked out by the thought of spanking his wife or girlfriend. It took me a long time to come to grips with being a sadist. On the other side of the coin, telling a woman you want to put her over your lap and spank her, or have her crawl across the floor while you take a crop to her ass, or surprising your wife by laying on the bed in one of her nighties, is usually not a great opening. Go easy and slow.
Express your needs without casting any feelings of blame on your vanilla partner. They may hear you and think that they haven't been fulfilling your needs. Be open about your fears. Tell them you're afraid they won't love you anymore. Tell them how hard it was to be open about it and approach them. I don't know about you, but I was scared to tell my ex. When I was younger I did the being a brat thing in an effort to try and get my lover to spank me, but it never worked. I would get some damn good rough sex from it, but he never spanked me, and I was far too worried that he'd think I was strange just to go ahead and ask him. Be honest about your fears and doubts. Explore the feeling side before exploring the "I want you to do this to me' side, in fact, it's best to talk about your fetishes without attaching your wish for your partner to actively participate.
Be prepared to answer questions honestly. What have you done to find out about your fetishes? Why now? Have you always wanted this? What made you decide it was time? If you have factual websites or good articles, share them. If you have video clips from Chantra's Bitches, or some other BDSM porn, I suggest keeping them to yourself. Porn scenes depicting BDSM are way over the top. You want the person you love to be accepting and open, not freaked out by thinking they need to dress in black leather and wield a whip while strutting around in 6″ heels and wearing a strap-on.
You may get acceptance of your fetish needs without getting an agreement to participate, and that is okay. It's a start. Maybe you can explore together by way of joining Fetlife groups that support kinksters with vanilla partners. Maybe you can read erotic BDSM books together. Maybe just knowing they still love you despite your 'odd' needs will be enough for now, and in time once your partner understands that BDSM play can be done in a recreational and non-sexual way they will be open to you having a play partner. I realize that I often talk of the importance of getting out and meeting other kinky people in your community, and I'll say it again here. Really, we are just normal people who go out to dinner, have social gatherings, go to workshops and such to learn. Yes, we have play parties, but they are laid back. There aren't huge orgies; play doesn't have to include sex at all. Yes, there are people doing stuff that may squick you out but you don't have to watch. Most get togethers are munches where we just socialize. If you can get your partner to go to a munch and to meet kinky people and realize that we don't have two heads and act like crazed sex maniacs then, it might be a step in the right direction. I would go to a munch first just to get a feel for it first though. It maybe that your partner will agree to socialize once in awhile but never go to parties or be comfortable playing. To this I say that's great. To have acceptance is huge.
Go slow, be patient, accept what they are willing to accept. I can't tell you what to do if the one you love just says no. No, I won't hear of it. No, I won't listen. No, that's sick and twisted. I ended up leaving my husband who was vanilla, but there were other things wrong in my marriage. Kink was a huge need, but it wasn't the main factor. I have a friend who loves her husband dearly and so she gets crazed because he won't hear of it. She desperately wants to have a Mistress/submissive relationship with a woman, and he refuses. She has talked; she has explained, she has cried, but she loves him. She teeters on the brink, socializing with us and spending time with her kinky friends whom she envies so much it hurts sometimes, but she simply loves her husband too much to cheat. He made is clear non-sexual play is cheating.
I also know people who allow their husband and wives to play. They talked and came to an agreement. I wasn't a fly on the wall so I can't elaborate, but it took time, understanding, and patience. Start slow, show you have thought about your kink needs in non-sexual ways meaning that you have read about why people enjoy spanking, or how to do bondage safely rather that dwell on the sexual gratification aspect. There is much more to BDSM and power exchange relationships besides sex. I have no special words, just words about how you approach your partner. Calmly, sincerely, honestly, refrain from accusing, don't jump the gun and whip out some paddles, a butt plug, or some rope, and surprise your vanilla person, and be prepared to answer questions without being defensive or getting angry. Kink is not for everyone. If you're lucky they will say okay, let's try. If that happens, be prepared to proceed slowly and safely and have a deep conversation about safe words, trust, and exactly what you partner is willing to do. If you get that far, accept that they agree to and DO NOT push past what they have said okay to. If you betray their trust, you may never get another chance.
Go forth and converse people. Be armed with patience. Set aside anger and defensiveness. What seems really great or hot to you may be really disgusting to someone else. A lot of people end up leaving their vanilla partner, but many find a balance. No matter what, it's worth a try to open up and just talk.