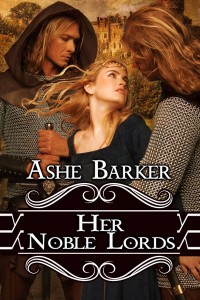 Guest Post : Ashe Barker ~ Her Noble Lords #Spanking
Hi there, and thank you so much for inviting me over to share a bit from my latest release. Her Noble Lords is an erotic ménage story set in medieval England. It was a lot of fun to write, mainly because I was able to weave in so many of my favourite fantasies – abduction, not one but TWO hot knights with distinctly twitchy palms, a sassy damsel in distress, and of course a lot of spanking.
You can grab a copy from :      Amazon US         Amazon UK        All Romance
Here's the back cover stuff:
After eighteen-year-old Linnet Routh is kidnapped from her home in Wellesworth castle by Ralf, the powerful, handsome Earl of Egremont, and his identical twin brother Piers, it quickly becomes clear to her that the seasoned warriors have mistaken her for someone else. Convinced that she is Lady Eleanor, a noblewoman who was promised in marriage to Ralf yet has refused to wed him, the brothers bring Linnet to a church with plans to compel her to speak her vows.
Linnet attempts to steal a horse from Piers and make her escape, but when she is caught her efforts end up earning her a thorough, humiliating bare-bottom spanking. Though terribly embarrassed by the manner of her chastisement, she cannot help becoming helplessly—and shamefully—aroused by the punishment.
When the brothers recognize the truth of Linnet's claims at last, she expects to be cast aside as a mere commoner. To her surprise, however, they instead offer to make her their shared bride, and despite her misgivings about the idea Linnet agrees to the union. As they each take their turn to claim her, the pleasure of their dominant lovemaking leaves her yearning to be taken long and hard by both of them at once, and soon a passionate romance has grown between Linnet and her noble lords. But when tragedy strikes will it bring a permanent end to their new found happiness?
Publisher's Note: Her Noble Lords is an erotic romance novel that includes spankings, sexual scenes including threesomes, anal play, elements of BDSM, and more. If such material offends you, please don't buy this book.
And of course , a steaming hot excerpt to whet the appetite…
"You will be free to go as soon as your punishment here is concluded. You will no doubt desire to return to Wellesworth, in which case, we will provide you with an escort."
"I… I see." The matter of my switching had momentarily slipped my mind. I clench my buttocks in dread anticipation of the assault to come.
Piers marches over to the table to pick up a slender branch of wood which must have been left there in readiness for this moment. The protruding twigs have been torn away to leave a smooth, even surface. He slices the switch through the air, causing a loud whistle to pierce the tense silence within the solar. I wince. This is going to hurt terribly.
"Given the circumstances, I am minded to reduce the girl's punishment accordingly. The lass was, after all, defending her honour. Fifteen strokes rather than thirty. Would you agree that seems fair?" Piers addresses his words to Ralf, one eyebrow lifted in inquiry.
"I have no objection to that." My not-quite husband tilts his chin at me. "Do you understand why you are being punished, Linnet?"
"Yes, sir." I see no point now in delaying matters. "It is because I attacked you and injured you."
"Indeed. We accept that the fault was not entirely yours. Far from it in fact. But your reaction was extreme and unwarranted and you damn near killed me with that dagger of yours. I lost a lot of blood and lay ill with a fever for a week. The matter cannot go unpunished."
"No, sir." It is true that I bitterly regret my actions and it is with relief that I note the reduction in my punishment. "I am sorry."
"I do believe you. Now, please bend over the table, Linnet."
My legs are shaking as I step forward. This will soon be over, I tell myself. I will survive. They do not intend to injure me. I repeat that mantra as I lean on the heavy, solid table.
A hand between my shoulder blades presses me forward. It is Piers. Ralf has moved around to the opposite side of the table and is reaching to take my hands.
"Rest on the table. I will hold your hands. Do not be afraid, you will not fall."
It is not the fear of falling which so dismays me but I find the touch of his hands on mine comforting even so.
"If I think you need us to stop for a few moments, I will tell Piers that. So, I need you to look at me whilst this is happening, in order that I will know how you are coping. Do you understand, Linnet?"
"Please, just do it. Be quick, I beg you." I can hear the tremor in my voice and I know I am close to tears. I am terrified of the pain to come.
The strong palm still resting between my shoulder blades offers a reassuring pat, then is dragged down my back to caress my bottom. It is as though Piers is selecting his spot, exploring my vulnerable buttocks to find the softest, the most sensitive places. Despite my fears, the sensation is not unpleasant. In different circumstances I would enjoy his touch, if he were not quite so stern.
"I would invite you to count, Linnet, but I suspect you will soon lose concentration. Ralf, would you do it?"
"Of course." He squeezes my fingers. "Open your eyes, little one. Look at me."
I had not even realised my eyes were screwed up tight shut but I obey. He offers me a slight half smile, before a sudden whistle heralds the first stroke across my unprotected bottom.
"Aagh!" I cannot contain my scream. My derrière is aflame. A white-hot trail of pure agony blisters my skin.
"One," announces Ralf.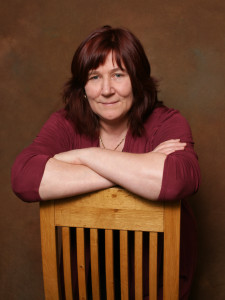 More about me:
I've been an avid reader of fiction for many years, erotic and other genres. I still love reading, the hotter the better. But now I have a good excuse for my guilty pleasure – research.
I tend to draw on my own experience to lend colour, detail and realism to my plots and characters. An incident here, a chance remark there, a bizarre event or quirky character, any of these can spark a story idea.
When not writing – which is not very often these days – my time is divided between my role as resident taxi driver for my teenage daughter, and caring for a menagerie of dogs, tortoises.  And a very grumpy cockatiel. 
I have twenty eight (at the last count) titles on general release with publishers on both sides of the Atlantic, and I have several more in the pipeline. All my books feature BDSM. I write explicit stories, always hot, but they offer far more than just sizzling sex. I like to read about complex characters, and compelling plots, so that's what I write too. Strong, demanding Doms are a given, often paired with new submissives who have a lot to learn.
I have a pile of story ideas still to work through, and keep thinking of new ones at the most unlikely moments, so you can expect to see a lot more from me.
I love to hear from readers. You can find me on my blog, and on the Totally Bound site. I'm on Facebook, and twitter and now on Tsu as well. I'm on Pinterest too, and Goodreads.
Thank you for having me. Happy Reading