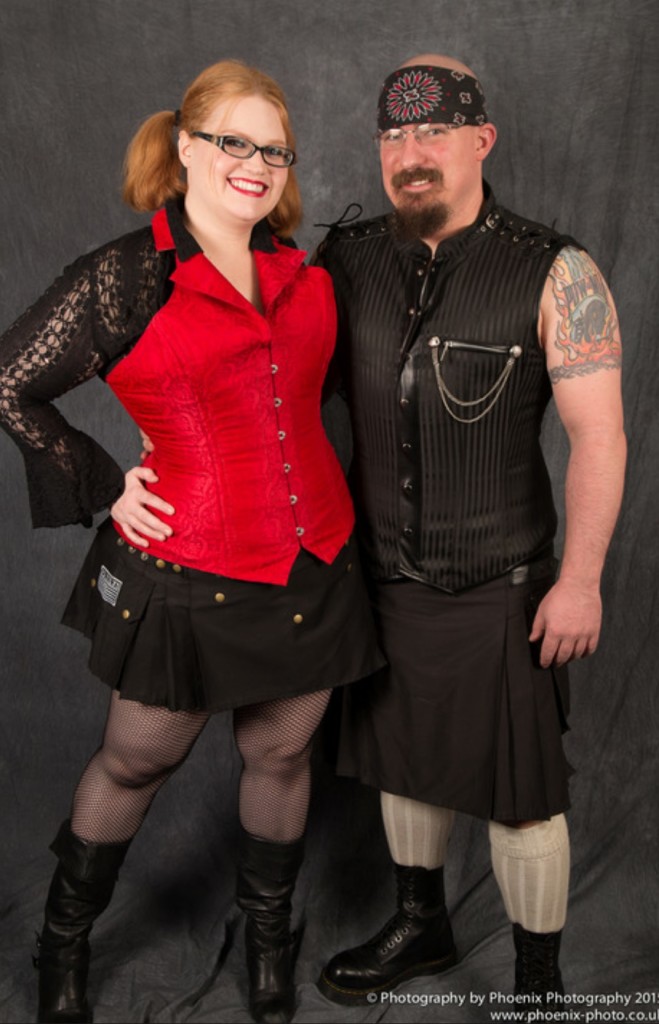 Bondage Pallet Wrap Style by Dominic and Princess: Interviewed by Jolynn Raymond
I recently had an opportunity to watch you play using pallet wrap and a large jungle gym type of structure. I really enjoyed what I saw. Your submissive look like a beautiful green dragonfly. I knew right away that I wanted to share my experience with my readers. Thank you for agreeing to this interview. I'm sure we will all learn a lot.
**The term bottom refers to the person who is on the receiving end of the bondage. Pallet wrap is similar to Saran wrap but is rated to be load bearing and withstand tension. Do not use Saran wrap.
***The term Top refers to the person orchestrating the scene or doing the bondage in this case.
**There will be an interview with both the Top – Dominic, and the bottom, Princess.
Why pallet wrap?
Because rope takes too long. Pallet wrap allows us to maintain a suspension or bondage for a longer amount of time with limited physical risk to the bottom. Instead of placing pressure on single points the pallet wrap distributes the tension across the body.
While I can't disagree with that, the person that taught me had a slightly different take on it.  He told me "Rope takes time.  Sometimes a lot of it.   With pallet wrap you can get a person securely up in the air quickly and get to the fun stuff like impact or sex or whatever faster".
Where do you get the big rolls you use?
U-haul, U-Line are the two places I know of. You can get it in multiple colors.
Just be careful, general consensus is that the red stuff smells funny.
Can you make a few comparisons between using rope and using pallet wrap for a bondage scene?
It's hard to compare the two. They can have similar end results such as suspending a bottom but the similarities are few. In my opinion there is a lot more risk with rope than pallet wrap as well as a lot more skill and time spent practicing with rope than pallet wrap. I'm not saying that pallet wrap is fool proof but it was a lot more user friendly to me than rope was.
She is right rope takes so much more skill and knowledge.  They can both create very beautiful images in very different ways and with very different effects.    Other than that the process to getting to that end result is so different that they are difficult to compare.
I thoroughly enjoyed watching your bondage scene at Kinky Kollege. How long have you been using pallet wrap in your scenes?
We've been doing pallet wrap suspensions and pallet wrap mummification for a year and a half or so.
Yup what she said.   Although, we did it backward and started with suspensions and then tried mummification.  I wouldn't recommend doing it that way.
What safety measures must be adhered to and what items need to be on hand in order to create a scene that is both fun, yet safe?
Safety measures include always having a cutting tool available in case of emergency. Communicating! Be aware of the bottoms breathing and comfort. Most of the pallet wraps suspensions we do are super comfortable so if something because uncomfortable the bottom must communicate that. An aftercare blanket: the pallet wrap makes you sweat and get very warm. When it comes off the bottom gets cold very quickly.
A cutting tool yes, but not just anything, pallet wrap is very tight around the body so some sort of guarded blades like safety scissors or a seat belt cutter.  Hydration, before and after.  Pallet wrap is very warm and the bottom will sweat a lot.   I will second the communication.  We went fairly tight around Princess at Kinky Kollege and she was constantly talking to me about how it felt and how she was doing.  Speaking from personal experience, always be aware of the equipment you are on.   Narrow ladder type frames are prone to tipping over if you start to swing the bottom.  Tripod frames are slightly more stable.  I prefer swing set style frames or something secured to the ceiling.   As you cut a person down the pallet wrap will stretch.  You need to make sure the bottom comes down in a safe manner.  You can't just hack through it.  There are many ways to do it that can be merely functional, scary, or sensual.
For Princess
You obviously had a fear of letting go. How do you feel when you are made to let go? Is there a feeling of panic at first?
Absolutely panicked but that is part of the fun. I'm terrified of heights, I don't fly, I avoid rollercoasters so being suspended is hugely terrifying. I enjoy dabbling in playing with that fear in a controlled setting. Logically I've done this enough times to know I'm not going anywhere but emotionally all movement is stomach lurching while suspended.
There were a few times I was a little concerned by how hard you were breathing. Is this from the adrenaline, the tight wrapping, a combination of things? Were you ever panicked about your breathing?
The wrapping was a bit tighter than we usually do because we were trying to create a human punching bag. So we decided before the scene to do more layers of wrap than we normally would. The thickness of the wrapping kept it from expanding with my chest expanding and made me conscious of my breathing. With the adrenaline rushing and being conscious of my breathing it did get hard not to panic. I communicated this with my partner and he kept checking in with me. I asked him to pull the safety sheers out where I could see them and knowing where they were helped calm my nerves.
I've heard that bondage, particularly suspension gives the bottom a feeling of flight. How does the pallet wrap compare when you are wrapped so tight?
If I responded to suspension the way I've had bottoms respond I think flying would be a good comparison, especially given the visual image of having wings with the pallet wrap. Unfortunately I'm so antsy about having my feet off the ground that I just cling to the frame for dear life.
You squirmed and shrieked during the scene, when made to let go and when receiving some impact play. What is your headspace during this kind of scene? What sends you into subspace?
This type of scene has never sent me into subspace during the scene. Fear play doesn't send me away like that. It's a loss of control, fear, excitement and arousal. Different types of pain will send me into subspace.
Trust is obviously a big issue. Is there a point when you feel as if Dominic will let you fall? Why or why not?
Occasionally, we've had our flops and our learning experiences. It took practice to figure out how much pallet wrap to use for a suspension. We've learned that frames tip occasionally and that if you leave pallet wrap in the car during the summer time, the heat is detrimental to the integrity of the pallet wrap. Ultimately I know that my partner would do his best to keep me safe and I know that accidents happen but that he will do his best to communicate with me and keep me from permanent harm.
You need to make certain the pallet wrap is strong enough to support your bottom's body weight, how can you be sure you aren't wrapping someone too tight?
KK was the first time that I think we were borderline too tight and we actually did that on purpose because of the intent behind the scene, to make me a human punching bag. Usually when wrapping you go just tight enough to keep the pallet wrap from slipping down the body but aren't actually compressing the body. The other difference is where you place the suspension points. A complete vertical suspension causes more pressure around the chest than a partial or complete horizontal suspension does.
As she said because we were going for a vertical suspension I went tighter than we normally do.  In past experimenting with this we have had the pallet wrap separate and slip and create some pretty severe discomfort during the scene.  I didn't want that to happen again so I over did it a bit.   In general you wrap tight enough to get it to stick to the body and to itself.   When you are going for a horizontal suspension the wrap acts more like a sling or hammock with very little risk that the bottom will slide out of it so it doesn't have to be extremely tight.
Do you always suspend your bottom when using pallet wrap in your scenes?
Nope, we've done just mummification with the pallet wrap. We've used it in scenes to secure the bottom to a massage table. It's very versatile. Its only downside is that it stretches so it's not always the best for extremities such as ankles or wrists.
Pallet wrap is extremely versatile stuff and is really only limited by your imagination.  We have combined full mummification with forced orgasm.  Wrapping male or females with genitals or breasts exposed for… whatever you feel like. Used it (VERY carefully) as a face wrap during waterboarding.   Given someone mitts so they can't move their fingers to grab anything.  Secured someone to a massage table.   If you get creative enough it you can create human furniture with it.  Just let your imagination run wild.
Have you ever been on the receiving end of this type of bondage, and if so, how did it feel?
Yes he was and it was AWESOME for me to do to him. Though I'm not certain he agrees.
It was interesting.  We did a mummification as opposed to suspension. I am mildly claustrophobic so being unable to move was a bit of a challenge for me, thankfully she kept me distracted with other sensations.   I don't know that I would choose to have it done again but I wouldn't tell her no if she asked.
Is there anything else you'd like to tell us about pallet wrap play?
Like everything else we do there are risks. It requires practice. There is a good chance accidents might happen just like in any other type of play.  Always be aware of what you are suspending from.
Practice, play with it, and learn what it can do and what it can't.   If you choose to do things like punching realize that with many layers of it around your bottom they are suddenly a lot more dense than you may be used to.  I know of one individual that gave himself a boxer's fracture because he hit his partner too hard.   She barely felt it, but he sure did.  Be flexible.   You can plan as much as you want but the venue you're playing at might not have the type of frame you were hoping for so you have to improvise.   Be aware of things like putting padding between the knees and ankles to protect the joints if you're going to wrap those joints together tightly.  When you think you have enough wrap around everything to support your bottom add a few more.  Have fun.  Connect with your bottom and enjoy it.  What good is anything that we do unless you enjoy it?
Follow their adventures on Fetlife: Dominic and Princess