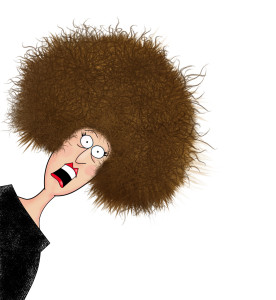 24/7 vs. the Real World
In this corner (pan to your right) we have the most magnificent leather clad Mistress, who can dominate her submissive with a single glance. And in this corner, (pan to your left) we have the somewhat harried looking, stressed out, and exhausted woman who just started a new job in the 'real world' and feels like she doesn't have a dominant bone in her body, and doesn't care to have one. Who will win this battle of strength/exhaustion, or will the two contenders find a way to merge their split personalities?
Seriously, though, I feel like I'm torn in in half and must say goodbye to my dominant half because my new job has me crazy busy and completely exhausted 24/7 rather than being the dominant I want and need to be 24/7. Let me add a disclaimer that Beauty does not need to be micro managed though she needs a lot of structure not to squirrel out on me. She also needs my guidance making any decisions so even when I am mostly feeling like a wife instead of a Mistress.
So what can I do to preserve the Domestic Discipline and D/s dynamic in our house when I am gone 9 hours of the day and am dead when I do get home? That is the twenty-five thousand dollar questions. I know it can be done; I just need rituals to keep the mindset.
Rituals are things that you do on a daily basis that reinforce the D/s bond you share with your significant other. They create harmony, foster communication and make sure there is time when you connect with each other in a purely D/s fashion. Below I have listed the rituals Beauty, and I practice. Some are daily. Some are weekly. I find the weekly ones harder to keep in place when life gets super busy.
Beauty has to drive me back and forth to work, which for can turn into a hassle. I have a seizure disorder and can't drive, so this is one of her tasks. We have tried a few rituals that didn't work out, so now the way home is my 20 minutes to vent. Beauty has a bottle of my favorite tea and remains quiet unless an exchange of dialog is indicated. No stereo, just quiet. I need this time to either sit back and rest, and enjoy the silence after a day of noise, or to get things off my chest and do my best to leave them behind for the day. She just listens.
When we arrive home, I say hello to the pets so they will leave us alone (hopefully) for the next 20 mins. This is foot rub time. Beauty does this for me to ease away the stress of the day. I tend to carry stress in my feet according to my massage lady, and the deep rubbing takes away the pain. This is also her time to tell me about her day. I am the one who listens. It is a time to reconnect with her and appreciate the serenity of our home. She matters, her day matters; I am home and able to focus on us.
I comment on things that were done well, and she shows me little extras and things she'd done or found that will please me. I am sometimes remiss in this area, and I need to make certain I notice all she has done. It is very easy to get into a routine and not necessarily take for granted things Beauty does, but overlook them because they are the norm. I know some dominants may say "She's a sub, subs are supposed to do as told. They shouldn't need thanks for obeying". I disagree. Everyone deserves praise to tell them they matter. Just as "Good girl" is important during play, "Thank you" is important during the mundane everyday stuff.
Beauty always runs downstairs to "turn the tub on." This means turn on the little space heater in the bathroom with my deep soaking tub while I go through emails and non work stuff.
At bedtime, she tucks me in. Yes, this big bad dominant gets tucked in. I go to bed much earlier than Beauty. By 7:30 she turns on the heated mattress pad and dims the light in the bedroom, and then when I go to bed she get my water and my ice pack (Helps tremendously to ward off hot flashes) and then she lays her head on my chest and we just are there in the silence. I stroke her hair and no words are needed. After a bit, she rubs noses with me and then kisses me goodnight.
Most of these things all seem to be about me, but they really help us connect. Beauty is doing service, which is what she likes to do, but she needs the give and take. Even if you are crazy busy, take time to appreciate each other, and find things in life that can become a daily routine to help you feel connected. Our routines can change depending on both of our needs, and things that happen in life. Rituals ground you. They are important, and not just because she is giving me personal service, and I let her know she is appreciated. During some rituals, we share a comfortable silence and during others, we talk. Talking is the most important element in keeping a relationship strong enough to meet both partner's needs.