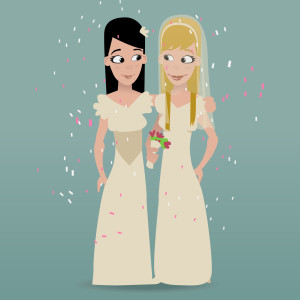 A Beautiful Haven for Same Sex Weddings in Wisconsin
My wife and I are getting married. I say wife because we held a ceremony 4 years ago which meant everything to us, but nothing to the state of Wisconsin. The tide has turned, and more and more states are recognizing same sex marriage for what it truly is: a legal joining of two people who are in love and wish to be together for the rest of their lives. The first ceremony took place at a rented vacation cabin so as to avoid any negativity that would spoil the day. This one will be held where the eyes of the world will see how very much in love we are.
After hunting the different bed and breakfast locations in Wisconsin to find one that had a venue for weddings, we found the Lazy Cloud Bed and Breakfast in Lake Geneva. It is a beautiful place, perfect for a fairytale garden wedding. The rooms are unique and incredibly romantic, the wedding venue perfect for a small intimate setting, and they provide all sorts of little romantic touches to make your wedding a day to remember the rest of your lives.
Once I decided that the Lazy Cloud looked like a place that would be ideal, I decided to do a bit of reconnaissance to make sure the bed and breakfast was as perfect as it was portrayed to be in the pictures and descriptions on the website. I want to point out here that there are two locations both owned by Carol Tiffany. One is the Lazy Cloud Inn, and the other is the Lazy Cloud Bed and Breakfast. I am writing about the bed and breakfast because it is where we stayed and where we have scheduled our wedding. They do not hold weddings at the inn property.
When you visit the website ~ http://www.lazycloud.com the first thing I loved were the rooms. They are all decorated differently, but equally lovely. Each has a two person whirlpool, a fireplace, private entrance, as well as a coffee maker, refrigerator, and microwave. The last three things are hard to find at a bed and breakfast, and the first two often have a price tag that will quickly gobble up a vacation budget. Not so at the Lazy Cloud. We paid $165.00 per night for a weekday stay during what would be considered prime spring break time. Friday's and Saturday's carry a heftier price tag of $235.00 and Sundays run $185.00. I still stand by my view that even at the higher weekend price, the Lazy Cloud is a bargain compared to other B and B's with the extra amenities provided.
This is their list of amenities:
Check out all our Complimentary Amenities!
Queen Bed
Dining area for two in all rooms & suites except Vintage Lace Room
A luxurious Double Whirlpool
A romantic Fireplace
Love seat or Daybed
Dorm size Refrigerator
Dorm size Microwave
Microwave Popcorn
Hot Chocolate
Private Outside Entrance

Chilled Bottle of Wine or Champagne
Mouthwatering Chocolates
Candles
Scented Bubble Bath
The Game "Enchanted Evening."
Radio/Cassette/CD Player
Fluffy Bathrobes
Scrumptious Breakfast
Private Bath with Shower
We stayed in the Log Cabin suite. It has a completely separate bedroom, and a giant whirlpool in between the bedroom and living room and dining area. The suite is decorated with mini white lights over the tub, logs on the walls and ceiling, flowers and floral patterns everywhere, primitive antiques, a floor to ceiling brick fireplace, a bed surrounded in tulle, a large couch with an old trunk for a coffee table, and a small breakfast table for two. My only negative for this suite is the bathroom. It is cramped, there is very little space to put toiletries, and the sink is not user friendly at all. The other suites have better bathrooms. I'm not sure why the set up in this suite isn't better. Still, despite the bathroom, it is a beautiful and extremely romantic suite.
The inn provides a large selection of amenities that you may add on as well, but first I want to cover all the little extra touches that are included. When you arrive, you will find a chilled bottle of champagne, a small Elegant Farmer apple pie, raspberry melt away chocolates, a game called An Enchanted Evening, a large selection of romantic CD's, oodles of candles, bubble bath, two fluffy robes, and an extremely welcoming innkeeper. I chose to add things to make our stay even more romantic, but I will talk about these a bit later. I first want to back up and tell you about their outstanding guest service.
As a same sex couple, other people's reactions to us can run from simply annoying to downright rude. Before our stay, I wanted to test the waters. The reservation process is simple, and the email correspondence, as well as the chat available on the website, are efficient. The first email contained all the correct information, including the extras I had ordered. The process stayed fast and reliable even though I changed my mind 3 or 4 times about which suite I wanted to reserve. I did not do so with the purpose of testing their customer service; I simply had a hard time deciding. Phone conversation were pleasant and proficient and were followed up by an email to make sure everything was right. I was very impressed with their level of caring and accommodating service despite my many changes.
The friendly and impeccable service continued through my wedding inquiries and when we arrived for our much needed romantic vacation. We received nothing but smiles and genuine hospitality. Not an eye was batted because we were a lesbian couple. We were shown to our suite, given a walk through pointing out how to use the fireplace, where the light switches for the mini lights were, shown how to work the Jacuzzi, and asked if we had any questions. Our only one was a request to see the other suites. Not to change ours, just because we were curious. That request was fulfilled later on, and I have to say each suite is beautiful.
After scheduling a time for our picnic basket to arrive and filling out the breakfast slip so we would have it delivered to our room at a specified time, we were alone in our romantic haven. I had told my wife that I wanted this vacation to be one where we could reconnect. Life had been super stressful, and we both needed to unwind and be alone together. The small touches in the room helped with our rediscovery of our love. The flowers I had requested were in the bedroom as well as the romance package I'd ordered. They were displayed beautifully on the bed. It was a box of chocolates, a book listing '1001 ways to be romantic' and a couple's game called Erotic Sensations that came with massage lotion.  Both it and the game that is in every suite are great ways to have fun, be romantic, and just open up the line of communication and pave the way for romance. It may sound a bit cheesy, and it probably could be, but if you get over your initial hesitation and just get started, it, along with the flowers, bubble bath, champagne, twinkling lights, and two person tub, it turns into something wonderful.
Now let's talk food. We were well fed. I mean really well fed. I opted to order one of their picnic baskets for the first night. I am usually a room service queen, so their made to order basket was appealing. I wanted to be able to hole up in our romantic room and shut out the rest of the world. For $46.99, we received a bountiful basket full of food. So much food that combined with the breakfast each morning, we hardly spent any money on food over our four night stay. The refrigerator was large enough to hold all the extra, so nothing went to waste. We had shrimp cocktail, ham, turkey, potato salad, pasta salad, fresh baked bread with butter, cheese, crackers, cheese spread, fresh fruit, and two slices of turtle cheesecake. It was all packaged in individual storage containers as well so was super easy to just put away the leftovers.
You order your breakfast the night before and can put whatever amount of the listed foods you want delivered to your suite at a chosen time. Now they provide this service when they are not busy and when you are there for a wedding. We were able to have breakfast delivered each day. The other option would be to go to the lodge where it would be laid out with tray provided for those who wish to take breakfast back to their rooms. Please note that the extended breakfast we received was at the B and B, not at the Inn. You do get a few breakfast foods put in your refrigerator, but nothing compared to the mouth watering selection we received. The pecan sticky buns alone are worth staying at the B and B instead of the inn. We had a choice of cereals, homemade granola, cheese, bagels, hard boiled eggs, coffee, tea, milk, chilled or hot apple cider, a variety of juices, hot chocolate, fresh fruit, bagels with cream cheese, and the delicious pecan sticky buns hot out of the oven. As stated, you can order as much as you wish.
We scheduled time with the wedding coordinator to go over all their services, what we wanted as far as colors, the things that were a must for me such as my 89 yr. old mom being able to sit in the shade, and that things needed to be for two brides, such as two bouquets, not a bouquet and a boutonniere. We spoke of logistics; picked the suite we wanted to stay in to make sure the days we wanted were reserved, compare the different packages and spoke of the decorations they provided. We settled on the Simply Elegant package for $500.00 that allows up to 13 guests. There is an Elopement package as well as other more elaborate ones. You can also select to pick and choose from a list of other things they can provide.
Champagne is included in the Simply Elegant package as are the two bouquets, and a wedding cake with topper or icing flowers. We are choosing to find our own same sex cake topper. Your guests will receive the champagne to toast, cake, and coffee, seating, and an alternate indoor spot in case of bad weather or for winter weddings. You can purchase appetizers, a light brunch, or other romantic additions. Our package also includes a list of officiants. We inquired about one who would be not just willing to marry us, but was truly invested in the wedding ceremony of two brides, and our coordinator knew just the person. You can have your own officiant as well. I love this wedding package and weddings in general at the Lazy Cloud because you have no stress about decorating or finding all the little things from baker to florist that you need. They do offer two photography options, or you can have your own photographer.
There are two other things that added to our experience. One was that there is a teddy bear in each suite that can be purchased. My wife picked up each one as we toured the suites to see which she liked best. There was a bear named Ima Romantic in a pretty red dress holding a heart that said love that she wanted. We couldn't remember which suite she was in, but the sweet gal who brought our breakfast went and hunted Miss Ima Romantic down right away for us.
The other fun thing was running journals that are written detailing a fun scavenger hunt. I think it was on our second or third day that we discovered a dollar bill folded and tucked into a flower arrangement on the wall. It wasn't long before we spotted two more that had gone unnoticed until we were seeking them out. I then remembered someone saying in a review that the journals contained hints. We didn't find all $22 dollars, but it was fun looking.
So why the Lazy Cloud Bed and Breakfast for our wedding and romantic vacation in general?
Beautiful suites.

All the extra touches and tiny details seen to and provided to make your stay and your special day romantic.

Innkeepers who are not only accepting but are warm, inviting and enthusiastic towards same sex couples. Carol Tiffany and her employees truly care about those who stay with them and provide impeccable service.

Lazy Cloud is a place that is private, beautiful, and provides a long list of included amenities.

The innkeepers see to every detail of your stay and go out of their way to honor each request. I am sure there are things they would say no to, but we did not encounter any.

The price is right, the location perfect. It is just a 10 – 15 minute drive to downtown Lake Geneva.

Beautiful gardens. We went in April and so did not see all the flowers in bloom, but even then, the ponds, statuary, gazebos, trellises, flower beds, patio, and trees were impressive.

A hassle free wedding experience without stress.

Did I mention the food?
Everything is geared towards romance, and our little trip did indeed help us reconnect, let go of stress, and even shut out the world as much as we wanted to. They are attentive, yet offer complete privacy depending on which you want. Carol Tiffany and her staff couldn't be more wonderful, and they do romance right. I can't wait for our July wedding. I am confident it will be perfect. Now all we have to do is decide on our dresses!
Lazy Cloud Inn
W4033 State Road 50
Lake Geneva, WI 53147
United States
Lazy Cloud Bed & Breakfast
N2025 North Lakeshore Drive
Fontana, WI 53125
United States
PHONE:
262-275-3322