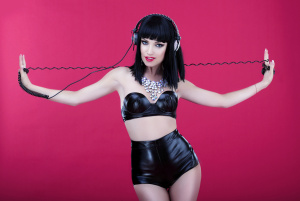 How I Learned About Social Change in a Dungeon
by LilBitRockNRoll
Last weekend, I spent an amazing three days immersing myself in my first con at GKE. I wore crazy revealing costumes, got mostly naked in front of tons of people during my scenes, and generally just flitted about in a daze, marveling at how crazy and wonderful everyone I met was.
When the con came to a close, I headed back to NYC with my friends and resumed my life. Unfortunately, within 15 minutes of resuming my life, I found myself walking down the street in my neighborhood in a pair of jeans and a jacket, passing one of the many dive bars in the area, with the following words ringing in my ears: "Look at that tight ass. Nice tight ass there." and "Come in here I'll buy you a drink!" and after ignoring the latter "You bitch!"
Welcome home. I live in a fairly innocuous neighborhood in the outer boroughs. But this sort of behavior is still fairly par for the course. In the decade+ I have lived in NYC, I have been followed, groped, called a whore, a bitch, a slut, told to suck their dicks for ignoring them, asked to take my headphones out so they could talk to me, and one time nearly attacked, but the coward ran away when I started screaming and rushing at him. Sometimes when cat called, depending on the time of day and the people cat calling me, I will shoot back something scathing or snarky to let them know this behavior is not OK. But on this particular night, there were three large men, presumably drunk, and I was afraid to say anything, for fear that they might actually come after me. Being put in that position is awful.
There has been a lot of recent discussion about street harassment, and I love it. I love when it's so far in the public eye that you begin to actually see people's honest attitudes about it, see men and women defend or fight against it. It's out there, and I'm glad. But the largest problem in this discussion on street harassment is that no one seems to be able to accept that 1) If it makes someone uncomfortable, despite one's own perceived intentions, perhaps it makes sense to respect another's boundaries; and 2) It is entirely possible to change unacceptable behavior if everyone participates. In fact the most common complaint I've heard is "it's never going to stop" followed by finger pointing and blaming and distracting arguments about who is actually doing what, who means what by what, or even the contextual meaning of a "Hello." while uttered to a stranger on the street.
These little arguments are distracting us from a much bigger issue. Respect for boundaries in our society as a whole are shit. And when people ask for respect, they are generally told this is wrong of them.
Which brings me back to GKE. I spent three glorious days in a microcosm community that somehow, despite the boundary issues generated by our society, has established that boundary respect is important. Perhaps THE MOST important thing there is. The only things said to me during that con were positive, complimentary things, like one's professed love of a corset I was wearing, or a general appreciation for how I looked. There is a ridiculous argument floating around that boundary respect and lack of cat calls would mean women could never meet men and men could never approach women, and yet this boundary respect did not prevent me from meeting or chatting with people. Quite the opposite, I met tons of great people while there. It wasn't creepy; it wasn't invasive. It was kind and friendly behavior. People kept their distance, asked if physical affection was alright before so much as hugging me. It was glorious. The kink community, as I have experienced it, has made respecting boundaries mandatory. And it is well known, that if you cross those boundaries, you will face negative consequences. I'm generalizing a bit as I realize humans are humans and this does not always happen (it should, but doesn't always), but for the most part, when someone's boundaries or consent is violated, that person is going to be booted out of the party, the gathering, the munch. They are excluded. They are sent a clear message that their behavior will not be tolerated, and the community is protected from them. If you want to belong to this community, you have to have a mutual respect for your fellow members.
So I look at the beauty in that and I realize – we are capable as a society of eradicating this behavior. Everyone just has to be a willing participant. That both gives me hope in that it's an attainable goal… and deeply depresses me that we have not yet decided to make it a goal at all.
{Originally posted by LilBitRockNRoll; re-posted on our website by request.}