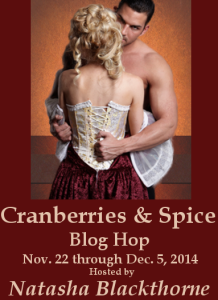 Welcome to the Cranberries & Spice Blog Hop, that runs from Nov. 22nd through Dec. 5th. The hop is hosted by Natasha Blackthorne, an erotic historical romance author. There will be great prizes ready to be won from the individual authors participating in the hop.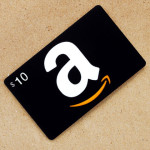 On ours, we are giving away a $10 Amazon Gift Card to be won by commenting, and leaving your email address with your comment. We will pick a person at random, and will announce the winner on December 6th. The winner will be notified by email that they have won. Click below to find the Facebook event for the hop.
The Facebook Event for the Blog Hop
A Note From Jolynn:
During this holiday of remembering to be thankful, I can easily think of many things. My wife, of course, and the home we live in. The food we have in abundance. My mom who is still going strong at 88 and accepts my being a lesbian as well as the kink lifestyle Beauty and I live. Our kink family and friends, and the joy they bring to our lives, and last but not least, my ability to spin tales that touch people's hearts and minds. Writing is a joy, but one that is made all the more special by those who read and enjoy my work.
Kathy's Disclaimer About The Excerpt:
Dining In: An Erotic Foodplay Story excerpt is 18+ and explicit in two or three places, so if you're easily offended, please feel free to pop over to the other gal's blogs instead.   
About Dining In:
The following is an erotic story is part of my book Sweet Agony. I chose to publish it on its own for those who have little interest or taste for BDSM. Dining In contains very light bondage and food play. There is no impact play or harsh BDSM in this story, just a very erotic sexual story with just a pinch of kink.
Read, Relax, and Enjoy,
Jolynn Raymond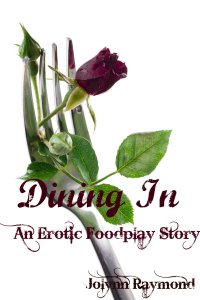 Dining In
Mia struggled as she came through the back door balancing three full bags of groceries. She dropped her keys as one of the bags threatened to spill, tightening her arm around it, as she tried to swing the door shut. She growled in frustration, as the bags began to slip, then kicked the door closed behind her instead. She reached the table just as the paper sack clutched in her fingers ripped, sending oranges rolling across the floor. She dumped the rest of the bags on the table with a curse and a grimace, then gathered up the wayward fruit and quickly put the food away, finally spying the note resting on the kitchen counter. Her expression turned from a scowl to one of delight as she read Ethan's instructions.
Kitten,
Follow the trail of roses and read each message along the way. I have some surprises in store for you tonight, but you must obey my instructions. Now be my good girl, and go do as you're told.
xoxo,
Ethan
Mia grinned as her stomach muscles fluttered. Now what did he have planned? Well she was never one to refuse Ethan when he came up with one of his wickedly romantic ideas. They usually involved a lot of delightful playtime and mind blowing sex. "I'm game Ethan. Let's see what you've been up to and what you have in mind."
She slowly went up the stairs, pausing to pick up and smell each rose along the way, feeling a familiar tingle begin in her core at just the thought of her lover. She lightly ran one flower down her neck the over her breasts, pausing to stroke her nipples, before trailing it down to her stomach. She knew the night would hold many pleasures. Arousal at this point in the game was bound to lead to frustration, but she couldn't help it. Ethan was a master when it came to erotic play.
"I'd better keep it together. There's no telling how long before he gets home." She stopped at the top of the stairs spying another rose and a note lying on the small hall table.
Mia,
Take this rose and the others to our room, there's a vase by the bed. Go and do it now before reading anymore…
That's my girl. Now remove every stitch and pin up your hair. I want it up high, curls trailing down your neck. I plan to nibble every inch of you…
Are you naked, pet? You better be. Caress your lovely tits and slip a finger inside that wonderfully sweet cunny of yours for a moment. Are you thinking of me? I've no doubt you're already wet. Patience sweetheart, good things come to good girls. Now go into the bathroom and do as you're told.
Mia had done as instructed and silently padded on bare feet to the bathroom. The countertop was full of all sorts of new items. Candles, bottles, a tin of something, a tiny feather duster, two fancy chocolates on a plate, and a chilling bottle of champagne, the ice hardly melted.
"You've been here recently, haven't you? Perhaps you're watching me right now." Mia glanced over her shoulder and smiled at the thought, another tingle shooting through her. There were two notes on the counter. She picked up the one that said "Read me first."
My Sweet Girl,
You are to eat the chocolates and prepare a glass of champagne to drink during your bath. Light all the candles and turn off the lights. Fill the tub and add the wild clove bath gel. Relax and inhale the spicy scent as the warm water and bubbles lap at your breasts and nipples. Lather up the sponge and feel the warmth of the cloves spread over your body. Your skin will tingle like it does under my touch. As you wash yourself, I want you to close your eyes and whisper my name.
Slide your hands over your tits and spread your pretty thighs for me kitten, feel the silky smoothness of the gel as you touch the body that belongs to only me. Say "These are Ethan's breasts, this is Ethan's cunny, my luscious bottom belongs to Ethan alone."
Feel my possession as you touch every part of yourself Mia, because you are mine. When you are done close your eyes, inhale the wonderful mixtures of scents around you, and think of all the nasty things I am going to do to you. Leave yourself a short while to prepare your body for me after your bath. I will be home at 7:00.
Kisses,
Ethan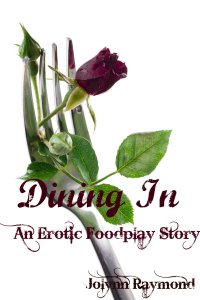 If you'd like to read more about Ethan and Mia, and what happens after her bath,
click the cover of Dining In: An Erotic Food Play Story. 
If you'd like to peruse the other books that she has written, you can
stop by her Amazon Author Page, and see what you'd like to read.
Pop on over to the rest of the participating
authors on the Cranberries & Spice Blog Hop.