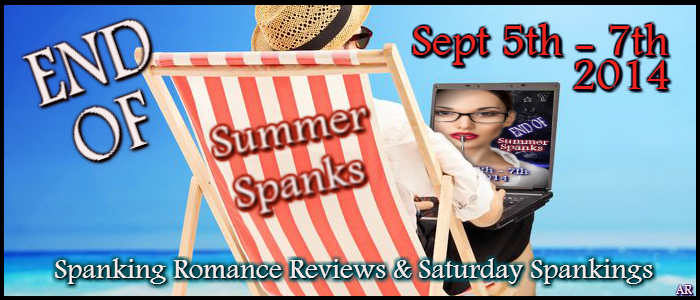 Summer Spanks Blog Hop: Last Flings or Lessons Learned
September 5-7 2014
Brought to you by Spanking Romance Reviews & The Saturday Spankings Blog!
Open to everyone in the spanking community!
It's the end of summer which means, either last chance for a summer fling, or back to school. Each participating blog will create a post based on the summer or back to school spanking theme. This can include a short story, poem, graphics/artwork, or any other creative avenue that you specialize in. Tell us a funny story, share an experience, it can be anything you dream of as long as it's good clean spanking fun! No explicit nudity please. Bare bottoms are, of course, welcome!
We have some wonderful Grand Prizes & more rolling in every day!
What's required to participate?
Sign up by entering the linky list below (create a draft of your blog hop post & enter the url to the post you created into the sign up)

Grab the graphic & add it to your side bar linking it to http://spankingromance.com/the-june-spank…lenge-spanka2z/

You must offer an individual prize on your own blog, post links to the main blog hop post and prize entry, display blog hop graphic, & include linky list of all other participants (or link to linky list if you have wordpress)

Have your post up by 12:01 am EST on September 5th

All contest winners should be announced on Monday, September 8th

Spread the word