Donut holes ( I used entenmanns )
                    strawberries
                    blackberries
                    skewers
                    salted caramel sauce ( Trader Joes )
                    chocolate sauce
                    coconut
Or if you want to get real fancy, you can make Nutella Donut Holes. Just replace the raspberry jam with Nutella. You can always cheat and get fresh donut holes from a bakery near you and just fill them with your choice of filling. Otherwise you need to start your donut holes the night before.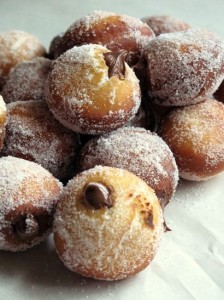 Bombaloni aka Italian Donut Holes
ACTIVE: 45 MIN
TOTAL TIME: 1 HR 45 MINUTES – PLUS OVERNIGHT CHILLING
SERVINGS: MAKES ABOUT 32 BOMBOLONI
Ingredients:
1/2 cup plus 1 tablespoon lukewarm water
1 1/2 envelopes active dry yeast (3 1/4 teaspoons)
1 1/2 tablespoons honey
3 cups all-purpose flour, plus more for dusting
3 tablespoons milk
6 large egg yolks
1/3 cup granulated sugar, plus more for rolling
2 teaspoons kosher salt
3 tablespoons unsalted butter, softened
3 cups canola oil, for frying
3/4 cup seedless raspberry preserves
Confectioners' Sugar, for dusting
Directions:
In the bowl of a standing electric mixer, mix the water, yeast, honey and 1 cup plus 2 tablespoons of the flour. (Alternatively, whisk the ingredients by hand.) Cover with plastic wrap and let stand at room temperature until foamy, about 1 hour.

Return the bowl to the mixer, fitted with a dough hook. Add the remaining 13/4 cups plus 2 tablespoons of flour, along with the milk, egg yolks, 1/3 cup of granulated sugar and the salt. Mix at low speed until blended, then add the butter and knead at medium speed until silky but sticky, about 5 minutes; the dough will not pull away from the side of the bowl. Using an oiled spatula, scrape the dough into an oiled bowl and cover with plastic wrap. Refrigerate overnight. The dough will not rise.

In a large saucepan, heat the canola oil to 360°. Line a rack with paper towels. Fill a shallow bowl with 1/2 inch of granulated sugar. On a lightly floured surface, roll out the dough a scant 1/2 inch thick. Using a 1/2-inch round biscuit cutter, stamp out 32 rounds; do not reroll the dough. Fry the rounds, 8 at a time, until they are browned, about 4 minutes. Be sure to keep the oil between 360° and 375°. Drain the bomboloni on paper towels, then roll them in the granulated sugar. Continue frying and rolling the remaining bomboloni.

Fit a pastry bag with a plain donut tip (or a 1/4-inch tip) and fill with the preserves (you can also use a squeeze bottle). Poke the tip three-fourths of the way into the bomboloni and squeeze in the preserves, pulling the tip out slightly as you squeeze to fill them as much as possible. Dust the bomboloni with confectioners' sugar and serve warm.