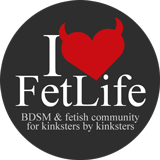 4 long years as a Fetlife creep
1590 days ago I got my first Fetlife message. It said "Thanks for joining FetLife :)".
87 days ago I got my second message.
Today I let Fetlife know that I am in a relationship with a very cute female submissive.
The whole process was so completely counter-intuitive, it took me over four years to figure out.
I wanted to tell this story because we seem to be struggling to integrate male dominant newcomers. They seem especially prone to acting like creepy arseholes.
I spent 4 years one click away from being that Fetlife creep.
This is my story.
Four years and three months ago I joined Fetlife and started reading profiles. The first thing I noticed was that no one wanted to be my friend and they kinda would rather I didn't get in touch and if I did get in touch they were pretty sure they weren't going to get back to me unless my message was something damn special – I should especially avoid messages that just say "Hi".
I deduced from this and other information that there must be a shit load of disturbing spam going out from Dominant leaning hetro-ish cis-males like me.
I want to be very careful how I contact anyone. I need write a message that says I read the profile and be clear that I have a shared interest with the person I'm contacting.
So once in a while it's 3am and I am looking at a profile and she's got a lovely picture of a her vulva and some fascinating writing about masturbation and her fantasies about cephalopods and I'm trying to compose a message along the lines of "You have a pretty vulva, I also like masturbation. Would you like chat about squid fucking?" without coming across as a total creep.
It's harder than it sounds.
I deleted more than one message like that without sending it.
I read the advice.
The best advice that we give newcomers is – Go to a munch, go to a workshop, make friends, join the community.
I didn't buy it. I just wanted to meet a few people – not join a cult. We got the internet now, who needs a coffee club – ain't nobody got time for that.
I'm looking at the discussion boards – these folks all seem to know each other. I'm missing something here.
I was missing something huge.
Turns out Fetlife is simply the online reflection of a real-world BDSM scene. The real world BDSM scene is a large, multi-faceted, international, emotionally intense and surprising well connected network of smaller communities.
You, dear reader, either already know that and take it for granted or you don't believe me because in the real world the BDSM scene is secret. So secret that there are secret bits inside the secret bits. So secret that when people say stuff like "go to a munch, met kinky people, they are really friendly – just don't talk to them about kinky sex" it just sounds like complete bullshit.
The idea that there is some secret international network of friendly open minded people practicing their rope suspension together, hanging out in fisting classes, and then going for coffee is ludicrous – it's freaky 60's science fiction. It just happens to – strangely – be kind of true.
Despite being completely unbelievable this is the single most important thing you need to know if you want to navigate Fetlife. You need to understand that most of the conversation on Fetlife only really makes sense in the context of the related real world scene.
At this point in the story I get really lucky.
I had become massively lonely and finally, on day 1503, I went to a munch.
Next day I got my second Fetlife message.
It said "Hi".
Almost all of my Fetlife activity post-dates that message. Almost all of my Fetlife activity is a reflection of my involvement in the real world scene. I made friends, I went to parties, I developed in-jokes and 85 days later I am in a relationship with the previously mentioned very cute female submissive.
It happened in the most utterly not Dominant way I could have imagined.
*Go to parties and munches.
*Chat to male submissives.
*Get introduced to female dominants.
*Get introduced to female submissives.
*Chat to female submissives – don't think of them as submissive.
*Very carefully don't talk about BDSM.
*Go to play parties.
*Stay very still and wear very shiny shoes.
*Hold someone's crop for her at a party.
*Chat to a pretty girl about the crop.
*Let the pretty girl kiss me.
*Contact her via fetlife and be extremely formal and polite.
*Ask her out on a date.
*… etc … etc … etc … beat her nipples with a metal ruler.
Not an obvious strategy and for the first 78 days or so, utterly lacking in any actual Dominating.
So when we tell newcomers the basic Fetlife advice "Go to a munch. Make some friends, Don't talk about kinky sex. Don't try and dominate or submit to strangers. Trust me it will work out" I'm not surprised that they don't believe it. Until you see it for yourself it's totally counter-intuitive.
I sympathize, I know what it's like to spend four years not knowing what to say to all these cool people you can see on Fetlife. Being really scared of being a dick and knowing that loneliness and desperation aren't sexy and are increasing my chances of saying something stupid. Four years being so worried of saying the wrong thing that I didn't say anything. Four years of writing a message and not being sure enough to press Say It.
In so many ways the only thing that separated me from the creepy spammers is that they are braver than me.
They have the courage to press the Say It button.
It's just that, as it turns out, most of the time, they shouldn't.
Side Note: 
Beauty came upon this post on Fetlife and wrote this man because she felt his story was powerful and very informative. It chronicles his struggle to find a partner, in his case a female submissive. He spent four long years hanging about on Fetlife, ignoring the advice of those who know the secret to finding a great D/s match. You must get out there people. If you want to be involved in a kink relationship, the place to go is a munch. 
We are not creepy, shifty, promiscuous, lewd, crazy or unethical. We are not demented nor are we broken. We are a group of people who make up communities large and small who know the secret to a fulfilling kink lifestyle is to get involved. We aren't scary, we don't run around doing weird stuff except at large kink events, and you wouldn't know us from any other people in the restaurant or bar. We're normal. Really. We just have a different form of recreation and a different take on relationships.
If you want what we have, get out from in front of the computer and go to a munch. Type your town or the nearest city into the search box on Fetlife and just go!