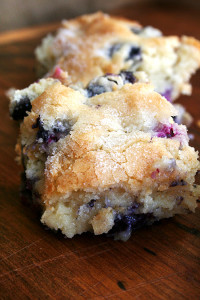 Buttermilk Blueberry Breakfast Cake
Ingredients
½ cup unsalted butter, room temperature

2 tsp. lemon zest or more — zest from 1 large lemon

7/8 cup* + 1 tablespoon sugar**

1 egg, room temperature

1 tsp. vanilla

2 cups flour (set aside 1/4 cup of this to toss with the blueberries)

2 tsp. baking powder

1 tsp. kosher salt

2 cups fresh blueberries

½ cup buttermilk***

* 7/8 cup = 3/4 cup + 2 tablespoons

** This 1 tablespoon is for sprinkling on top

*** To make homemade buttermilk, place 1 tablespoon of vinegar or lemon juice in a liquid measuring cup. Fill cup with milk until it reaches the 1-cup line. Let stand for five minutes. Use only 1/2 cup of the prepared mixture for the recipe.
Instructions
Preheat the oven to 350ºF. Cream butter with lemon zest and 7/8 cup of the sugar until light and fluffy.

Add the egg and vanilla and beat until combined. Meanwhile, toss the blueberries with ¼ cup of flour, then whisk together the remaining flour, baking powder and salt.

Add the flour mixture to the batter a little at a time, alternating with the buttermilk. Fold in the blueberries.

Grease a 9-inch square baking pan (or something similar) with butter or coat with non-stick spray. Spread batter into pan. Sprinkle batter with remaining tablespoon of sugar. Bake for 35 to 45 minutes. Check with a toothpick for doneness. If necessary, return pan to oven for a couple of more minutes. (Note: Baking for as long as 10 minutes more might be necessary.) Let cool at least 15 minutes before serving.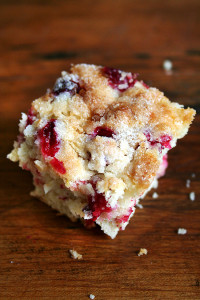 Cranberry Buttermilk Breakfast Cake
More recipes can be found at Alexandra Cooks
Total Time: 10 min

Prep: 10 min
Yield: 12 servings
Ingredients
1 quart fresh orange juice

32 ounces canned or fresh pineapple juice

2 cups coconut milk

1 liter seltzer water

1 pineapple, peeled cut into 1-inch cubes and frozen

1 pint of strawberries, hulled and frozen

1 orange sliced thin

4 cups light rum, optional
Directions
To a large punch bowl, add orange juice, pineapple juice, coconut milk and seltzer. Mix well. Place frozen pineapple chunks and strawberries in the punch to keep it cold. Float the orange slices on top of the punch for garnish. If desired, add rum.