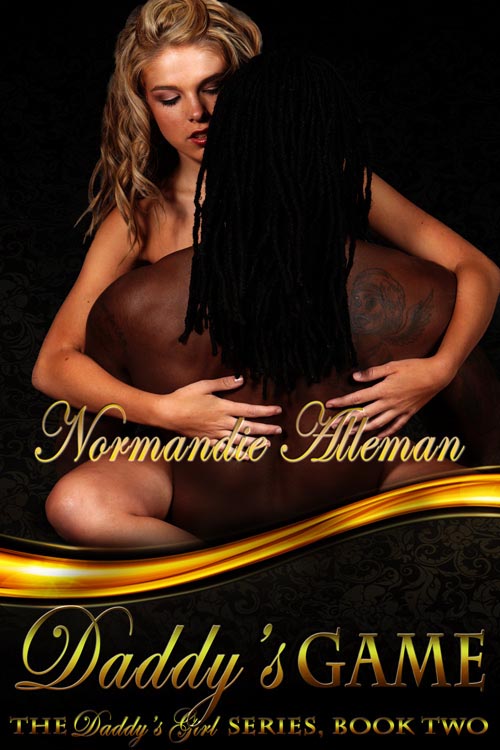 Daddy's Game, Book Two in the Daddy's Girl Series
Football and kink collide when the game's biggest star tries to convince a beautiful artist to play Daddy's Game.
Unofficial Blurb
Sparks fly when up-and-coming artist Carmen Harris meets football star Natron Dakers at her first gallery opening. As they grow closer he introduces her to his particular brand of kink – he wants to be her Daddy Dom and make her his little girl submissive. She agrees, and they explore their passion through a variety of sexual games.
Dallas Vipers' wide receiver Natron Dakers is on top of the world. At the top of his profession, he has money, fame, and all the perks that go with it. Finally having found the perfect partner in his curvy little girl Carmen, his life feels complete. Until one day, in a split second, everything comes crashing down and it looks like he will lose it all. Will Natron self-destruct or will he dig deep and fight to win the ultimate game of love?
Excerpt (R) BDSM
With the flip of his wrist he brought the first strike down on the alabaster skin of her back. The leather made a soft thudding sound as it made contact with her flesh.
She flinched, but otherwise seemed intact.
He let fly another stroke of the whip. And another until he developed a pattern that ran from her buttocks up her torso, up one side then down the other. The smell of leather wafted through the air as he pulled his arm back to prepare for the next blow, and the welcome sound of pleasure rose from her lips.
"You like that, babygirl?" he crooned.
"I do. It doesn't really hurt. More like a little sting, but it feels good."
"That's it, baby. Go with it."
"Yes, Sir."
He raked the tails across her backside until her skin began to pinken. At that point he set the flogger down and stood behind her.
"Now back up a step and lean over and grab your ankles."
This flustered her. "What?" she asked, clearly stalling.
"I'm going to inspect you."
"For what?" she asked leaning over hesitantly.
"My pleasure."
"I'm not sure I can grab my ankles. I'm not very flexible."
"Hmm. You might want to work on some daily stretches then. But for now grab your legs as low as you can go."
"Yes, Sir," she said and grabbed her lower calves.
He cupped her sex with his hand, and he could feel the heat coming from her most intimate region. Smacking her pussy a few times elicited a small cry from Carmen, and he could tell it was the first time anyone had ever done that to her.
Breaking in a virgin to BDSM was an intoxicating experience. No one would need drugs or alcohol when an experience like this was available. He caressed her ass, her warm globes feeling heavenly under his touch. When he spread her cheeks to inspect her asshole, her whole body tensed.
"Relax," he said.
"That's easy for you to say," she muttered.
He laughed. "The point is for you to trust me, become comfortable with me exploring your body."
"It's embarrassing," she whined.
"It shouldn't be. I want your body to belong to me. Everything about it is beautiful. Allow me to enjoy it. Do you think you can do that?"
"I guess so."
"Did you mean to say 'Yes, Sir'?" he prodded.
"Yes, Sir," she said sounding like a chastised schoolgirl.
"That's more like it," he said spanking her ass before wetting his thumb between his lips then slowly inserting it into her rear entry.
She flinched, but remained silent.
"Good girl. Relax and it will start to feel good."
He found her lips with his other fingers and worked them in and out of the complex womanly folds between her legs. Dipping in and out of her ass and her pussy at the same time had begun to arouse her. Her hips shifted slightly to meet his attentions and she coated his hand with her sweet nectar.
"Be still," he commanded and he felt her struggle to control the urge to ride his hand.
His middle finger sought the center of her lust, and he flicked back and forth over her clit until he felt her muscles tightening more and more. Just when she was about to tumble over the edge he withdrew.
"Stand up."
She obeyed, her legs wobbly.
"Turn and face me."
She whirled around and he saw the confused look in her eye. The look that said, why?
With the pitifulness of a baby harp seal, she looked up at him. "Daddy, I was about to come. Why did you stop?"
His big Dom heart almost stopped. She was too adorable, too perfect for him. How could he deny her?
Clearing his throat he said, "Because your orgasms are mine. I tell you when you can come and sometimes you will have to wait until I give you permission."
Daddy's Game will be released later this month. Stay tuned, and follow Normandie here to get the announcement when it comes out:
Twitter at  https://twitter.com/NormandieA
Pinterest at http://pinterest.com/NormandieA
Facebook: http://www.facebook.com/pages/NormandieAlleman
Amazon Author Page: http://www.amazon.com/Normandie-Alleman/e/B00BNUDVFW
Goodreads: https://www.goodreads.com/author/show/6893037.Normandie_Alleman
Her website: www.normandiealleman.com
In the meantime, have you read the first book in the series Daddy Morebucks?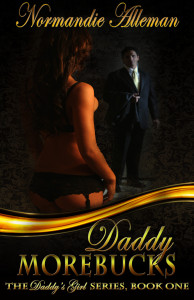 Daddy Morebucks
From the moment she laid eyes upon him, Marley knew in her heart that James was not just another client, and the difference wasn't even the large sum of money he offered in return for a single night of submission. No, what set him apart was the fact that when she called James "daddy", it was her own heart which beat faster and her own body which ached with need.
After that night, Marley does her best to put all thought of him behind her, using the huge payday he provided to get on her feet again and start over… until James knocks on her door and walks right back into her life. He makes her a simple offer: if she will live with him and submit to him whenever he wishes, he will provide for her every desire.
Even before she accepts his offer, though, Marley knows what she truly wants is not money or clothing or even a fancy new car. What she longs for is a daddy who will give his little girl what she really needs… a daddy who will spank her bare bottom when she is naughty, tie her up and take her any way he pleases, and then cuddle her until she falls asleep in his arms. Can she dare to hope that James will be that daddy?
You can pick up a copy of Daddy Morebucks here:
Amazon: http://amzn.to/18AdrsI
Barnes & Noble: http://tinyurl.com/kfkaah6
Audiobook on Audible: http://bit.ly/1coFE6s