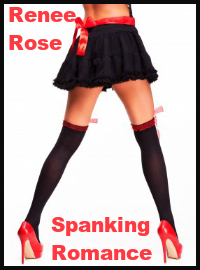 Today we welcome Renee Rose over for a visit to share her new release with everyone. If you don't already know Renee from her writing, she's very active in the spanking community. She helps runs the Spanking Romance Reviews, writes articles for Write Sex Right, blogs for Blushing Books, and lots of others things I'm sure, since I try to keep up.
Thank you so much, Jolynn and Kathy, for having me here today for an author spotlight!
I'm Renee Rose and I write spanking romance–erotically charged discipline that unites the hero and heroine through the intimacy it forges.
From Regency to medieval, western to Renaissance, I like to set stories in the past, when corporal punishment was more of a norm and putting the heroine over the hero's knee for a non-consensual spanking seems acceptable.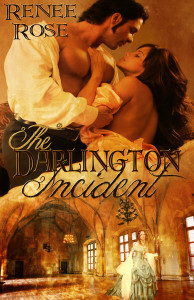 My latest novella, The Darlington Incident, features a British spymaster, who discovers his prime suspect is the lady with whom he has fallen in love.  Here's what happens when she inadvertently poisons him with thorn apple:
"You have the most perfect arse for spanking," he said, his words slurred.
Her eyes flew to his face in surprise.
"I know–inappropriate. But I have been nothing but inappropriate with you, have I not? And still you are here. Which either proves your guilt or your insanity. Dear Eliza, I do not wish to break your neck," he said. "So you should leave me now."
She marveled at the fact that he believed her a murderer and the worst he had done was slap her backside. But then, he was not in his right mind. "I do not wish it broken, either, my lord," she said, mopping his forehead with the handkerchief. "But I cannot leave you to die. Please believe me–I had nothing to do with poisoning you. I mean–I know I gave you the cup, but I did not realize it had been poisoned until after you had drunk it, and then you already knew it, too…" She stopped herself, realizing her babble solved nothing. "Tell me what to do," she said, giving into the tears pressing behind her eyes. "Darlington, what can I do to save you? Is there anything I can do?" Her voice broke into a sob on the last words, tears streaming down her face.
He brought his hands to her body, plunging them down the neckline of her dress and sweeping along her corset before withdrawing them and yanking her up on his lap.
"Wh-what are you doing?" she sniffed.
"Searching for a knife," he mumbled. He dragged his hot palms up her outer legs, around the waistband of her drawers and down the insides of her legs.
He toppled over onto his side again, then flopped on his back, appearing very much like a drunk man. She straddled him, peering down at his face. "I assure you I have no weapon. I do not wish to kill you, Darlington. I play no part of this–I promise you."
"If I were to be killed by anyone, I suppose I should like it to be you," he muttered, his hands gripping her waist and shifting her weight. She gasped, realizing his hardened length lay between her legs and he derived pleasure from her movement.
She scrambled off him. "That is inappropriate," she said, her voice sounding as shaky as she felt.
He struggled back to sitting and pulled her torso down over his lap.
"Darlington!" she exclaimed, exasperated, unable to struggle free from his strong grasp.
His hand connected with her bottom with a stinging blow. "Poisoning me is a spankable offense," he declared.
She giggled through her tears, the situation too ridiculous to sort out how else to respond. Her father, an apparent traitor against her country, just poisoned the man she loved.  Meanwhile, Darlington seemed more interested in spanking her than telling her how she might save his life or defending himself if she attempted to murder him. The sharp steady slaps reined in her panicked thoughts as she could focus on nothing other than the insistent tempo over her smarting flesh.
He stopped spanking and pulled up her skirts. She expected him to open her pantalets and spank her on the bare, as he had done in the library that morning, but he slid his hand over her warmed skin, stroking her bottom.
"My lord," she said, trying again to wriggle free.
"Shh," he said. His other hand tangled in her hair, stroking it with a caress so tender she melted.
BLURB:
The note read simply: Meet me at the Westerfield Estate gatehouse at midnight during their Ides of March ball. Bring the twenty-five thousand in notes to exchange for the plans.
Though spymaster John Andrews does not know the identity of the plotters, he is determined to catch them at their treasonous game. Posing as Lord Darlington, he joins the Westerfield weekend fete. Resourceful and clever, he is ready for anything… except falling for his prime suspect, the lovely wallflower Miss Eliza Hunt.
When he finds secret government documents hidden in Eliza's trunk, his temper gets the better of him and he takes her to task, applying a riding crop to her bare bottom. But new evidence leads him to believe Eliza may be innocent and John fears he can bid farewell to his career after getting fresh with the daughter of the wealthy and well-connected Hunt family.
Eliza knows Lord Darlington is not the gentleman he purports to be, but he is the first man to see beyond the ugly birthmark on her face and treat her like a beautiful woman. As he draws her out of her shell and demands she let go of her self-doubt, his claim on her heart grows stronger, even when it becomes clear he stands ready to punish defiance with firm chastisement!
Darlington cannot wait to catch the traitors, clear Eliza of all suspicion, and then claim her as his own, but at the same time he fears his darker desires may mean he is not the sort of man worth having as a husband. Can her whole-hearted love free him from the demons of his past?
Publisher's Note: The Darlington Incident is an erotic romance novel that includes spankings, anal play, sexual scenes, and more. If such material offends you, please don't buy this book.
BUY NOW on Amazon, Amazon UK and ARe
Renee Rose has published over twenty erotic romance titles, all centered around her favorite kink:  spanking.  Named Eroticon USA's Next Top Erotic Author in 2013, she is also a contemporary dance teacher, Feldenkrais Practitioner(R), energy worker and mama.
"If you are looking for a spanking romance you can lose yourself in and think fondly of for days after, look no further. This is a Renee Rose book and this author is very good at what she does."
—Maren Smith, author of the Masters of the Castle Series
Connect with Renee Rose!
Blog,  Twitter,  Facebook,  Goodreads,  Pinterest,  Amazon