An Exciting Love Story Filled with Unimaginable Passion & Intrigue Surrounding One Man's Search for Undying True Love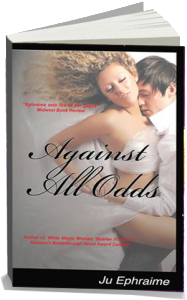 Author Ju Ephraime brings back Jayden, a lead character from her bestselling and most loved novel, Temptation To Sin, in a sequel that shows how vulnerable a man can become when his prized relationship sours. In the sequel, Against All Odds, the hunky Jayden learns how to let his emotions go and embrace passion when he feels it most with a woman he can trust and love beyond his wildest dreams.
Against All Odds by Ju Ephraime
One man's depression and distress over the ending of his long-term relationship sends him spiraling into the arms of a young, stunning barmaid that not only saves him from a life of loneliness, but convinces him it is possible to renew the fires of passion again – with the right person. Combining love and sensuality, author Ju Ephraime brings her most loved character Jayden back in the sequel to Temptation To Sin for an explosive sensual love affair with the vivacious young Genna. Ms. Ephraime's writing pulls the reader into Jayden's and Genna's love affair making the reader feel like a voyeur as the trials and tribulations of their new relationship unfolds in Against All Odds (Envision Publishing; Paperback: $9.95; eBook: $3.99; ISBN: 9780983602996).
The story begins when Jayden walks into a pub and sits down to drown himself in liquor to snuff out the unbelievable pain he felt after watching Shannon, who was at one time the love of his life, marry another man …
Six months ago, the woman he had hoped to spend the rest of his life with had told him she had met someone else and would be leaving him, after ten years. Even now, he could still feel the pain and the shock he'd felt when she'd told him. But he had put up a brave front and gone about his life as if it was an everyday occurrence for the love of his life to walk out on him. He thought he had done everything humanly possible to make life comfortable for Shannon, but evidently, he had not given her the one thing she wanted most—sex, and lots of it. He had nothing against sex, but Shannon had pretended she had no interest in it the few times he had made any advances toward her. He had foolishly thought she would come to him if her feelings changed, but as this wedding had clearly shown she had taken her needs elsewhere. Now he was left to pick up the pieces and move on with his life. How? He'd no clue where to begin. He was hurting like he'd never thought he could hurt.
With nine romantic novels to her credit, Ju Ephaime understands perfectly how to craft characters and plot lines that pulls the reader into the story, making that person a voyeur to the romance, passion and cauldron of ecstasy that develops when Ju takes a storyline to its most thrilling conclusions. Ephaime is a strong creative writer, taking care to build characters, while laying out the groundwork from her character's viewpoint and mixing in the storylines that women want to read – the romance of sensuality. Whether it's the beginnings of a fling that intrigue the reader, or the steamy love-making aspects of a budding relationship, or even the psychological hiccups that lovers sometimes have to deal with in any personal connection, Ju writes her stories for the fans, giving them the pure abandon and sinful plots that tantalize their interests and keep bringing them back for more.
# # #
About the Author:                                                                                                                                                             Ju Ephraime began writing professionally at the age of 19, her love of romantic literature developed when she was a teenager, where she often found herself dallying with her own tales of love and romance. Two decades later, Ju decided to write novels for women who enjoy a quick spicy-themed read that includes pure pleasure and escape from the real world. With nine romantic novels to her credit, Ju admits her books are part fact, part imagination – but only she knows what's what. After writing Temptation to Sin, her fans didn't want to let go of Jayden's character, so she wrote a sequel to his story – and Against All Odds was effortlessly created in Ju's mind. Without spoiling the tale for her fans, she firmly believes her readers will enjoy the twists and turns that Jayden and his new love Genna deal with to achieve insatiable undying love. Ju Ephraime lives in Connecticut with her husband, who blushingly reads every loving tale that she publishes.
For more information about Ju Ephraime and Against All Odds, please visit her website.
Buy Links:
Against All Odds on Barnes and Noble
Social Media:
@JuEphraime on Twitter
Dr. Julia E. Antoine Winner of the Silver Award in the Mom's Choice Awards, ages 9 -12 Too-Clever.blogspot.com Envision School Publishing