Today we introduce Jacintha Topaz! She's a new author that released her very first book in the Purr Scent series. She's been swell enough to do an interview for us for you to enjoy.
What got you into writing LGBT Ménage erotic romances?
The short answer is that it is something I want to read! 🙂 The longer answer is that the more books I read the more I found that most of the ménage stories out there are for the heterosexual woman or the bisexual man.
So I wrote my first story—Purr Scent—for the bi girl, because just as the bi guy can have the best of both worlds (the softness of a woman and the hardness of a man) so can the bi girl. That's why I dedicated my first LGBT erotic romance ménage story to the bi girl so she can have everything—the best of both worlds.
As for the LGBT part of the question, I would say that my first story relates more to the B in the LGBT. I'm not opposed to writing stories of the LGT equation either, only those stories are yet to come. I need to finish the story I am currently writing for that bi girl who captured my attention and wouldn't let go. So her story needs to come out of my head first and onto the computer screen.
So you will be writing more LGBT stories then?
Yes, I do have some stories percolating. However, the market already has a lot of FF and even more MM erotic romances to meet the needs of LG readers. I have also stumbled upon an author whose specialty is T romances.
What I love exploring, though, is how other facets of who people are inform their actions and therefore their love lives. For example, I do have a trans person of color romance to write, which should be very interesting considering that I haven't seen this kind of story in the market.
Do you like exploring racial and ethnic identities in your books?
Yes, I do. In fact, even my current work Purr Scent explores these inseparable aspects of the characters' lives. You won't see much of this in Part I of the five-part story yet, although you may see a hint here and there. However, as we progress into Part II and the rest of the story, these parts of the characters' lives will "come out" to play more often and will play a pivotal role in shaping their consciousness and their actions toward their collective future.
Can you share more about your current work?
Sure. Purr Scent is a five-part MFF BDSM erotic romance story starring Mariah Olsen, a heterosexual female turned bi-curious who doesn't know she's bisexual yet, and the two people who desire to dominate her. One is a Master and the other a Mistress. So if it's not bad enough that they each want Mariah to themselves, they also vie to be the ultimate Top in the trio when they do get together to play. I'm so excited to see how they vie for that top position in the threesome and what truly matters as they move towards a three-way commitment. I love power plays—seeing how power plays out in a relationship and the delicate balance in a threesome makes it all the more delicious to write and read!
Is that how you got interested in writing BDSM—the power play?
Totally. Takes a lot of trust for people to go there with the D/s stuff. In this case, I guess you can call it D/s/s or D/D/s! 🙂
I love exploring power in my stories. Power over, power within, power under, power with, etc. Hand in hand with that exploration are the gray areas of oppression and consent. So writing in the BDSM context naturally came up for me, and I am grateful that kinky stories have gained traction in recent times—especially with the advent of the Fifty Shades trilogy. Kink has suddenly become a strong niche genre in current times and I'm happy to be contributing to the present wave.
Believe it or not, though, the very first erotic romance books I read were not E.L. James' trilogy! The honors go to Kallypso Masters' Masters at Arms and Nobody's Angel in the Rescue Me Series. For those interested, both books have BDSM MFM (male-female-male) ménage scenes, although none of her books have covered committed threesomes yet.
Can you tell us a little bit more about the threesome you are writing about in Purr Scent?
Sure. Purr Scent is a five-part story in the Purr Billionaire BDSM Trio series. Here is the blurb.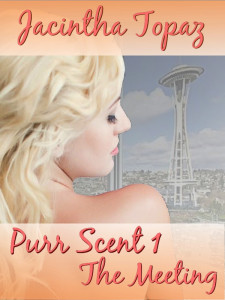 Part I: The Meeting
Mariah Olsen has mastered separating work ambitions from personal desires in her climb up the corporate ladder. The one thing she didn't count on was being caught mixing the two when daydreaming in a board meeting with visiting executive Clark Mannings, who has his eyes set on punishing her.
So that's the blurb! 🙂 Although BDSM is safe, sane and consensual, Clark can be quite imposing; he borders on dubious consent when he hatches a plan to dominate his fledgling submissive Mariah. She doesn't know it yet, but she is bi-curious and you'll find out more about that in Part II: The Makeover.
Here is an Excerpt from Chapter One:
Sitting across the boardroom in utter perfection was Dream God. No other word sufficed to describe that delectable man. Even sitting at such a distance with their executive teams flanked on both sides of the table, the man exuded ruthless sex and raw power that sent a chill down her spine.
The highlight of that morning, of the day, the whole quarter, was that she would see him again. Like clock work, their companies met four times a year to discuss business. After their first contract, she had looked forward to the next and the next and the next…
God, what would it be like to be beneath him? She'd never find out, because she just wasn't that kind of girl. Business was business. Personal was personal. While she liked fucking, she didn't like getting fucked. Mixing the two—business and personal—was a plain invitation to getting fucked. No, thank you. She'd rather just date her vibrator. She'd have a good fucking and no mess—just her mess—to clean up afterward.
Yes, she and her vibrator would have a nice long date tonight. She shifted in her seat.
"What do you think, Ms. Olsen?" The deep baritone voice of Dream God cut into her reverie.
No, not Dream God! Clark…Clark Mannings. Business only. 
Caught daydreaming across the boardroom, Mariah blinked at the object of her reverie and saw the broad shoulders of the red-hot sexy self-made man in a navy tailored three-piece suit. With black hair long enough to frame him as a pirate or a rogue in another time and place, Mariah shuddered at the thought of being this man's enemy . . . or captive. She fought a blush from creeping across her face.
Right now, even sitting at the head of the table across from him, she didn't feel any more safe—or any less wet—than she would have felt sitting next to him. Didn't even matter that their executive teams were in the same room. As potentially partnering CEOs again, the command he held, the presence he had, the air he snuffed out of the room just by breathing and being—all of that and more said a lot. A lot of what she did not need right now at the moment.
His penetrating gaze almost unmanned her. Or un-womaned her. Or whatever.
Mariah's fleeting glance at the magnificent view of the Seattle skyline steeled her courage and she sat as erect as the Space Needle. No way would she ask the man to repeat the question. Nor would she back down. She braved a schooled smile and spoke in what she hoped was a crisp and calm manner. "That shall be all for today, Mr. Mannings. My team will review these details and get back to you about the proposition."
At the dismissal, their executive teams exited.
She'd never sent him away empty-handed, without verbal agreement or a signed contract. She'd probably have to pay for this later, but she'd rather keep her hand. She needed both of her hands for her hot date tonight.
How did the air get even stuffier with less people? Perhaps because there was only one occupant left besides her, the occupant that mattered.
Mariah didn't need to look up to know that Clark was still in the room. She adjusted her taupe pencil skirt as she stood up and slowly collected her things to retreat to her office. As if even his presence wasn't enough, he guarded the exit like a bulldog ready to tear anyone apart who dared pass.
"What game are you playing, Ms. Olsen?" he hissed at her ear. His warm breath sent a tingle down her spine and her senses went on full alert. So what if the man was edible?
Survival instinct took over. Show no weakness.
"Mr. Mannings, I believe you have overstayed your welcome." She shot him a prim smile and proceeded to pass him.
He grabbed her arm, stilling her resolve to leave him behind. "I've watched you negotiate for two years now. Where. Did. You. Go?"
Taken aback by his admission and the succeeding demand, Mariah pulled in a sharp intake of air. "Mr. Mannings, you must let go before I call security." She glared at him and directed her gaze to the offending hand. He may be a frequent visitor in her erotic fantasies, but he was not welcome in real life. Good girls turned CEOs had to remain pinnacles of upright standing all the more in a male-dominated world intent on cut-throat competition.
"As you wish, Ms. Olsen." He dropped his hold and let her pass, muttering, "This isn't over."
Every hair at the back of her neck stood on end as she carefully made her way to her office. Lunch couldn't have come sooner.
END OF EXCERPT
Thank you, folks! I've enjoyed my time here with Jolynn! If you're interested, Purr Scent is available on Amazon for 99 cents for a limited time only.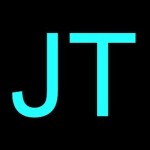 Bio
Jacintha Topaz is the author of Purr Erotica Romance, devoted to F/F, M/M, LGBT, Menage and More BDSM, kink, bondage, fetish, spanking, domination, submission, hot, sexy, erotic romance reads. When not writing, she can be found indulging in cashews and kefir and her secret love of armchair gardening. For exclusive news on releases, sign up for her newsletter: http://eepurl.com/R9OfH
Jacintha loves to keep in touch!
Twitter @JacinthaTopaz