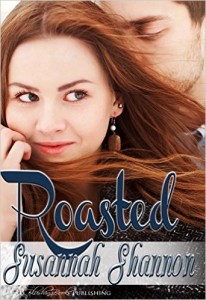 Get Roasted by Susannah Shannon
I originally found Susannah Shannon's book by accident. People kept posting cookbooks in the Spanking Fiction Readers and Writers Group I mod on Facebook, so I searched Amazon, and ta da! So I posted it in the group since there was cooking and spanking in the book. It is such a good read! It's a fun and quirky spanking romance. I could have sat up all night and read the whole thing through, but I wasn't able to do that. :/ For the longest time, I hadn't felt like reading at all. Between Adaline Raine's book, Her Leading Man, and this one, I felt I could enjoy books again and reading didn't feel like such a chore. 
Book Blurb:
Cass Harper has given up on her romantic ideal. She has secretly longed for a man who enjoys her company, respects her intellect, thinks she is beautiful and is prepared to spank her bottom scarlet when he thinks she needs it. All that has gotten her is heartbreak.
When learning of her ex-fiancé's plans to use her money to take his new love to Paris, Cass has had enough. An invitation from an online fan has her deciding that it is about time to pull her big- girl panties up and step outside her comfort zone. Stunning photos of the Alaskan wilderness promise her an adventure; the prospect of meeting the considerate and strong Killian Nelson, owner of Slick Trench Outfitters, offers her far more.
All Cass needs to do is overcome a few obstacles… such as reclaiming her livelihood from her carbophobic ex-fiancé who has hijacked her food blog, convince herself that Killian's gorgeous ex-girlfriend isn't competition, find a missing elderly friend—and, as if that's not enough, she also needs to stay away from the bears and wolves that call Alaska home.
Only after Cass begins to recognize her own worth is she able to build the life she has dreamed of. Oh, but remember those big-girl panties she's pulled up? What will her reaction be when she learns that naughty girls find their panties pulled down when going over an Alaskan's lap?
Roasted is a witty, sexy story of self-discovery. It features excerpts from the fictional CassCooks by Cass Harper and some non-fictional recipes that you are going to want to try.
You know you want to buy her book and read it.
You can follow Susanna Shannon on Twitter @Blushingsusannah