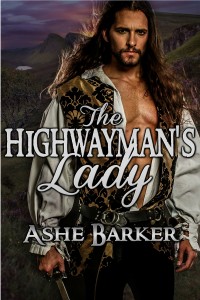 The Highwayman's Lady by Ashe Barker
Ashe Barker Guest Blog Post
The Highwayman's Lady 

Hi Kathy, and thank you so much for inviting me over to your blog to give a shout out about The Highwayman's Lady. I'm really excited about this story, Gray is a hero I've been hatching for a while now, and it just reached the point where he had to emerge. He's a rogue and no one could mistake him for a gentleman, but I hope you'll love him as much as I do.
~~~~~~~~~~~~~~~~~~~
Here's the blurb…
After the death of her mother, twenty-year-old Imogen Bennett faces the prospect of being coerced into marriage by a scheming relative, but fate intervenes when a masked highwayman accosts her on the road. Desperate to escape the unwanted wedding, Imogen pleads with the mysterious, handsome rogue to rescue her.
Alistair Graham is a proud Scotsman who rebelled against British rule, and since the defeat of the highlanders at Culloden he has taken to robbing rich Englishmen travelling through Scottish lands. He is no gentleman, but he is certainly not a man who would ignore a young woman's pleas for help, and he agrees to do what he can to assist the beautiful girl he has waylaid.
Imogen finds herself drawn to Alistair, and though he warns her that he expects a woman's complete obedience both in bed and out of it, she cannot resist offering her virgin body to him. He takes her hard and thoroughly, leaving her utterly spent yet still aching for more, and when her shock at her own wantonness leads her to speak disrespectfully to him he bares her bottom and punishes her soundly.
A highwayman is no suitable match for a lady, however, and Alistair fears that her association with him can only put them both in danger, so he makes her promise that she'll tell no one about what took place between them and then ensures that she is delivered safely to the home of her honourable cousin in Kirkleven. Yet despite her best efforts to put Alistair out of her mind forever, in her heart Imogen knows she will always belong to the man who rescued her, mastered her, and made her his. But will her highwayman ever return to lay claim to his lady?
Publisher's Note: The Highwayman's Lady is an erotic romance novel that includes spankings, sexual scenes, anal play, elements of BDSM, and more. If such material offends you, please don't buy this book.
And an excerpt…
"Please, just stay. For a while." I sound needy and desperate and I hate to demand yet more of his good nature. Alistair Graham has already been kinder to me than I could have ever expected. I should just allow him to get about his business and be glad of his escort in the morning. Somehow I cannot bring myself to stand aside and allow him to pass, though I have no illusions that I might be able to prevent him from doing so if he were to be determined upon it.
Long seconds pass, marked by the ticking of the pendulum clock that must hang on the landing beyond my room. Neither of us speaks. At last Gray reaches for me and cups my chin in his hand.
"If I stay, it will not be to play cards or chess or to peruse uplifting works of literature. That said, I do entertain a more than passing interest in whatever might be concealed under your clothing."
"Sir?" I take his meaning perfectly well, but need a few seconds more to process the idea.
"Imogen?"
"You wish to vary the terms of our arrangement?"
"Fuck the arrangement. I will see you safely onto that coach tomorrow whatever you decide to do now."
"I see." I should be unnerved by the crudity of his comment. I am not.
"Do you? Even so, let me make myself clear. If I remain, I will require you to remove your clothing, allow me to blindfold you once more and spread your thighs for my enjoyment. There will be pleasure for you too, of course; I am a stern lover but not a selfish one. You will do as I tell you, quickly, without argument. I expect obedience and submission. I will fuck you. I will likely spank you if you disobey or otherwise displease me. I might even require you to suck my cock. The list is not exhaustive but I hope you take my general meaning." He pauses, as though to let his words sink in. Then, "Are you prepared to accommodate me in this manner, Miss Bennett?"
I gaze up at him, open-mouthed. I am beyond stunned, shocked at the explicit carnality of his demands, yet hopelessly aroused too. I had anticipated some flirtation, perhaps even a more intimate dalliance. He might have sought to steal a kiss or two and I would not have objected too strenuously to that. But this audacious, direct statement of his expectations has come as a bolt from the blue. Is what he demands reasonable? Is this how gentlemen normally conduct such business? This entire arrangement is quite outside my realm of experience, but surely the correct and appropriate answer must be clear to me. I am, after all, a well brought up young lady seeking to lay claim to noble connections. I know what is right and proper and such behaviour does not involve spread thighs, fucking, the sucking of cocks, and certainly not spanking.
I close my mouth, swallow, seek to form the words that really should make up my response. I tilt my chin up and answer him.
"Yes, Mr. Graham. I am quite prepared to accommodate you in the manner you have described."
He inclines his head slowly, his eyes never leaving mine. "In that case, Miss Bennett, please continue."
"You want me to undress now?"
"I do."
"And, you intend to watch me?"
He retreats from me to stretch himself out on my bed. "Was my description of my expectations at all unclear, Imogen?"
Buy Link
Grab The Highwayman's Lady now on Amazon
Rafflecopter Competition
To celebrate the release of The Highwayman's Lady I'm running a competition. You could win a $10 Amazon Gift Card – just join in my Rafflecopter. The competition finishes on 14 March so don't hang about.
Rafflecopter code
a Rafflecopter giveaway
More about me:
I've been an avid reader of fiction for many years, erotic and other genres. I still love reading, the hotter the better. But now I have a good excuse for my guilty pleasure – research.
I tend to draw on my own experience to lend colour, detail and realism to my plots and characters. An incident here, a chance remark there, a bizarre event or quirky character, any of these can spark a story idea.
I live in the North of England, on the edge of the Brontë moors. When not writing – which is not very often these days – my time is divided between my role as resident taxi driver for my teenage daughter, and caring for a menagerie of dogs, tortoises. And a very grumpy cockatiel.
I have around thirty titles on general release with publishers on both sides of the Atlantic, and I have several more in the pipeline. I write M/f, M/M, and occasionally ring the changes with a little M/M/f. All my books feature BDSM. I write explicit stories, always hot, but they offer far more than just sizzling sex. I like to read about complex characters, and compelling plots, so that's what I write too.
I have a pile of story ideas still to work through, and keep thinking of new ones at the most unlikely moments, so you can expect to see a lot more from me.
Let's keep in touch. Here's how to stalk me…
 Newsletter Sign-Up
www.ashebarker.com
Amazon
google.com/+AsheBarker
Facebook
Twitter