Adult Sex Ed Month (#AdultSexEdMonth) is here for its third year this June!
#AdultSexEdMonth is a social media campaign during the month of June to share educational and informational blog posts, articles, videos, podcasts and infographics about adult sex on Twitter and Facebook with the hashtag #AdultSexEdMonth.
So why is #AdultSexEdMonth a big deal?
Most adults are uninformed about the basics of sex, let alone things like consent, safer sex practices, techniques and the kinky stuff. It's not that people are stupid, but we can't know what we haven't been taught. The sex education we were taught in high school was lousy. For most people having sex is like getting behind the wheel of a car and never have taken a driver's training course.
Why can't I just look for what I'm curious about on Google? Good luck! The credible information about adult sex ed information is usually buried deep in the bowels of Google, which doesn't discern the difference between something almost all adults do and porn. #AdultSexEdMonth a great way to find experts and people who write about this stuff and discover what you're looking for … or even stuff you never thought was real or interested you.
Isn't it embarrassing to share sex stories you read on social media? Some people think it's impolite and embarrassing to talk about sex among friends and other adults. We're also aware that frenemies, employers, and clients stalk social media accounts. You can always just follow #AdultSexEdMonth to read all the great articles and keep them to yourself. #AdultSexEdMonth is about opening up conversations and changing attitudes about sex in healthy, sex-positive ways — even if it takes subtle baby steps.  But when it comes to couples, a recent survey reported that 69% of people have a hard time talking about sex with their partners. We definitely need to change that!
We need to bust myths, stereotypes, and misinformation. It's 2015, and we're still living in the 1950's or even as far back when Mary and Joseph rode an ass into Bethlehem. What people say they do and believe and what they actually do are often two different things. If you're an adult, you're more than likely having sex, or at least you want to have sex. Honesty, respect, and education are cornerstones of safer, responsible and healthy sex.
Who can participate in #AdultSexEdMonth? Every adult! If you write about sex, have a sex radio show or podcast, produce informational sex videos, are a professional sex therapist, or provide adult services or products, you need to be in on this!
Shouldn't we be sharing information and learning about sex all year long? Yes, but when we make #AdultSexEdMonth a concentrated effort in June, it bolsters our efforts and makes quality and credible adult sex ed information more easily accessible throughout the year. The #AdultSexEdMonth Stories by Topic page on the website is used and searched by many people often throughout the year.
Most importantly, the difference between sex and great sex comes from knowing what you're doing!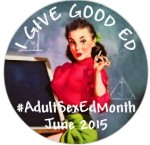 A big thanks to Bobbie of A Good Womans Dirty Mind for being super swell and the hostess of Adult Sex Ed Month.