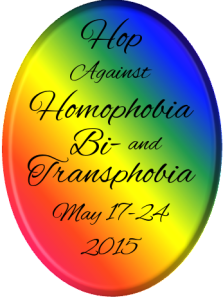 Hop Against Homophobia, Bi- and Transphobia 2015
Today, May 17th, is the International Day Against Homophobia, Biphobia and Transphobia. Groups around the world will be celebrating the day in various ways and you can follow it all through the IDAHOT page: http://www.dayagainsthomophobia.org/
We, 118 writers, publishers, reviewers, cover designers, and other people involved in the making of LGBT books, want to make an effort as well by sharing messages with our readers and other blog visitors. This is the hop's fourth year, and in our prior years we've had huge success in reaching a diverse group of people around the globe. We've decided to do it again, because there's no sense messing with success, right? We encourage you to visit all the hop locations. There will be an LGBT-related prize at each stop. Click the link below to go visit the hop website.
Hop Against Homophobia, Bi- and Transphobia 2015
Read Jolynn's post on Our Wedding Rewind, or Jolynn and Beauty Are Getting Married…Again.
We try to stop homophobia everyday, one person at a time.
Jolynn writes F/f and M/f stories for everyone to enjoy.
For Our Five Winners We Will Offer a Kindle Copy of Dark Obsessions and/ or Taken In Hand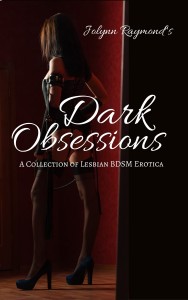 Every woman has a dark obsession. Some are bold enough to live them. Dark Obsessions tells the stories of those who dare to play out their deepest desires. The book contains six erotic BDSM stories in which the reader is placed into the position of a voyeur who gets to sit unseen, observing, as each play session unfolds. All of the stories focus on the kinky scenes that take place within the power exchange relationships of the lesbian couples, as they practice the sensual, erotic art of pleasure, pain, and desire.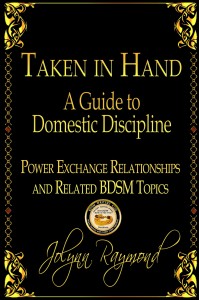 Taken in Hand has been nominated for best non-fiction BDSM
book of the year. The Golden Flogger Awards will take place in NYC on Thursday,
August 20th starting at 6pm. 
Jolynn Raymond has written a book that shares the details of her own long-lasting 24/7 power exchange and domestic discipline marriage and her experience surrounding power exchange relationships. It explains why these unconventional relationships work so well for so many couples. The book is an in-depth tutorial on both domestic discipline and power exchange that takes the relationship past the simple act of discipline, to building a rock solid foundation that will ultimately create a deep bond of trust and love between those involved.
Taken In Hand will guide those interested in adding consensual domestic discipline, dominance and submission, and structure to their own relationship through the initial steps of communication, understanding and discovering both partner's needs, creating mutual and realistic expectations, rules, and consequences, to the inevitable first spanking. The book has a section on the actual rules, duties, and expectations she has for her own submissive wife, as well as what types of behavior modification or punishments she utilizes. It details things that may be problematic, and relates how she and her wife have battled the real life problems that plague us all while balancing a BDSM power exchange and domestic
discipline marriage.
Taken In Hand will prove to be a useful guide to those just starting out, as well as to those with some experience, as Ms. Raymond outlines the pitfalls, difficulties, and successes she has encountered. She also emphasizes the importance of consent, and pays special attention to the fine line between discipline and abuse. The last part of the book examines the styles and types of spanking, gives an anal sex tutorial, talks about the responsibilities of being a dominant, and gives tips for the submissive partner, including what her submissive wife can expect from her in return. Miss Raymond also points out that domestic discipline and power exchange takes work on the part of the dominant as well as the submissive. If you choose to form a relationship that falls into either category, you must be prepared to have discussions where the submissive may speak about their needs. Neither power exchange nor domestic discipline means the submissive does all the work, and Ms. Raymond makes this point very clear. One partner may see to everything involved the care of the home, but the dominant must ultimately be responsible for and see to, the care of the submissive to foster and balance the relationship.
Whether you need insight into BDSM as it relates to relationships or are trying to build a domestic discipline marriage from scratch, Taken In Hand will prove to be a comprehensive and practical guide. Forget what you have seen in the movies or read in a book designed to titillate and feed your
fantasies. Spankings and kinky explorations can be thrilling, but a true domestic discipline and power exchange relationships, even ones that are 24/7 can become an immensely satisfying way of life if you follow the guiding principles in this book, which are built on ethical dominance, and practical advice.
To play, just leave your name and email address along with your comment and you'll be entered to win and your name will be put in a hat. Winners will be notified by email.

| | | | |
| --- | --- | --- | --- |
| 1. | Erica Pike (M/M) | 2. | Cherie Noel (M/M) |
| 3. | NJ Nielsen (M/M) | 4. | K-Lee Klein (M/M) |
| 5. | Bronwyn Heeley (M/M) | 6. | Chris McHart (Multi: M/M, TR) |
| 7. | Andrew J. Peters (GAY) | 8. | Prism Book Alliance (MM, FF, TR, Bi, Rev) |
| 9. | L.M. Brown (M/M) | 10. | Dianne Hartsock (M/M) |
| 11. | ScuttlebuttReviews (MM,FF,TR,BI,Rev) | 12. | Anne Barwell (M/M) |
| 13. | Anna Lee (M/M) | 14. | Draven St. James (M/M) |
| 15. | Anna Butler (M/M) | 16. | A.L. Wilson (M/M, Bi, TR) |
| 17. | Jacintha Topaz (BI F/F/M, F/F) | 18. | Blaine D. Arden (M/M, TR) |
| 19. | L. J. LaBarthe (M/M) | 20. | Iyana Jenna (M/M) |
| 21. | Kracken (M/M) | 22. | Victoria Zagar/Infinite Love (MULTI, REV) |
| 23. | Brandon Shire (Gay) | 24. | Lex Chase (M/M) |
| 25. | Amanda C. Stone (M/M) | 26. | Stephen del Mar (Gay) |
| 27. | JC Wallace (M/M) | 28. | Lasha's Reviews (REV) |
| 29. | Angela S. Stone (M/M) | 30. | Serena Akeroyd (M/M/F) |
| 31. | Marie Landry (F/F) | 32. | S.J. Frost (M/M) |
| 33. | Raythe Reign Publishing (M/M) | 34. | Susanna Hays (M/M) |
| 35. | Racheline Maltese & Erin McRae (GAY, BI, F/F, TR) | 36. | Kaje Harper (M/M, Bi) |
| 37. | Barbara Winkes (F/F) | 38. | Kat Fletcher (LES) |
| 39. | Moonbeams over Atlanta | 40. | Fever Dreams (Raven J. Spencer) |
| 41. | Kimber Vale (M/M) | 42. | Sexy Erotic Xciting~ Evelise Archer (M/M) |
| 43. | Amelia Bishop (MULTI) | 44. | Shayla Mist (M/M, DES) |
| 45. | Caddy Rowland(Gay)/Sibley Jackson (M/M) | 46. | Thursday Euclid (M/M) |
| 47. | Nic Starr (M/M) | 48. | Anastasia Vitsky (Governing Ana) (F/F, BI) |
| 49. | Blogger,reviewer,author, editor, promotion | 50. | Caraway Carter (M/M, Bi) |
| 51. | Grace R. Duncan (M/M, Bi) | 52. | Elin Gregory |
| 53. | Kade Boehme | 54. | Amberly Smith (M/M) |
| 55. | Remmy Duchene Mantasy (M/M) | 56. | L M Somerton (M/M) |
| 57. | Erin O'Quinn (M/M) | 58. | Lori Toland (M/M) |
| 59. | Tyler Robbins (M/M, M/M/M) | 60. | BFD Book Blog |
| 61. | BFD Book Blog (REV) | 62. | Crystal's Many Reviewers (M/M, F/F, TR, Bi, Rev) |
| 63. | Kenzie Mack (M/M, BI) | 64. | The Novel Approach Reviews |
| 65. | J.P. Bowie (M/M) | 66. | Devon Rhodes (M/M, Bi) |
| 67. | Thianna Durston (M/M) | 68. | Morticia Knight (M/M, Bi) |
| 69. | Bryl R. Tyne (M/M, TR, MULTI, F/F) | 70. | M.A. Church (M/M) |
| 71. | Books A to Z Book Blog | 72. | Catherine Lievens (M/M) |
| 73. | James Lee Hard (MM) | 74. | Eva Lefoy (M/M) |
| 75. | Matthew J. Metzger (MULTI) | 76. | Andrew Ashling (Gay) |
| 77. | Charley Descoteaux (MM, Bi) | 78. | Michael Mandrake |
| 79. | Kate Aaron (Gay) | 80. | DiverseReader (REV) |
| 81. | Hans M Hirschi (Gay, TR) | 82. | Aeryn Jaden (M/M) |
| 83. | Alex C.Clarke (M/M) | 84. | Louisa Bacio (M/M F/F Bi) |
| 85. | Talon ps & Princess so (MM, Bi, Poly, DES) | 86. | Tasha's Thinkings (M/M, Bi) |
| 87. | Christa Tomlinson (M/M) | 88. | Alexa Milne (M/M) |
| 89. | IndiGo Marketing & Design (DES) | 90. | Eva LeNoir (M/M) |
| 91. | A.V. Sanders (M/M) | 92. | B. Snow (MULTI) |
| 93. | Alexis Duran (M/M) | 94. | Dean Pace-Frech (M/M) |
| 95. | Lily G. Blunt (M/M, REV) | 96. | Joelle Casteel (MULTI) |
| 97. | Sage Marlowe (Gay) | 98. | Author Susan Mac Nicol (MM) |
| 99. | Sloan Johnson (M/M, BI) | 100. | Cody Kennedy (GAY) |
| 101. | Lea Bronsen (MULTI) | 102. | Brina Brady (M/M) |
| 103. | WindWhisperer (Erotica Whispers) (F/F) | 104. | Bey Deckard (M/M, BI) |
| 105. | Andrew Jericho (Gay) | 106. | NSBeranek (Gay) |
| 107. | Freddy MacKay (MM, BI, Queer Fic) | 108. | Mischief Corner Books (PUB) |
| 109. | Angel Martinez (Gay/Bi) | 110. | Catherine Dair Cover Designers (DES) |
| 111. | Toni Griffin (M/M) | 112. | Carly's Book Reviews (M/M, TR, BI, MULTI, REV) |
| 113. | Rory Ni Coileain (M/M) | 114. | M.LeAnne Phoenix (M/M) |
| 115. | Lucy Felthouse (Multi) | 116. | Bottom Drawer Publications (PUB) |
| 117. | Tempeste O'Riley (M/M, BI, Genderfluid, TR) | 118. | Love Bytes (REV) |
| 119. | DS Kenn (M/M) | 120. | Jolynn Reymond (F/F) |