New York City?!
Golden Flogger #NYC – Taken In Hand and His Lordship's Wayward Wife http://t.co/ewuS8G8aAx & http://t.co/3PqC8VC1ps pic.twitter.com/ONbk2LX1jM

— Beauty's Punishment (@YourPunishments) January 14, 2015
Nominated for the Best BDSM Book of The Year
Taken In Hand: A Guide To Domestic Discipline, Power Exchange Relationships, and Related BDSM Topics 
His Lordship's Wayward Wife: A Kinky Historical Romance
We'll be spending a week in New York seeing the sights and attending the BDSM Writers Conference Aug. 20th – 23rd. Jolynn is a featured author there and will also be teaching a class on Creating and Understanding Domestic Discipline and Power Exchange Relationships. This is her first ever class at an event, and your big chance to see her live and in person; and of course, me, live and uncensored. There is a book reading series, Between the Sheets, and BDSM book fair on Sunday 12pm – 4pm. You'll be able to purchase signed copies of both books and possibly more. We are participating in the gift basket giveaway, so you'll never know what kind of goodies will be in them.  
Click on the book covers to find them on Amazon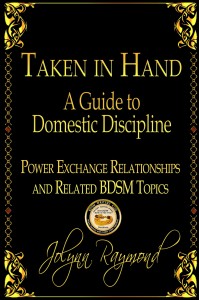 Jolynn Raymond has written a book that shares the details of her own long lasting domestic discipline marriage and her experience surrounding power exchange relationships. It explains why these unconventional relationships work so well for so many couples. The book is an in-depth tutorial that takes the relationship past the simple act of discipline, to building a rock solid foundation that will ultimately create a deep bond of trust and love between those involved.
Taken In Hand will guide those interested in adding consensual domestic discipline, dominance and submission, and structure to their own relationship through the initial steps of communication, understanding and discovering both partner's needs, creating mutual and realistic expectations, rules, and consequences, to the inevitable first spanking.
Taken In Hand will prove useful to those just starting out, as well as to those with some experience, as Ms. Raymond outlines the pitfalls, difficulties, and successes she has encountered in her own marriage. She also emphasizes the importance of consent and pays special attention to the fine line between discipline and abuse.
The last part of the book examines the styles and types of spanking, gives an anal sex tutorial, talks about the responsibilities or being a dominant and gives tips for the submissive partner. Whether you need insight into BDSM as it relates to relationships or are trying to build a domestic discipline marriage from scratch, Taken In Hand will prove to be a comprehensive and practical guide.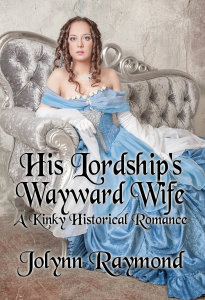 **Though set in a historical setting, this book contains BDSM themes.**
Prologue for His Lordship's Wayward Wife
When Claudia Rose Stafford made her debut in London, she was wealthy, headstrong, and beautiful. She was also spoiled, arrogant and ill-mannered. Without her father's presence, Claudia flaunted her disdain for rules. She defied the conventions of high society and didn't care if there were scandalous whispers because of her behavior. All that changed when her father returned from abroad with the announcement of her impending marriage.
Lord Nathaniel Tarrington is the Earl of Brighton. He is also a member of a clandestine sect comprised of some of the most powerful and wealthy families in Europe. The very existence of their Order is cloaked in secrecy, and their activities carefully guarded. When the time comes for him to wed, his choice of a bride has life-altering consequences for Claudia Stafford. The Earl has demanding expectations for his wife, ones that include complete submission, and the understanding that her place is at his feet or in his bed, and never on his arm.
Once Claudia weds Nathaniel, her life is not her own. Gone are the days of dancing and champagne. Harsh training and the expectation of immediate and utter obedience becomes the norm. Defiance brings punishment, but Claudia is unwavering, and must battle those who would have her be meek. Her fiery spirit rebels in the face of Nathaniel's rigid instruction, but the once willful and reckless woman struggles to fight her husband's sadistic demands. A fierce war begins between them; one fought for pride and dignity; that may leave both of their hearts in tatters. Will love ever stand a chance as Lord Nathaniel Tarrington strives to tame his wayward wife?