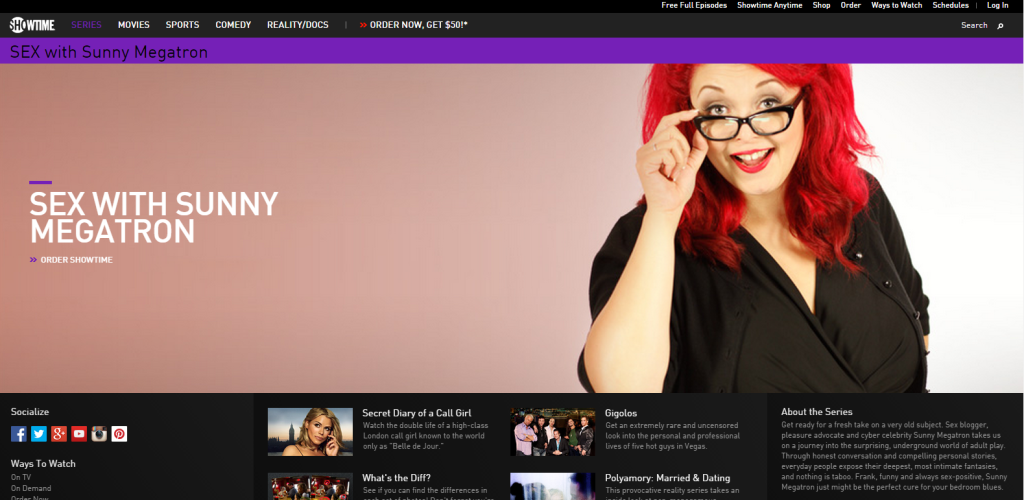 If you've been wondering what Sunny Megatron has been up to lately, you're in luck. She has a new show on Showtime called Sex With Sunny Megatron. The series premieres October 30th at 11pm EST/PST and 10pm CST on Showtime just after Homeland. Remember to set your DVRs and/or subscribe to Showtime for two months so you don't miss an episode. The show will also air on TMN in Canada– dates and times TBA.
Showtime has a rebate going on if you subscribe. They have a limited time offer if you're ordering Showtime between  9/8/2014 to 11/3/2014 where you can get a $50 rebate, or you may be eligible for a $25 rebate if you ordered before 9/8/2o14. Click here to get the rebate.
Showtime's blurb about her new show:
Get ready for a fresh take on a very old subject. Sex blogger, pleasure advocate and cyber celebrity Sunny Megatron takes us on a journey into the surprising, underground world of adult play. Through honest conversation and compelling personal stories, everyday people expose their deepest, most intimate fantasies, and nothing is taboo. Frank, funny and always sex-positive, Sunny Megatron just might be the perfect cure for your bedroom blues.
You can read her recent interview with Crew Magazine about her new show, and how she got to where she is now. 
I'm excited about Sunny having her own show because I know it's going to be very informative with her special twist on it. I've met Sunny and her now new husband Ken Melvoin-Berg at a class for The Tool Shed, and Ken matches her perfectly. She's a really nice genuine person with a great sense of humor that's reflected when she is teaching you something. 
Sunny has her own Youtube Channel where you can learn lots of things, and her website has very good articles that are kink related. There's also Sunny and Ken's Outside The Box series on Inside Adult. Ken is just as deserving to be credited more on here though. I didn't forget about you Ken since you're just as much a part of everything that happens.
Ken and his shenanigans. I'll tell you what happens after this in another post. It totally deserves it. This is pretty tame compared to some things Sunny and Ken get into.
Plus Sunny and Ken have been on The Travel Channel. It was an episode called Extreme Tours: The Red Light District Tour: There's More To Chicago Than Deep Dish Pizza. The only bummer with that is now the full episode of the show is no longer available anywhere. I had it on the DVR when it first aired two years ago already on The Travel Channel and now I don't have it, damn it. Hopefully whoever it is will make it available again sometime soon. If anyone can prove me wrong, send me a link please. I would like to watch it again. I did have the video embedded for the clip, but they changed they ways I can share. 
Here's more things that you can do in Chicago from the Travel Channel. That's all for now, stop by again when you have time to visit. 🙂