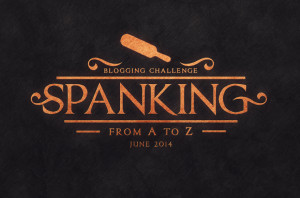 U is for the Underwear Adventure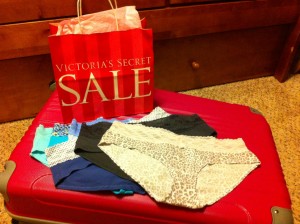 The other day Jolynn said I could go and by my yearly batch of underpants at Victoria's Secret since they were having a sale. The sale price was five for $26.50. On their website it says any five panties, not certain ones.
I go to the store and pick out my five underpants. I had to take ones from out of the drawer at the bottom of the display, since they only had medium on the display table. I go to check out, and the girl says that the ones I picked out were not on sale, and was not going to give me the sale price. I stood there and fussed at her until she did. There is no way I am going to pay $10.50 for one pair of everyday underpants. So technically I paid $32.81 with tax included for six pairs, since she had me go and pick one more pair out so she would give me a discount. Meow! I'm going to be writing an email about her to someone, and (or) go back to the store and talk to her manager when I have more time.
For the girls that need extra large panties, you can only get them online. Anything sized larger that you'd probably have to go to Torrid or Lane Bryant. Apparently if you are a bigger girl, you can only go up to an extra large and that's it at Victoria's Secret. Fredrick's of Hollywood supports the big girls and has them modeling their undies. If that store was a little closer to the house than across town I would go there more often. I've bought clothes from them since I was in my twenties, and it was mostly mail order since we lived forty five miles away from a bigger city with a mall like Madison.
So that is my underpants rant. I'll keep you updated if anything happens with the store manager or emails.
Hop on over to the rest of the spankers and see what they are up to.