RJ Redlynn – Author Spotlight
I write erotica. Explicit erotica that sometimes probably crosses the lines into smut or porn, but will never be confused with sweet romance. A number of readers have thanked me for that as well. Currently I have three books out (A Loving Heart's Desire, Vignettes – Tales of Passion, and Erotic Seasons) and am part of an anthology called Erotic Fantasies which is currently a best seller on Amazon in the Women's Fiction category.
To be honest, I've thought about writing a book for years but never really knew what to write or had a story to write. That was until my wife found the 50 Shades of Grey series. She was hooked and started reading all kinds of similar books. She would tell me about them and the characters. I kept hearing about these "messed up" characters that fall in love with each other and eventually get it together to accept that they are each other's salvation. That kind of relationship is wonderful but I kept asking if there are any normal people in these books. There wasn't. At least in the ones my wife read so I decided to write my own. That was December of 2012.
I thought to myself that I could do that. Who doesn't like sex, right and well it was fun "researching" and coming up with the different scenarios.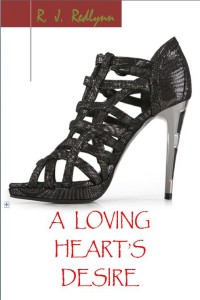 And so was born A Loving Heart's Desire. A story about a regular blue collar couple whose sex life heats up but their marriage runs into problems when the husband tries to secretly do something romantic but instead, the wife suspects him of cheating. Yes the conflict takes a while to build but I felt that it was more natural. I had decided early on to write about "normal people" who have an amazing experience, not rich billionaires. One aspect of this book is it starts off with a hot sex scene and builds from there and never cools off.  Buy link – https://www.smashwords.com/books/view/411276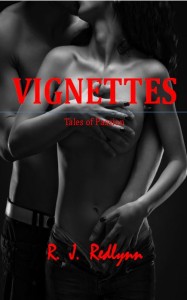 My second work was a book of 10 shorts stories shared by the women who experienced them. Each fantasy is totally different and again, the characters are normal people who have a fantastic experience. Many reviewers have talked about needing to take breaks to cool off or reading it in a cold shower. There is a story for everyone.  Buy link – https://www.smashwords.com/books/view/393377
Vignettes has lead me to make it a series with the second book my current work in progress (I keep getting sidetracked writing blog stories for holidays). One of the twists is that while it will still be 10 short stories, they are woven together as the women come together at an adult toy party. Some of the characters from book one come back but we are introduced to 7 new women. As I've worked on this book, the characters have really shown their personalities. This book is –er, hotter, sexier, naughtier, dirtier than book 1.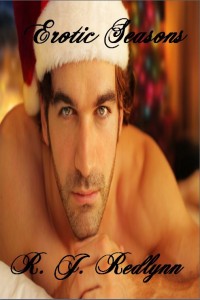 My third book is another collection of short stories but with a holiday theme. Most of the major holidays are there like Christmas, New Years Eve, Halloween, and 7 more. Again, each story is different but guaranteed to please. My Super Bowl story has a number of people planning a different kind of party for next year and the Halloween party is one that no one would forget if you were able to go. Just look at the cover. Those eyes say he's ready to jingle your bells and deck your halls. Buy link – https://www.smashwords.com/books/view/422193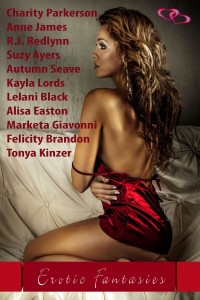 My current best selling anthology (in a certain category) is Erotic Fantasies. I was able to collaborate with 10 other amazing authors and so far the book has been down loaded over 1200 times in just a few weeks. 11 different stories by 11 different authors but 1 great read. Buy link (it's free) https://www.smashwords.com/books/view/417296
A number of my stories have been recorded on an erotic podcast. http://dirtybitpodcast.blogspot.com/
It's a free podcast and it's free to listen to any or all of the stories. They have a big variety and most are read by Sexxy Sherry who has, well….a very sexy voice, hence her name. Give them a listen and you can also find them on Facebook and twitter.
As far as finding me, please do. Hope to hear from you soon.
Author Links