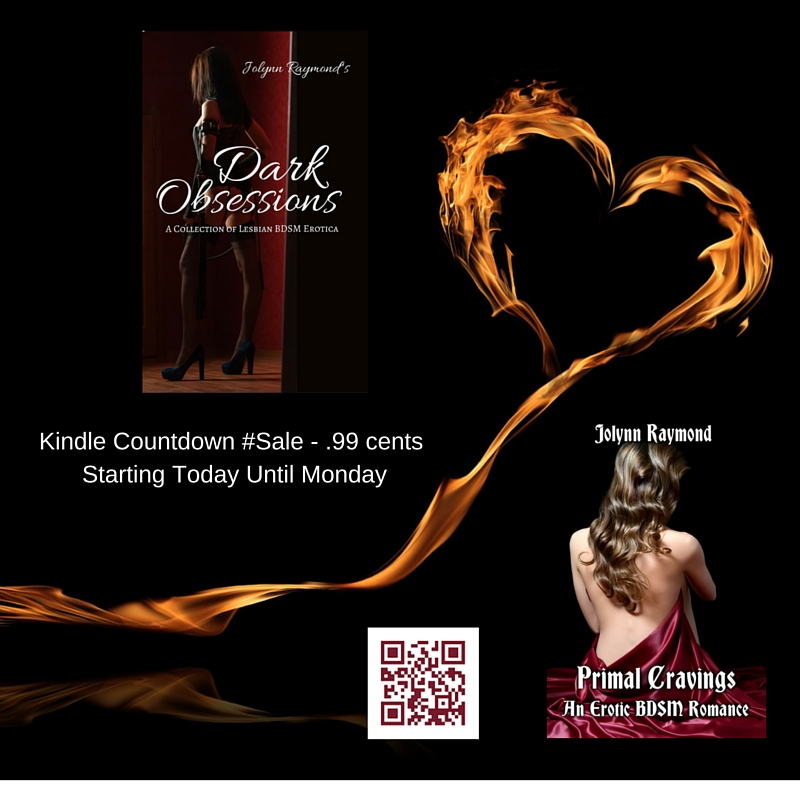 Kindle Countdown #Sale – Primal Cravings – Dark Obsessions
From Today Until Monday – February 11th – 15th – Dark Obsessions Starts the 12th
Come along for a sizzling romance that will tantalize your most primal desires, as Olivia ventures into a place where her darkest cravings are satisfied and her heart becomes as captured as her passion.
After a bad break up, Olivia is ready to return to the BDSM community. When she attends a class on anal play at a kink event, she comes face to face with Gideon, a man she has felt an attraction to since they met years ago. Gideon is teaching All Things Anal when Olivia takes a seat in the front row. The flush on her cheeks as she watches him demonstrate the different types of play, tells him has captured the curiosity of a woman he long has desired.
Olivia's need to experience the once forbidden act with the man who has enflamed her desires smolders inside her. Simple need has become an intense ache, but being intimate with Gideon may very well make her heart vulnerable once again. She must choose between a passion she can no longer deny, and the chance that being with Gideon will once again open heart to the emotions that so recently broke it.
Every woman has a dark obsession. Some are bold enough to live them. Dark Obsessions tells the stories of those who dare to play out their deepest desires. The book contains six erotic BDSM stories in which the reader is placed into the position of a voyeur who gets to sit unseen, observing, as each play session unfolds. All of the stories focus on the kinky scenes that take place within the power exchange relationships of the lesbian couples, as they practice the sensual, erotic art of pleasure, pain, and desire.