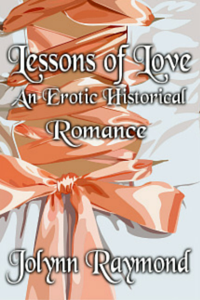 Lessons of Love
Lessons of Love Kindle Countdown #SALE – Dec. 12th – 15th #Spanking
This once a year Kindle Countdown Sale for Lessons of Love: An Erotic Historical Romance starts Saturday December 12th through the 15th at .99 cents for 24 hours, $1.99 for 24 hours, $2.99 for 24 hours and then back to regular price. It is my birthday gift to you. {Never mind how old I am either.}
Disclaimer – This is a dark erotic romance that contains spanking, and a dangerous anti-hero who must be redeemed before he and Jolie can find love.
Lessons of Love is an old fashion bodice ripper, full of passionate love scenes full of fire, and old fashioned discipline for those who refuse to obey. One with a beautiful, spirited heroine, and a dark, cruel rogue whose heart must be tamed. He weds her, and the battle of wills begins. One that has been fought for ages between a man who has no intention of ever feeling love, and a woman who must teach his heart to feel or be forever adrift in a life of cruelty.
In 1842 Louisiana, Jolie Dupree lives an oppressive life ruled by her strict and unloving stepfather. She has the luxuries of plantation life, but feels suffocated under his watchful eye. Fate brings an abrupt change in the form of Cole Jameson, a man full of wealth but short on acceptance into society. He needs the cloak of respectability to hide behind, and silence the rumors of girls gone missing while in his company.
When he comes upon the lovely Jolie bathing in a secluded glen, he sees in her the answer to his problem. A young bride with an old family name will provide an aura of propriety. She is a girl from a suitable family, but also one who is not loved. She's perfect for his scheme. He carries her home, with a story of saved virtue, and is granted her hand in marriage.
Cole is a man who has never loved and has no plans to start. He doesn't give a care for the women whose lives he shatters, but Jolie isn't just any woman. Her beauty bewitches him even as her stubborn will defies him time after time. He weds her with plans to make her an ornament on his arm and a hellion in his bed. He will teach her how to please a man with a hard hand and an unfeeling heart.
Will Cole be able to keep his cold heart or will Jolie's fiery spirit and beauty break through the ice that surrounds his heart and put an end to his cruel ways?
Want to find out more? Click on the book cover above to take you to Lessons of Love.