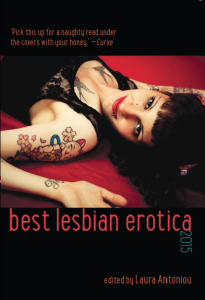 Vanilla to Kink, the Sultry and the Sordid
Best Lesbian Erotica 2015 ~ Edited by Laura Antinou

Beauty's Book Review
As always, my opinion is my own and a paperback of the Best Lesbian Erotica 2015 was given to me by the good folks at Cleis Press. I started reading lesbian erotica regularly when I was in my twenties, and had two big stacks of books on and around my night stand just filled with lesbian anthologies, as I would read in bed.
I liked Laura Antoniou's introduction to the book telling of her first call for submissions twenty years ago. You actually had to put an ad in the paper, have authors write letters with their submission included, or use the phone to let people know what was needed. No internets for you then. The first sight I had of any computer with some sort of 'internet' connection was when I was 18 years old my senior year in high school. The teacher said you could use the computer to go shopping among other things, which sounded neat, but didn't happen for me until 1996. Consider yourself lucky. 
The stories in this book are really eclectic, and you don't know what you are going to get until you turn the page to the next story and start to read it. There is something for everyone, and I enjoyed every story. I do have some that pulled at me more and made me smile and made me excited to find out what happens next. I was really looking forward to reading the story by Xan West since I make it a point to stop by the blog, and this makes me really understand the dynamic that goes on in the relationship. It feels like you are at an event with them watching the play unfold.
The stories and authors in order of appearance:
A Knock At The Door – Lee Ann Keple and Katie King
That was a fun story of pick your fantasy that goes on for days. I did quite like that one.
Andro Angel – Deborah Jannerson
I liked this story because started with a dance and instant attraction that led to what happened later that night.  Did someone say threesome?
Lovely Lady Liberty – Nicole Wolfe
Kristie's Game – Alexandra Delancey 
Learning To Cook – Nan Andrews
I loved the story Learning To Cook. I have a real love of cooking along with fine food that is not just something to eat, but brings joy to you when you eat it. It was fun reading about dominance and submission in the kitchen and what it entails. 
Wet Dirt – Tina Horn
The Bullwhip and the Bull Rider – Sacchi Green
Arachne – Catherine Lundoff
Behrouz Gets Lucky – Avery Cassell
Second Date – Miel Rose
Late Show – Lisabet Sarai
Naming It – Jean Roberta
My Visit To Sue Anne – Anna Watson
Girlz In The Mist – Cammy May Hunnicutt
Kiss of the Rain Queen – Fiona Zedde
Murcielago – Theda Hudson
In My Skin – Beth Wylde
Still Flying – Andrea Dale
Strong – Xan West
The Last Time – BD Swain
New series editor Laura Antoniou has selected the best of the best short stories of lesbian erotica in Best Lesbian Erotica 2015. Featuring erotic encounters of all kinds, from the allure of first glance to the reawakened passions of established relationships, each piece is overflowing with lust and pleasure. Best Lesbian Erotica 2015 brings sex in the cyber-age, lusty backstage rendezvous, mythological encounters, and a taste of leather—all between two covers. Dubbed "an elegant stylist of erotica" by writer Pat Califia, Antoniou has gathered stories of varied style and theme, and brought them into one cohesive—and sexy—anthology that will spark your fantasies.
"One of the wonders of Best Lesbian Erotica is the range of women depicted in these stories. What unites this disparate group of folks is desire and hot sex. Since this is a Best Of anthology, there's really no such thing as a bad story here."
—Erotica Revealed
About the Editor
Laura Antoniou authored the well-known Marketplace series of erotic novels. She has also edited the groundbreaking Leatherwomen anthologies and writes scholarly work on BDSM. Her work has been translated into Spanish, German, Hebrew, Japanese, and Korean. Recently, Antoniou won the Rainbow book award for her mystery The Killer Wore Leather. She lives in Queens, in New York City.
Best Lesbian Erotica 2015
Edited by Laura Antoniou
$16.95, trade paper
264 pages, 5 ½" x 8"
ISBN: 978-1-62778-091-9
Amazon Kindle

B&N Nook

Apple iBook
Side Note: I will add more details to my book review as I think of them since it takes me a while to really digest what I read. When I first read a book and I'm excited to find out what happens, but get brain overload and I squirrel out.