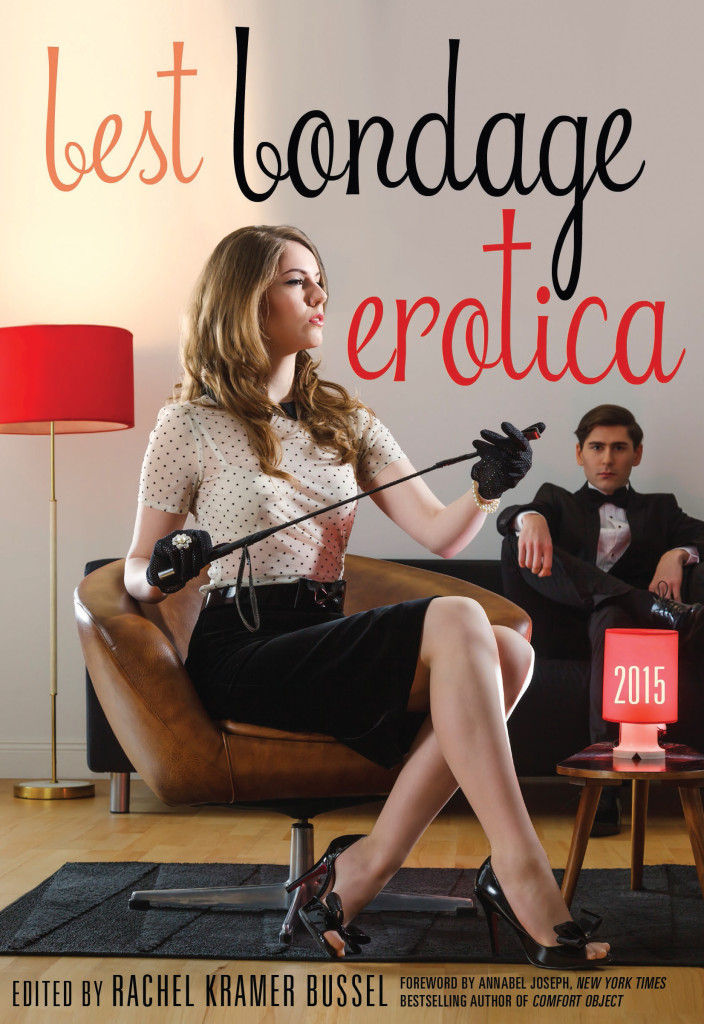 Best Bondage Erotica 2015
From The Back Cover:
Knotty Tales of Kinky Sex
Powerhouse eroticist Rachel Kramer Bussel is at the vanguard of this new era of BDSM erotica. Always a step ahead of the zeitgeist, this award-winning editor knows your private fantasies even before you do. In these kinky tales, bondage happens as part of yoga, knitting and a birthday present, as well as with a collar, a cage, duct tape, a webcam, and a very sexy pair of thighs. In the foreword Annabel Joseph says, "To me, short stories and bondage go together as perfectly as subject and rigger, as top and bottom, as Mistress or Master and slave." In Rob Rosen's "Tying the Knot," the bondage goes a little wild but there's sweetness to this engagement story that tethers the protagonists close to each other. In "Bound to Lie" by Nichelle Gregory, two business adversaries battle it out in the boardroom for the ultimate form of control. Rachel Kramer Bussel and her top-notch authors show it's what happens after you're trussed up, immobile and secured in your trappings that makes for the most powerful sexual encounters of all.
Rachel Kramer Bussel writes New York Observer and hosts SRO readings around the country. The former sex columnist of "Lusty Lady" in The Village Voice, she was the longtime senior editor of Penthouse Variations and has edited the Best Sex Writing series since 2008. She's a prolific erotica editor, and her titles include Spanked, He's on Top, She's on Top, Passion, and Do Not Disturb. She lives in New York City.
Annabel Joseph is a New York Times and USA Today bestselling BDSM romance author. She writes mainly contemporary romance, although she has been known to dabble in the medieval and Regency eras. She is recognized for writing emotionally intense BDSM storylines, and strives to create characters that seem real–even flawed–so readers are better able to relate to them. Annabel publishes with Ellora's Cave and Loose Id in addition to her own imprint, Scarlet Rose Press. She also writes non-BDSM erotic romance under the name Molly Joseph. She lives in Atlanta, GA.
Contributing Authors:
The Centerpiece

~ Erin Spillane

An Unforgettable Ride

~ Elise Hepner

What Happens in Vegas

~ Tim Rudolph

The Thug

~ Sommer Marsden

Housewarming the Craftsman

~ Daddy X

Multiple Choice

~ Emily Bingham

Tying the Knot

~ Bob Rosen

Baddha Konasana

~ Corvidae

Queen for a Night

~ Robert Black

Bound to Lie

~ Nichelle Gregory

Tied and Twisted

~ Jodie Griffin

Cocoon

~ Annabeth Leong

Auction, in Quotation Marks

~ LN Bey

Melt

~ Elizabeth Coldwell

You Shall Not Come

~ D.L. King

Point and Click

~ L.C. Spoering

Stuck on You

~ Jenne Davis

In Suspense

~ Shenoa Carroll-Bradd

Trinity's New Hobby

~ Lucy Felthouse

Plastered

~ Anna Watson

Of Human Bondage

~ Rachel Kramer Bussel
Exclusive Excerpt:
You Shall Not Come by D. L. King
"The game is simple. It's your goal to make your partner come and it's your partner's goal not to. We play the first round and then we switch. We keep doing that until one partner comes. We continue to play until the most frigid—I mean the strongest—is left standing. And yes, this is a bondage event."
It was one of those weekend sex camps, the kind where you pay to commune with nature, bugs, heatstroke and poor facilities in order to see friends you seldom get to see and meet other like-minded folks. And, of course, the state-of-the-art dungeons don't hurt—well, you know what I mean.
"Okay, if you're playing, move to the center of the barn." People began to move over that way. "Spectators keep back."
The ref ordered us to strip out of whatever we were still wearing and then told us to pair off. One couple, who came together, paired off first. The rest of us found a partner. I got Jeff. We introduced ourselves. Jeff said, "No one has ever made me come if I didn't want to." I told him I loved a challenge.
The referee had each team move to a prepared mat. Each mat had several lengths of rope, several differently sized spreader bars, leather wrist and ankle cuffs, a blindfold, a box of gloves, a medium-sized butt plug, a vibrator, a box of condoms and a bottle of lube.  There were only two rules; the first was that the bottom's wrists and ankles had to be bound in some way. The second was that there was to be no penetration with anyone's cock. We were free to use fingers and toys, but nothing else. The safeword for the game would be Red. Using the safeword would have the same results as reaching orgasm.
"You will be given fifteen minutes to tie your partner and try to make him or her come. When you hear the whistle blow again, you will switch and the bottom will become the top and you will start over. We'll keep switching like that until at least one member of each team has come. Then the winners will form two teams and we will start again until one of each of the remaining partnerships has come.
"You want to bottom or top first?" he asked.
I was pretty sure I could hold out, no matter what he did, but he was cute and I kind of liked him and wanted to watch him in action so I said, "Bottom." That would give me a chance to not only see how he played, but to find out what turned him on, for later.
We picked a mat and the whistle blew. "Lie down on your back," he said. He used a short length of rope to quickly bind my wrists together. He wrapped each wrist separately and then went up and over with a figure eight, making it impossible to escape. Once my wrists were bound, he buckled ankle cuffs on and attached a three-foot spreader bar to them. I immediately closed my knees.
"Think you're smart, huh?" he asked, making a neat triple wrap around each leg, just above my knees. He separated my legs by attaching the two-foot spreader bar to the wraps.
I don't usually bottom and I have to admit, this definitely got my pussy's attention. I could feel the juices begin to gather and my lips begin to puff. My body screamed out to be touched and I rocked my hips against the mat.
"Relax," he said. "I'm not done yet. There'll be plenty of time for that." He doubled a longer length of rope and tied the two loose ends to my ankle cuffs, then pulled the folded end between my wrists. As he pulled, both my legs and my arms came up. Once I was bent like a U, he tied the end off and quickly knelt down and put his head between my legs, letting me balance on his shoulders. "So, Lydia," he said, "are you getting a little wet? I think you are. I can smell you," he growled as he ran two fingers up my slit. "Mm-hmm, just as I thought."
That's just a little taste of Best Bondage Erotica by D.L. King. Click the book cover to buy it now on Amazon, Barnes and Noble, iBook and Cleis Press  from the Best Bondage Erotica 2015 Cleis Press page.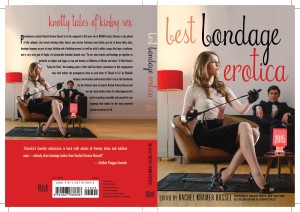 Beauty's Book Review
As I read the foreword by Annabel Joseph, I got the shivers, and I'm thinking, this should be good. There is something for everyone in the stories written for this book. You can always go to the next story, if what you are reading isn't quite your thing. All the stories feel complete even though they are short stories, so no one should fuss. 
The first story involves a woman being on display for multiple people in their home, blindfolded and bound. Ginger lube is used for getting her hot and to feel the burn. The woman's name is not mentioned, but it doesn't take away from the story.
The second story is also very good, and it involves a cab ride, a spreader bar, and a  stranger that gets to feel up someone else's girlfriend while her boyfriend is driving the cab. I know what happens next, but you'll just have to read the story yourself.
In the third story, What Happens in Vegas… there is one sentence that sticks with me, "One man's pleasure, is another man's WTF." I think that pretty much says it all, and I like that. I like my stories to be gritty and have consensual non consent. The story takes place in a grungy  pay-by-the-hour motel room in Vegas, featuring a couple that is celebrating their tenth anniversary. The husband enjoys being the cuckold that is in control of what goes on in the room. So, if you like MMF menage, cuckolds, and the mailman, this story is for you.
The fourth story ended in a way I didn't expect it, so you will have to read it yourself. Thugs involves a mob boss, his enforcer, and the doll with blue eyes. I wanted the story to keep going so I could read the rest of it. If there happened to be a book that comes of this, I would buy it to keep. 
I will keep updating this page as I think of things that have stuck with me from the stories in Best Bondage Erotica 2015. 
As always with book reviews, my opinion is always my own, and nobody else's. The good folks at Cleis Press sent me a paperback of the book to do my book review.