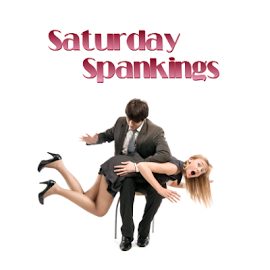 Welcome to the Saturday Spankings Blog hop!  If you're a reader who likes stories with with a touch of corporal punishment, this is the hop for you. We welcome readers comments, in fact we hunger for them, so don't be stingy when you're visiting. Authors thrive on encouragement.
Here is a snippet from my new kinky historical romance, His Lordship's Wayward Wife. Claudia and her new husband Nathaniel are alone for the first time in the study of the training school Claudia must attend. It is time for Claudia's first spanking, which will set the tone for Lord Tarrington's dominant role in their marriage. Claudia has yet to learn exactly how much her life has changed, but those lessons will soon be instilled.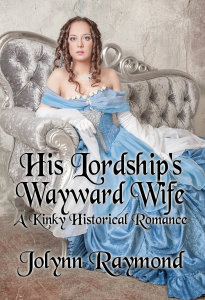 Saturday Spanks snippet:
Claudia thought he was going to kiss her and then do the things married men do to their wives. She didn't really know what that was, but she assumed he would wish to claim her as his wife before he left, but she was wrong. His other hand and arm slipped around her waist as the hand holding her wrists pulled her forward until she felt herself being hauled unceremoniously over his lap.
"I… NO!"
"Claudia you've already earned a bottom warming, I suggest you refrain from causing yourself a harsher punishment."
"But you said you wouldn't strike me when you were angry!" The tears that had betrayed her came again, and to her horror she began to sob.
"You haven't angered me Claudia. I'm perfectly calm. This is simply one of the many reprimands you will receive from now on. Hold still and do not attempt to cover your bottom."
Book blurb:
**Though set in a historical setting, this book contains BDSM.**
When Claudia Rose Stafford made her debut in London, she was wealthy, headstrong, and beautiful. She was also spoiled, arrogant and ill-mannered. Without her father's presence, Claudia flaunted her disdain for rules. She defied the conventions of high society and didn't care if there were scandalous whispers because of her behavior. All that changed when her father returned from abroad with the announcement of her impending marriage.
Lord Nathaniel Tarrington is the Earl of Brighton. He is also a member of a clandestine sect comprised of some of the most powerful and wealthy families in Europe. The very existence of their Order is cloaked in secrecy, and their activities carefully guarded. When the time comes for him to wed, his choice of a bride has life-altering consequences for Claudia Stafford. The Earl has demanding expectations for his wife, ones that include complete submission, and the understanding that her place is at his feet or in his bed, and never on his arm.
Once Claudia weds Nathaniel, her life is not her own. Gone are the days of dancing and champagne. Harsh training and the expectation of immediate and utter obedience become the norm. Defiance brings punishment, but Claudia is unwavering, and must battle those who would have her be meek. Her fiery spirit rebels in the face of Nathaniel's strict training, but the once willful and reckless woman struggles to fight her husband's sadistic demands. A fierce war begins between them; one fought for pride and dignity; that may leave both of their hearts in tatters. Will love ever stand a chance as Lord Nathaniel Tarrington strives to tame his wayward new wife?
If you would like to read the prologue, you can do so here.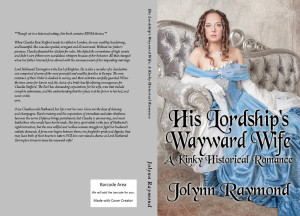 Proof book cover of His Lordship's Wayward Wife from CreateSpace. Put in an order this morning for two proofs to ship and get here by snail mail on December 22nd. If it looks good, you can have Claudia all to yourself before Christmas. 
ISBN-13: 978-1505317367 
ISBN-10: 1505317363 
BISAC: Fiction / Romance / Historical / Victorian
Of course you can read the Kindle version now if you are dying to find out what happens to Claudia and Nathaniel.
Find His Lordship's Wayward Wife here on Amazon
Super nice very first review from Russell about His Lordship's Wayward Wife. Thank you very much, Russell, you touched my heart with your review, and I know Jolynn really appreciated it. 
Jolynn you did it this time. This book not only captivated me but it flowed so nicely. The references to the BDSM world was spot on. Even for that time period. I was going to only read a chapter or two but at 2:15 am I came to the end. Loved how it ended so many other possibilities it can lead to. Very fast and you can picture it in your minds eye the whole way through. Bravo to me this is a winner….thank you for entertaining me last night.
This is a blog hop! Hop on over to the other blogs and see who else is getting a spanking today.
Powered by Linky Tools
Click here to view this Linky List for the Blog Hop.