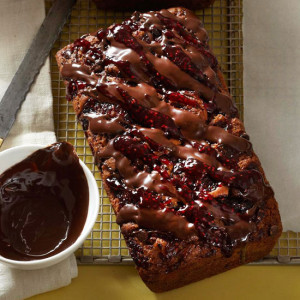 Dark Chocolate-Raspberry Banana Bread
Ingredients
2 cups all-purpose flour
1 1/2 teaspoons baking powder
1/2 teaspoon baking soda
1/2 teaspoon ground cinnamon
1/4 teaspoon salt
1/4 teaspoon ground nutmeg
1/8 teaspoon ground ginger
2 eggs, lightly beaten
1 1/2 cups mashed bananas (4 to 5 medium)
1 cup sugar
1/2 cup vegetable oil or melted butter
1/4 cup chopped walnuts
1/4 cup raspberry preserves
1/2 cup dark chocolate pieces
1 recipe Streusel-Nut Topping (optional)
1/4 cup raspberry preserves
1/2 teaspoon shortening
1/3 cup dark chocolate pieces
Directions
Preheat oven to 350 degrees F. Grease bottom and 1/2 inch up the sides of one 9x5x3-inch or two 7 1/2×3 1/2×2-inch loaf pans; set aside. In a large bowl combine flour, baking powder, baking soda, cinnamon, salt, nutmeg, and ginger. Make a well in center of flour mixture; set aside.
In a medium bowl stir together eggs, bananas, sugar, and oil. Add egg mixture all at once to flour mixture. Stir just until moistened (batter should be lumpy). Fold in walnuts and the 1/4 cup dark chocolate pieces. Spoon batter into prepared pan(s). Swirl 1/4 cup raspberry preserves into batter. Sprinkle Streusel-Nut Topping over batter.
Bake for 55 to 60 minutes for the 9x5x3-inch pan or 45 to 55 minutes for the 7 1/2×3 1/2×2-inch pans or until a wooden toothpick inserted near the center(s) comes out clean. If necessary to prevent over browning, cover loosely with foil for the last 15 minutes of baking. Cool in pan(s) on a wire rack for 10 minutes. Remove from pan(s). Cool completely on rack. Wrap and store overnight before slicing.
After bread stands overnight, in a microwave-safe bowl combine the 1/3 cup dark chocolate pieces with 1/2 tsp. shortening. Microwave, uncovered, on 70 percent power for 20 seconds; stir. Microwave at the same power until melted and smooth, stirring every 15 seconds. Drizzle over bread.
Place the 1/4 c. raspberry preserves in another microwave-safe bowl. Microwave on 100 percent power (high) for 20 to 30 seconds or until melted, snipping any large pieces of fruit. Drizzle melted preserves over top of the bread.
Streusel-Nut Topping 
Ingredients
3 tablespoons packed brown sugar
2 tablespoons all-purpose flour
4 teaspoons butter
1/4 cup chopped walnuts
Directions
In a small bowl combine brown sugar and flour. Using a pastry blender, cut in butter until mixture resembles coarse crumbs. Stir in walnuts.