Books I'm Working On Now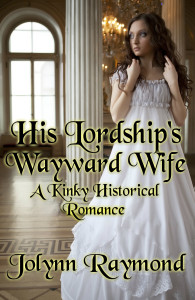 His Lordship's Wayward Wife
Claudia Stafford lived a life of luxury in Victorian England. She was a rebellious and spoilt girl who thought only of herself, treating those below her station with contempt. After discovering the power of her womanly charms, she used them to her every advantage, spurning any suitors her mother deemed appropriate, in favor of those who offered excitement regardless of scandal. When her father returns from his job overseas, her life is suddenly turned upside down. Married to an Earl and shipped across the country, Claudia find herself in the role of those whom she has disdained. She is expected to be subservient and obedient, and saying no brings consequences Claudia never dreamed of.
As the wife of a man who belongs to a secret society that takes the role of the dominant husband to new heights, Claudia is expected to be submissive in all she does, and comes to crave the deviant sexual practices of her husband. Though she learns a new respect for those who waited on her all her life and her body delights in all her husband does to her, Claudia's sass and fire keep her from allowing love into her heart.
Lord Nathaniel Tarrington has had his share of submissive women. It is part of his lifestyle, and has been for generations in his family. While lovely, Claudia really isn't much different than those he's accustomed to, that is until her fiery passion and refusal to be tamed first grabs hold of his admiration, and then grabs hold of his heart. Nathaniel finds himself wishing to win Claudia's love and admiration, something that is very foreign to him, and he isn't well versed in the ways of wooing a woman. Once the few tricks he has up his sleeve are spent, and the passion he instills in Claudia doesn't win her heart, Nathaniel must look in the mirror and try to find a man whom his wayward and wild wife can truly love.